I diporti della villa in ogni stagione: Venetian Madrigals
The seasons - in madrigals!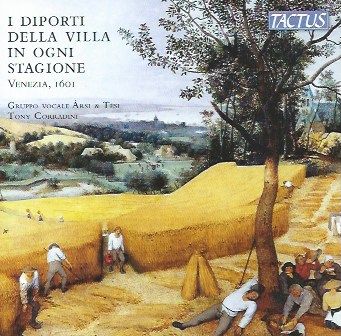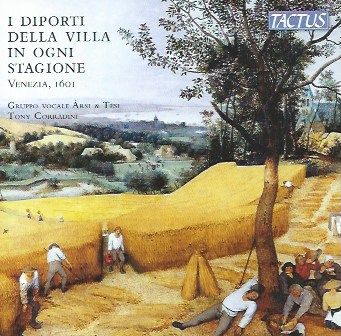 The madrigals of I diporti della villa in ogni stagione (The Pastimes of the Villa in Each Season, 1601) is a collection of settings of poetry that tells the story of the seasons. In doing so, they illustrate a variety of images, with all of the rustic panorama one might wish for, including shepherds, dancing nymphs, hunting, fishing, and more.
Composers featured on the disc read like a Who's Who of the madirgal world: Giovanni Croce (1557-1609), Lelio Bertani (c1554-c1624), Ippolito Baccusi (1540-1609), Filippo de Monti (1521-1603), Giovanni Maria Nanino (1544-1607), Luca Marenzio (1556-1599), Orlando di Lasso (1532-1594), Rinaldo del Lel (c1554-c1598), Mogens Pedersen (c1583-1623), all crowned by madrigals by Heinrich Schütz (1585-1672).
The madrigals of Spring are by Croce; those of Summer by Bertani; Autumn, Baccusi and Winter by de Monte (all of five madrigals each). The balance of works all take the seasons in their texts in one way or another.
The Àrsi & Tési Ensemble under Tony Corradini themeslevs make a marvellously rustic sound, capable of rawness as well as sweetness as they traverse this ravishingly beautiful terrain. Try the opening number, the only one prior to Spring and offered as a "Proemio" ("Foreward"): Chi di gare e rancore by Giovanni Maria Nanino (1544-1607).
The vocal line-up here is two sopranos Monica Di Maria and Martina Loi, ; Silvia Elsabetta and Pasquali  Coluzzi, altos; Fabrizio Giovannetti and Vincenzo Verrengia, tenors; Tony Corradini, bass/director. Together they track the emotions of the year. Try the open-air tranquility of Spring in this piece by Giovanni Croce, Vattene pur altiera:
Hearing the madrigals one to a part enables the linear processes to shine; the recording is clear and focused, and is low on reverb to bolster this. The plaintive Ma non di minor freggio by Filippo De Monte offers a taste of Winter:
The glowing textures of Altri con maggior rischio offer contrast:
It is actually madrigals by Nanino that bookend the seasons, but his Lasso che il  caldo estivo shows another side of the composer, interior, gentle. There follows that sequence of madrigals all of whose texts allude to the seasons. Immediately we hear the strains of a madrigal by Orlando di Lasso, we move to other worlds. Here's his Un dubbio verno. Those harmonies!:
The sheer mastery of Schütz, both harmonically and linearly, is the perfect close. Here, as a taster, is the magnificently rapt O dolcezze amarissimi:
We have covered madrigals previously on Classical Explorer (Silvio e Dorinda), so this adds nicely to the collection. Enjoy!