Heart & Hereafter: The Songs of Samuel Coleridge-Taylor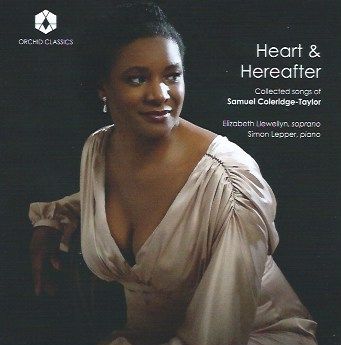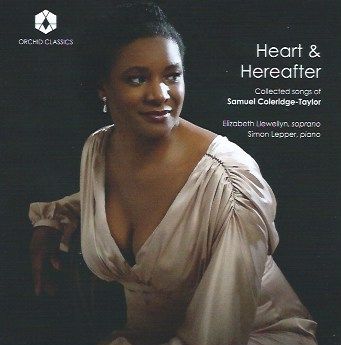 I enjoyed soprano Elizabeth Llewelyn's contributions to Chelsea Opera Group's Boito Mefitofele in 2019, in Vaughan Williams' A Sea Symphony at the Barbican in 2017 and - heart-stoppingly - as Magda in Puccini's La Rondine at Opera Holland Park  (also 2017); it is remarkable to think that this is her debut album, released on the very day of this post.
For it she has chosen the wonderful, glowing songs of Smauel Coleridge-Taylor (1875-1912). The release is timely, as it also prefigures more Coleridge-Taylor on another album on another label: Isata Kanneh-Mason's Summertime, due for release on Decca  on July 9, 2021 which includes four pieces by Coleridge-Taylor, including  the World Premiere recording of the Impromptu in B minor.
When it comes to the present release, as Llewellyn puts it in her introductory note to her song recital,
I could have recorded some Puccini or Verdi - these composers ahve loomed large in my career. But I felt passionately then, as I do now, that if I was going to spend much time, energy and money on an album, it was important to create something that had not existed before. There is certainly scope (and my hope!) to record the entire song output of this wonderful British composer.
As we shall see, this is a notable, beautiful disc.
The Six Sorrow Songs, Op. 57 are settings of Christina Rossetti. Listen to Elizabeth Llewellyn and Simon Lepper live at the Wigmore so you can supplement the experience of listening to the disc, in the dramatic first song, "Oh, what comes over the sea".:
.. and here, from the disc itself, the calm strains of "She sat and sang away," the fourth song:
... and I'm going to leave the gloriously beautiful final song of the set, "Too late for love" for you to discover;  you won't be sorry, as you revel in Llewellyn's gorgeous vocal lines and Simon Lepper's evocative piano playing.
There is huge variety here. The Victorian interest in "exoticism" is found in the three songs from Southern Love Songs we have here ("if thou art sleeping, maiden" is particularly attractive). Fascinating, too, to hear the seven African Romances, Op. 17. Not so much "local colour" here (texts are by Paul Lawrence Dunbar).
The song "Big Lady Moon" was an encore in Llewellyn and Lepper's streamed Wigmore recital in September 2020, and here it is in that context:
"Big Lady Moon" sets Kathleen Mary Easman (1891-1924), the first West African to achieve  a diploma et the Royal College of Arts; the song is excerpted from Five Fairy Ballads. Lepper's way with the piano's playful refrain is simply gorgeous.
A whole section of the disc us entitled "Literary Figures". There are Coleeridge-Taylor's setting sof the charismatic figure of Marguertite Radclyffe-Hall (1880-1943), a young woman of means who lived an individual life for the time, dressing as a man and openly having a string of affairs with women. Her poetry is intimate and sensual; it isnpires Coleridge-Taylor to his absolute best. In particular, the outgoing "Thou hast bewitched me" is a delight. Here, though, is the equally impressive "You lay so still in the sunshine":
There is so much here: Coleridge-Taylor's setting of "A king there lived in Thule"  has a folk-like charm, and Llewellyn narrates it superbly (the text is from Goethe's Faust: you may know it via Schubert or Berlioz in particular). Then there's the the supreme yearnings of "You'll love me yet" ...
A remarkable disc,  one that adds considerably to our picture of Samuel Coleridge-Taylor; but one that functions also as the most splendid of debut solo releases.