Celibidache returns: Haydn & Tchaikovsky
Another example of the work of this remarkable conductor - the Tchaikovsky should be on everyone's shelves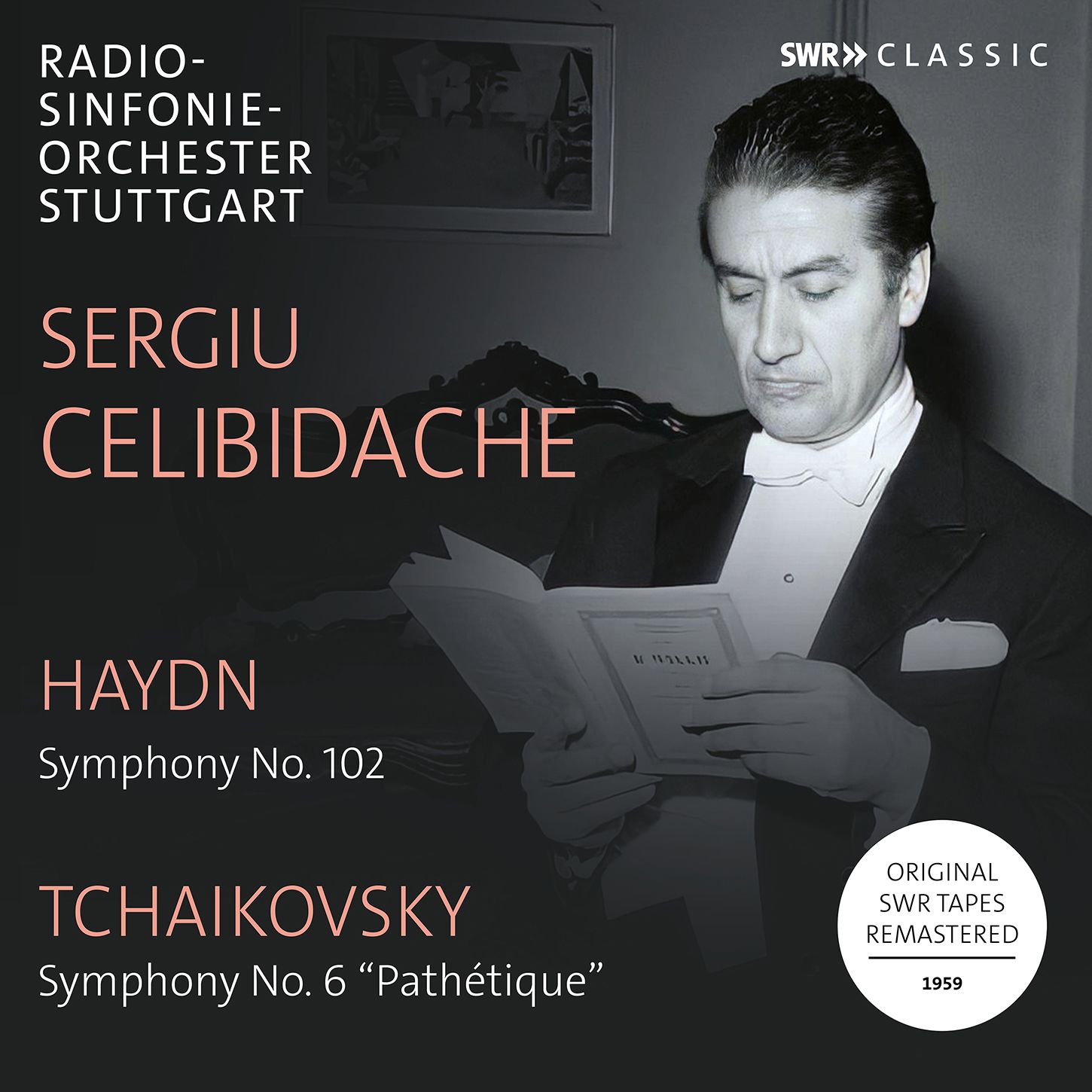 We met Sergiu Celibidache before in a disc of Sibelius and Stravinsky - performances from his Indian Summer with the Munich Philharmonic Orchestra.
Today, we find him in earlier music and in an earlier stage of his career - working with the SWR (South West German Radio) Symphony Orchestra. This was a radio concert recoerded at the Villa Berg (Stuttgart) on September 17, 1959. The two works are highly contrastive  (as was Celi's wont). Even within the performances of the individual works there are contrasts: a slow, heavy, old-style Largo for the  first movement of Haydn's Symphony No. 102 followed by a remarkably sprightly, rhythmically-alive Vivace (with exposition repeat intact):
This was clearly a Celi trait, as is are even more marked in this earlier 1958 performance with the Milan Radio Orchestra. The introduction in the SWR performance could, it struck me while listening, almost be by Schumann. There is some crowding to the sound, admittedly, in the Allegro, but it remains invigorating.
The Adagio is definitely an old-style Adagio, with subdivided beat, and yet it flows naturally and eloquently. The SWR orchestra demonstrates great discipline, too:
You may, like me, find the Menuet rather heavy (rustic might be a kind descriptor, perhaps), but the finale has plenty of life:
---
There might be justifiable quibbles about the recording of the Tchaikovsky, but few conductors have found such a combination of power, beauty and detail. Listen to the detail of the very quiet opening, or the beautiful phrasing of the strings later on (pre-Allegro, prior to the flute/basson ascending line duet):
At over 21 minutes, Celibidache's first movement feels like a vast symphonc poem; the SWR strings are hugely expressive and timbrally beautiful - sections move absolutely as one. His Munich performance of this movement,, incidentally is even longer, at over 25 minutes.
The elemental Allegro arrives like a flow of unstoppable, rad-hot lava, raw and compelling. If the recording struggles somewhat at the most ferocious movements, it is a small prie to pay for music-making of this ilk, epecialy when oene encounters Celibidache's masterly phrasing ofthe movement's final "fade-out".
After that he famous five in a bar Waltz is like a breath of fresh air:
The pizzicato strings are a joy, even with in the slightly boomuy acoustic; the same strings, arco (bowed) launch the third movement is superb, scampering fashion. This music-making simply oozes character:
Celibidache's reading of Tchaikovsky's finale, a movement famously massively distended by Leonard Bernstein in his late New York DG recording, has just the right combination of power and pathos:
Celibidache has no less intensity, to my ears, than Lenny; and just as much tenderness.
So, yet another example of the work of this remarkable conductor. The Tchaikovsky should be on everyone's shelves.