Alfvén: Symphony No. 1 & much more ...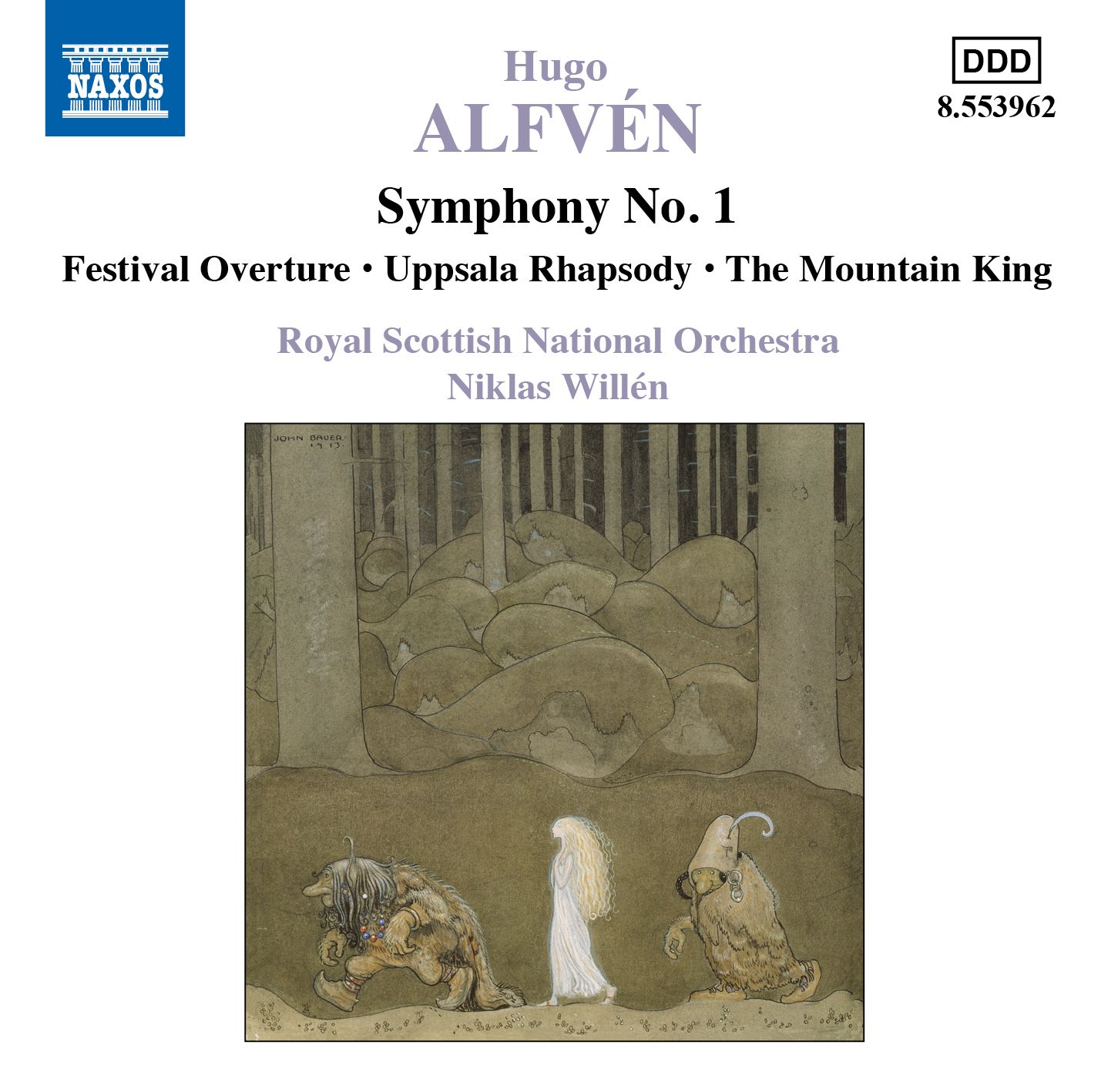 We've met Hugo Alfvén a few times already on Classical Explorer (Symphony No. 3; Symphony No. 2), and will meet him again. Hi First Symphony is short (just under 35 minutes) - so plenty of fillers on this disc, starting off with the Festspel, Op. 35 (Festival Overture, 1907), a Polonaise commissioned forte opening of the Royal Dramatic Theatrein Stockholm in 1908 that could easily be after Tchaikovsky. The cover is that of a Naxos reissue, but it is this performance with the RSNO:
---
In contrast to that blast of Scandic light, the "Besvärjelse" (Invocation) the opens the Suite from Bergakungen (Mountain King, 1917-22 - Grieg wasn't the only one!) begins with Alfvén's version of Beethoven's "Coriolan" Overture:
The story is of the abduction of a young shepherdess by the Mountain King and a jealous troll (I'll leave it, tantalisingly, there). The second movement,"Trollfickans Dans" (Dance of the Troll Maiden), begins with a moment of gossamer beauty which builds to a substantive climax via obsessive repetition:
The movement "Sommerregn" (Summer Rain) is far too short - in the sense it is brilliantly, beautifully scored, like a Scandiwegian Impressionist, and the RSNO's performance is fabulous in its lightness:
Finally, the scampering "Vallfickans dans" (Dance of the Shepherd Girl) remains one of Alfvén's best-known works. And justifiably so - it is of the utmost beauty, and contains perfectly timed contrasts. The RSNO strings are notable for their agility at quieter dynamic levels here:
---
The Uppsala-rapsodi, Op. 24 (the Swedish Rhapsody No. 2) is the least-known of Alfvén's Swedish Rhapsodies. Yet it is a piece of aching beauty, its melodic lines long, its harmonies almost painterly in their broad-brush unfolding.
An academic overture (à la Brahms), Uppsala-rapsodi is bracing and bright, full-sunshine music with more than a touch of grandeur. There are some lovely moments for woodwind alone, beautifully balanced here by Willén, and superbly delivered by the RSNO players. The piece is delightful, and Willén paces one particular accelerando (around the six-minute mark) perfectly.
---
Finally for this disc, the Symphony No. 1 in F minor, Op. 7 (which has quite six dates: 1897, revised 1903-04, 1948). It was first performed in 1897, and form teh off it is clear we are in symphonic, as opposed to rhapsodic territory. there is a seriousness of intent to the opening movement's Grave. I agree with booklet annotator that there ea re shadows o Berlioz here (perhaps most obviously in the first movement transition to the main body's Allegro con brio. There is also an exuberance that seems reminiscent of Berlioz:
The Andante which follows begins as if an idyll. But there is a shadow, and teh shadow deepens quickly - it is clear we are out of incidental music and into symphonic territory, and Alfvén is clear about the difference. The overshadowing even leads into Wagnerian territory. This is a movement of some profundity and deserves recognition. I say that because, over on YouTube, the video at the time of writing has all of two likes/thumbs up - one of which is mine ... :
While the second movement could almost stand on its own right as a powerful emotional statement, the third movement clear fulfils its place as Scherzo. here, the music tries to trip away merrily, rustic drones nicely present, but the symphonic weight of its function gives it whole new layers; the Trio offers complete contrast, with a horn chorale answered by the RSNO's deeply resonant strings:
Symphonic rigour characterises the opening of try finale (Allegro, ma non troppo), answered by a rather swinging theme in the strings. Willén tracks the warp and weft of the music to perfection, as Alfvén offers contrasting passages. Willén's refusal to over-indulge in the moments of interiorisation enables an underlying pulse to run through the movement like a score of steel.
Alfvén's symphony was seminal in allowing in trends from continental Europe onto the Scandinavia scene, and particularly that of the symphony (which as BIS' catalogue attests, nourishes this area to this day).