Beethoven from La Seine Musicale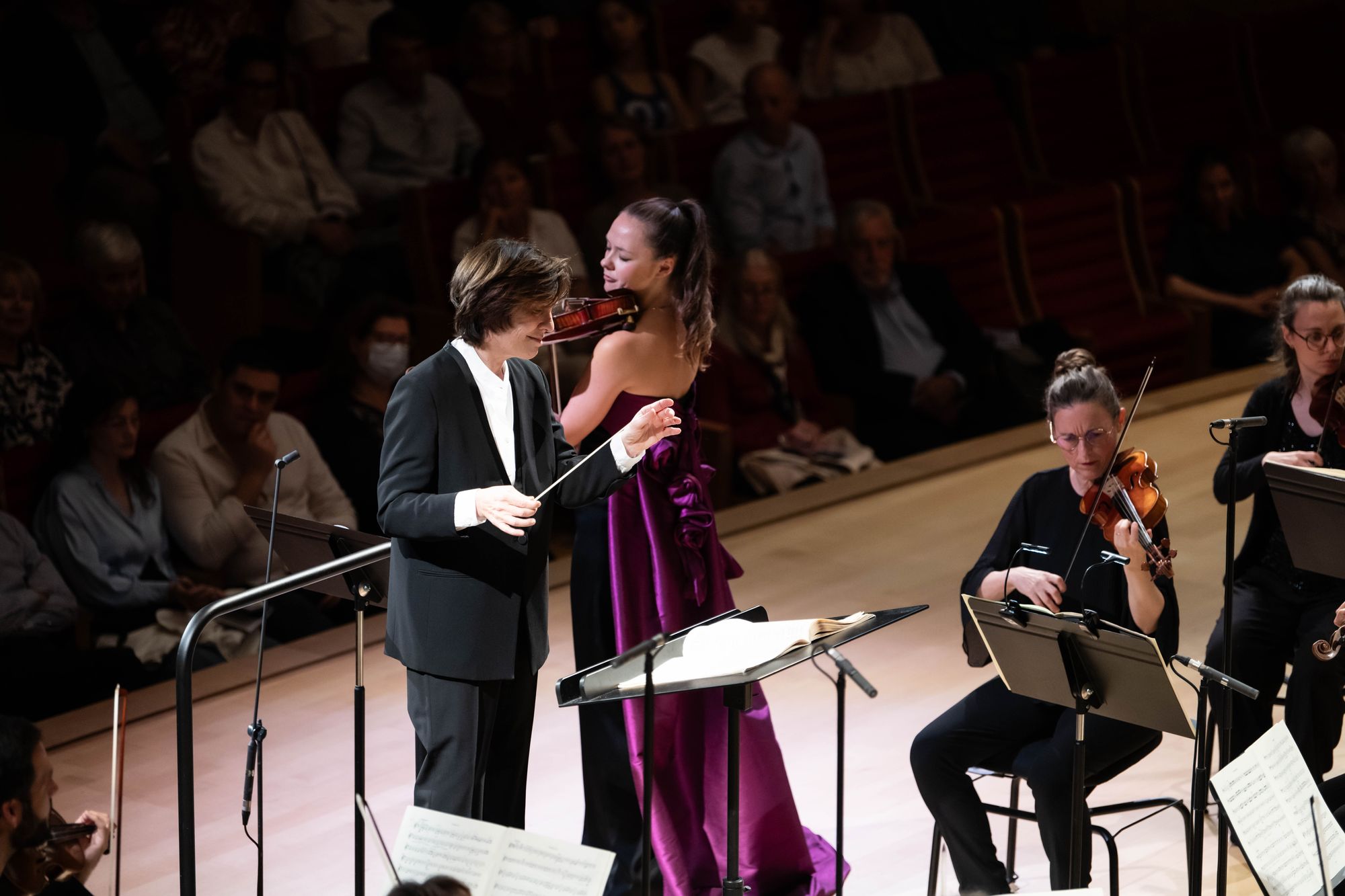 Beethoven Alexandrea Conunova (violin); Insula Orchestra / Laurence Equilbey. Le Seine Musicale, Paris, 27.09.2023
Violin Concerto in D, Op. 61
Symphony No. 3 in E flat, Op. 55, 'Eroica'
There have already been two significant season openers this year: the Dresdner Philharmonie (review) and the London Symphony Orchestra under the remarkable Barbara Hannigan (review). Now, it was the turn of Insula Orchestra under Laurence Equilbey, in the first of two concerts at their home at La Seine Musicale in Paris (there is a third performance at Santander on October 7). If there is one thing we know about Insula, it is that there is no such thing as a routine performance On paper, we have two masterpieces performed so many times; and yet the reality was they both emerged as newly-minted. Both performances offered layer after layer of revelation.
Violinist Alexandra Conunova is no stranger to either Insula or to Beethoven: most presciently, I reported on Conunova in Beethoven's Triple Concerto in both London and Paris; elsewhere, she performed at Aix-en-Provence in April this year in their closing gala of the Easter Festival there led by Renaud Capuçon. She is a remarkable violinist, her command of her instrument (a Guadagnini from around 1785, ex- Ida Levin), played with gut strings) remarkable.
Equilbey's chosen layout of the orchestra was notable. The appearance of a line of five double-basses at the centre back of the orchestra, behind the woodwind, was most interesting – it provided a real sense of depth to the orchestra, as if constructing the sound from the ground up. Trumpets sat next to timpani, uniting the time-honoured friends, with horns on the opposite side. Antiphonal violins, of course, illuminated the thematic workings of both concerto and symphony. Immediately striking also was the focus of the hard-sticked timpani and the positively nasal sound of the oboes and bassoons. It is clear the members of Insula are basically extensions of Laurence  Equilbey herself: the level of discipline is stratospheric, enabling the orchestral exposition to shine. Unlike some conductors, Ewuilbey counts silences, too. Accents bit mercilessly, while the music's onward tread was like hearing unstoppable lava in motion. The underling pulse was honoured, but the music had flexibility, something that extended to Conunova's realisation. Conunova's sound on her Guadagnini is remarkable: clear and strong but not overly raw, sonorous on the G-string (yet still tensile and defined – it is an extraordinary sound). It was interesting to see Conunova play in so many tuttis, so that in the solo sections it felt like she stepped out of the mass into the limelight. Her cadenza (the Kreisler) was a gripping meditation, its crowning achievement the projection of multi-voice counterpoint through stopping – it really did sounds as if the simultaneously played voices were independent.
The slow (Larghetto) seemed to blossom, the tempo intuitively right. Equilbey seemed intent on reminding us of the importance of gesture in this music, while subtleties of scoring were any and inspiring. Just one example: when Beethoven repeats the slow upward gesture for horns, almost a slow hunting call, later on bassoon and violas (not two bassoons) he changes the impact considerably. The most heart-stopping was a passage of high violin against pizzicato strings, heartbreaking in its fragility – a fragility that seemed to directly link to the high opening of the finale for violin and strings.
This finale itself held some incredible moments held within an overall conception of Beethovenian power and joy. Conunova's left-hand pizzicato was unlike any I have heard – it was positively plummy, with so much resonance.
An encore was inevitable perhaps, and beautifully despatched: a Bach Prelude (that to the Partita in E Major, BWV 1006.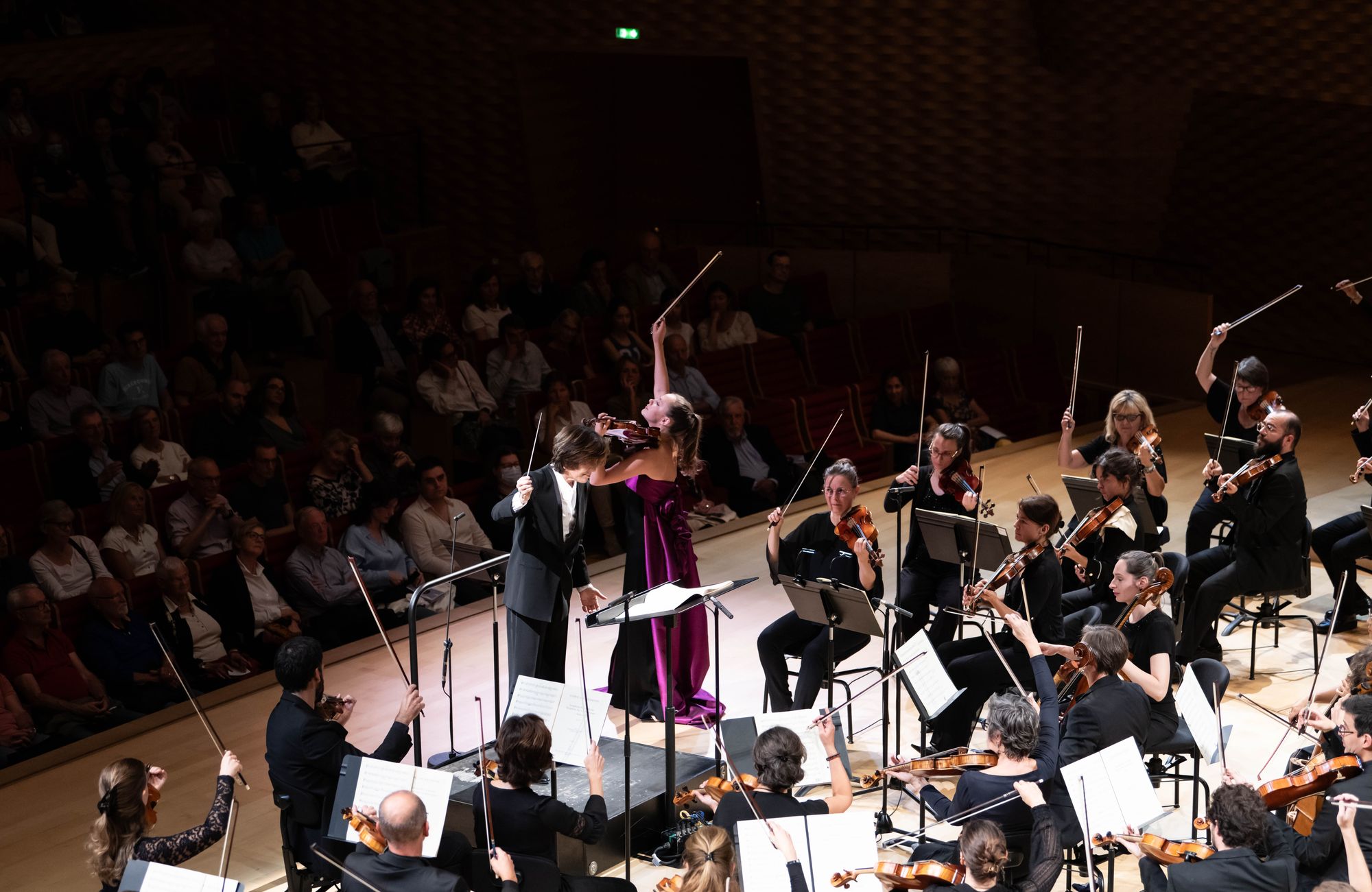 ---
It was fascinating to hear this "Eroica" so soon after Concerto Budapest and András Keller in their Guildford performance (review). For all of Concerto Budapest's strengths (and there were many), it was Equilbey and Insula that penetrated to the very heart of this work. The first movement had a incredible momentum. The woodwind section as a whole acted as an indispensable part of the argument, but perhaps a special mention should go the clarinet of Eduardo Raimondo Beltran, a player possessed of the most memorable, melting, tone – and how he excelled in the 'Marcia funebre'. It was in this second movement that Equilbey found true darkness within a tempo that moved along, giving the fugal passage almost demonic propulsion. Here were tolling trumpets, and roiling strings: this was a dramatic tone poem.
That discipline mentioned earlier came to full fruition in the Scherzo, an explosion of ferocious energy (an energy one could feel was held in check in the pianos and pianissimos). Beethoven's spirit of rhythmic play came through so clearly, as did the detail of the Trio (with phenomenal horn playing from Insula's section). Interesting that Equilbey made a small break before he famous onset of the finale; but more interesting still was the ensuing highlighting of the bassline Beethoven took it for a walk into different registers and departments of the orchestra. The slower section of this movement mapped straight back to the funeral march, an incredibly effective formal insight that seemed to cement the symphony together; elsewhere, Equilbey seemed to find pre-echoes of the 'Pastoral ' Symphony ( a symphony Insula knows well: review).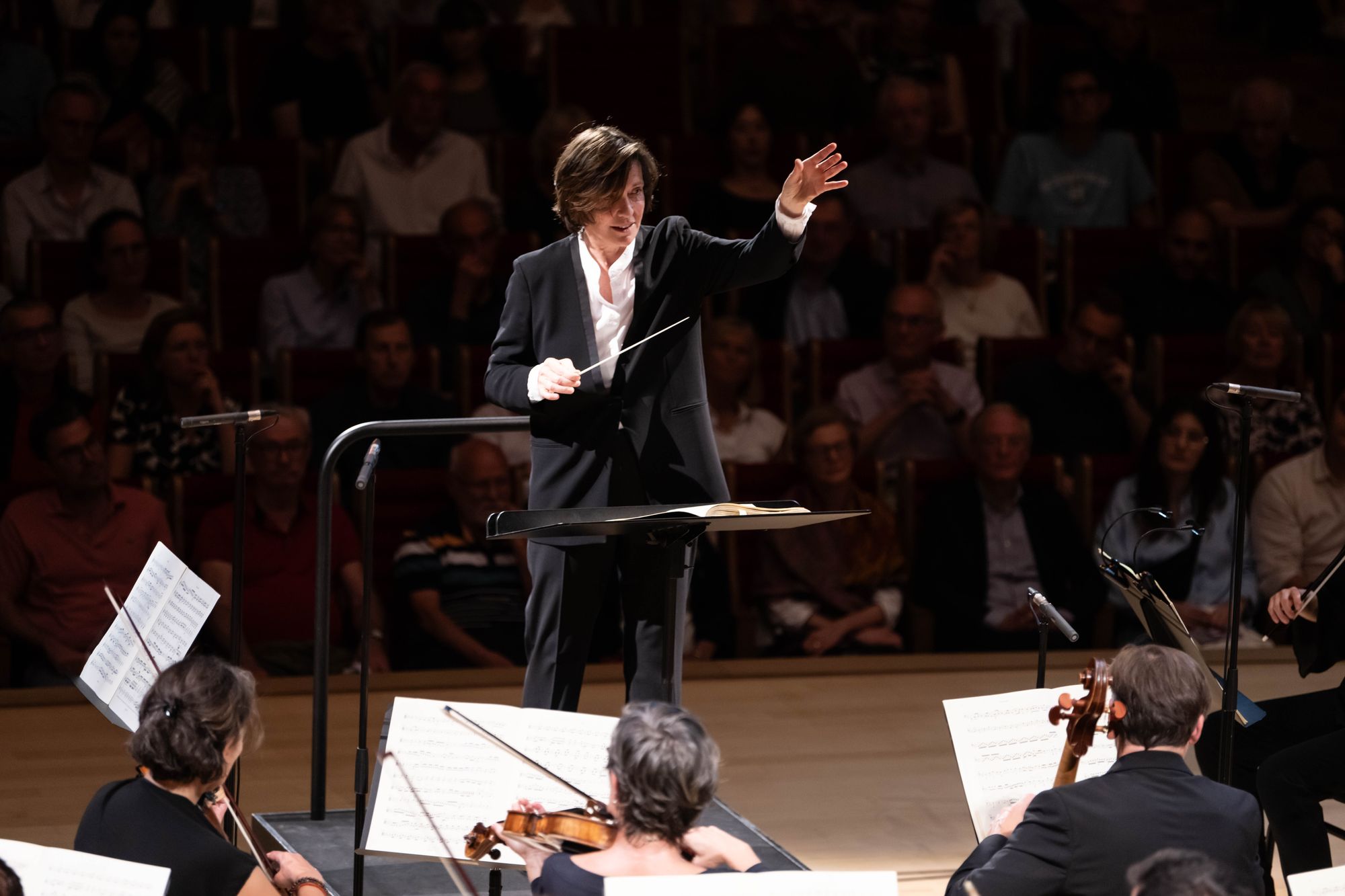 This was an incredibly powerful, insightful "Eroica". One viscerally felt the force of Beethoven's fierce invention as he re-invented what a symphony could be. A phenomenal evening of Beethoven performed at the highest possible level.
Photos © Julien Benhamou