A Tale of Two Artax(s)erx(s)es
Artax(s)erx(s)es = (assasination + murder)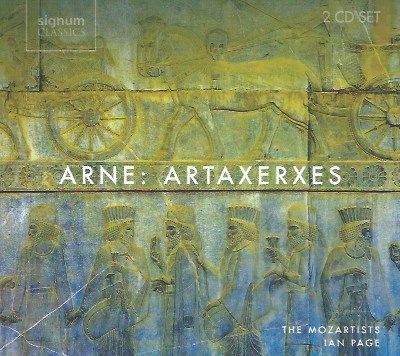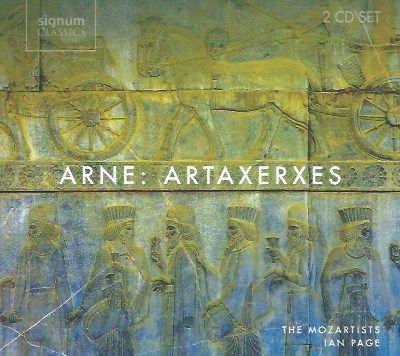 The heading looks like maths, doesn't it? It's not: it's just that we're going to do something a little different as regards our "A Tale of ..." series. Previously we've been looking at different interpretations of the same piece. Today we're going to look at two Baroque operas by different composers on the same subject. Just for the fun of it; and occasioned by the re-release of Ian Page and The Mozartists' recording of Thomas Arne's opera Artaxerxes. Supplementing that will be a look at the opera Artaserse by Johann Adolf Hasse (1699-1783), heard in its 1730 Venice version on Dymanic. In another departure, we're mixing media: one sound-only (Arne), the other a DVD (but also available in sound-only format: Hasse).
Matastasio wrote a libertto for Artaserse in 1729, the last he wrote in Italy before moving to Vienna as Court Poet; the name is an Italianised form of the original "Artaxerxes" (which name Arne used). Hasse was one of the first to set the libretto, in 1730 (Venice). Gluck, Graun, Galuppi and J. C. Bach, amongst others, were all to have a go.
We start with Thomas Arne (1710-78), he of "Rule Britannia!". When I saw Artaxerxes at the Linbury Theatre of the Royal Opera House by the present performers  in 2009, it was a revelation for me; this recording was recorded just shortly arterwards at Air Studios and has been previously available.
The bracing, trumpet-garlanded Overture sets the scene:
Arne's score holds huge beauty: listen to the soprano/mezzo "duettino" between Mandane (Elizabeth Watts) and Arbaces (Caitlin Hulcup), "Fair Aurora, prithee stay":
Set in ancient Persia, love and intrigue are the order of the day, leading to virtuosity of this ilk, Arbaces' "Amid a thousand wracking woes" (Hulcup):
... or listen to the pain enshrines in the oboe dissonances of the tenor aria, "Behold, on Lethe's dismal strand" (the excellent Andrew Staples as Artabanes):
Arne's Artaxerxes was premiered at the Theare Royal (the precursor of Covent Garden) and remained in repertoire until the 1830s! The present recording includes recitatives by Ian Page, while Duncan Druce composed a new finale in the style of Arne. The result is magical.
King Xerxes of Persia has banished Arbaces for being in love with  the Princess Mandane. But Xerxes is assasinated; Arbaces' father Artabanes claims the crime and gives a bloody sword to Arbaces for disposal. Xerxes' son, Artaxerxes, is convinced that Darius was guilty of the crime. Darius is swiftly cleared in the plot (but not swiftly enough, sadly - he is killed for it); Arbaces is arrested.
A plot infolds to unseat Artaxerxes, who in the final act goes to Arbaces' cell, enabling his escape. A failed assassination on Artaxerxes at his coronation fails; as so often, all ends in happiness. But with all that regicide and killing, and despite the happy ending, perhaps that maths equation should be:
Artax(s)erx(s)es = (assasination + murder)
Of course, a sound-only recording cannot reflect the spectacle of the Linbury staging, but it captures the grace and imagination of Arne's writing. This is core Ian Page repertoire - he has done so much for this music, and continues to do so - and it is difficult to imagine a finer performance. The singers wer eall perfectly allocated to their roles. personally I found Rebecca Bottone's  Semira outstanding. Here's her "How hard is the fate":
Artaxerxes himself is counter-tenor Christopher Anslie, whose voice si beautifully rich, as one can hear in this act two air, "In infancy, our hopes and fears":
The whole affair is a musical triumph. If only there was a film of the performance ...
But there is of the next Arta ... well. Artaserse, this time.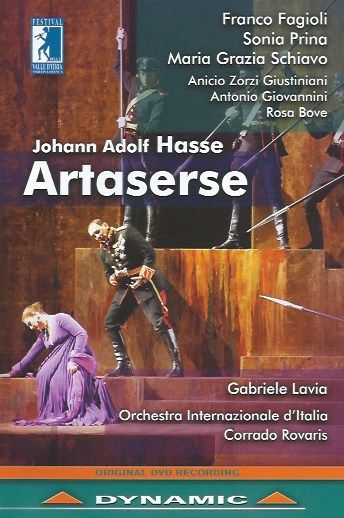 While the Dynamic performance opera is also available in sound-0only format (which you can also hear on YouTube), it is best to actially see it in Gabriele Lavia's staging.  Have a look at this though for a hint as to what's in store - the vocal range here is spectacular - as is the singing. It comes as no surprise to learn that Farinelli was associated with this opera:
Staged in 2012 as part of the Valle d'Itria festival in Puglia, this is an indispensable releas efor all students of opera. One of the most famous arias is this, "Pallide il sole". The fact that it is Sonia Prina who sings Artabano is sufficient reason to rush to Amazon: whe has impressed in London on many occasions, particularly in Vivaldi and Handel, her fierce expression (and often somewhat punk rock looks) reminding us that this is red-blooded music, and she excels here. As Arbace, Franco Fagioli is superb, with Anicio Zorzi Giustianini a fine titular Artaserse. Gabriele Lavia directs a production that rightly emphasises the darkness and emotive weight of Hasse's writing.
Hasse's importance in the development of opera seria is well noted in the history books, but to have his music laid bare in such glorious - and, in this opera, often gloriously chilling - music is a gift indeed. To be able to sit Arne and Hasse side-by-side is double bubble indeed.