Vivaldi's Four Seasons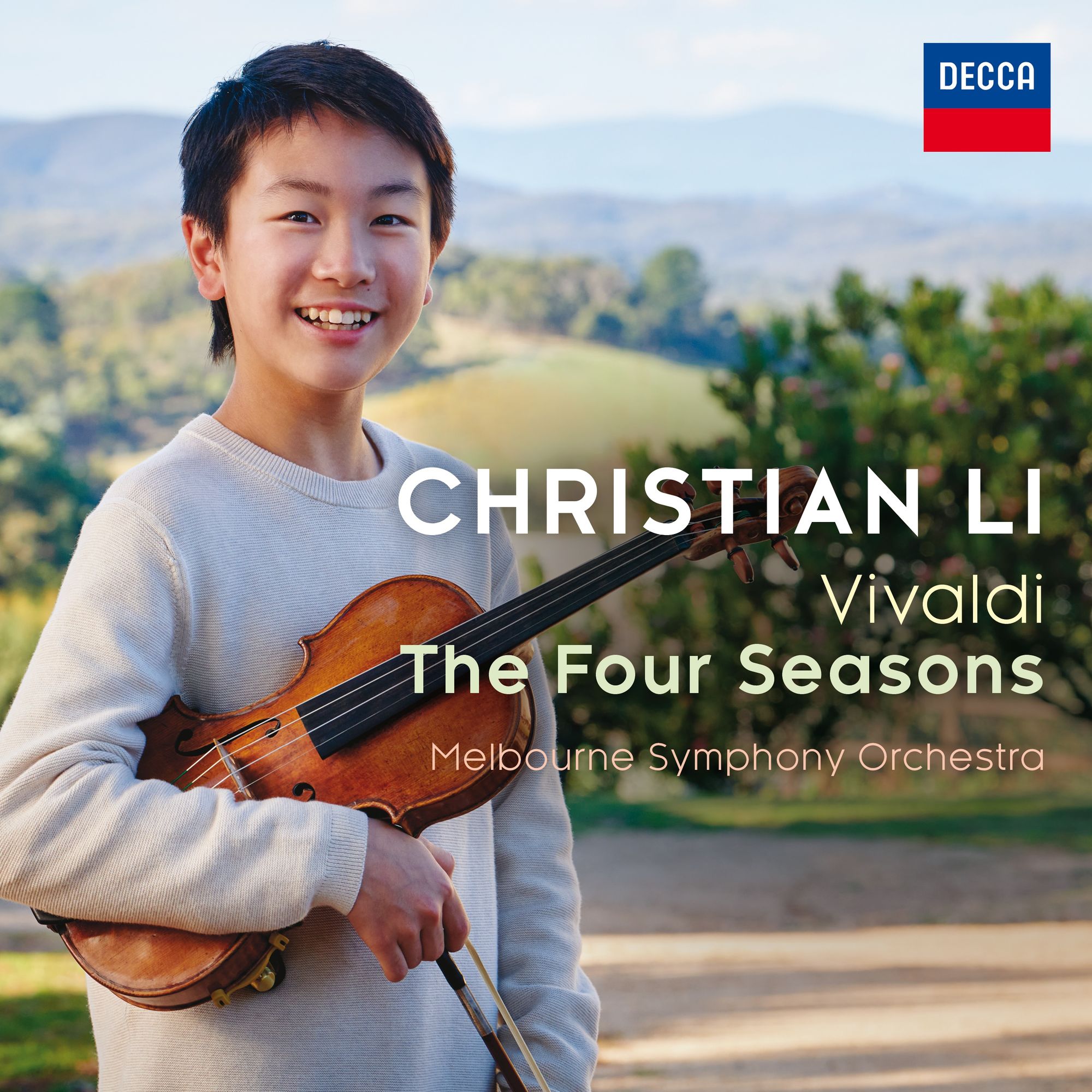 Vivaldi's sequence of four concertos for violin and orchestra, the so-called "Four Seasons," have over the years acted as a magnet for the great and the good, and many more besides.
Christian Li is a mere 13 years old. What were you doing at 13? Like myself, not recording a major piece for a major global label, probably. When he was 10, Li played "Summer" at the Menuhin Competition, which he won. There is indeed a remarkable maturity here: and Li plays on he 1737 'Paulsen' Guarneri 'del Gesù' with a François Peccatte bow. With the excellent Melbourne Symphony Orchestra and a continuo section that includes an additional lute, this is an eminently worthwhile purchase. In addition, Li directs the Melbourne orchestra (he was born in that city in 2007). His success has been phenomenal: at the age of nine, Li won First Prize in the violin category of the Young Artist Semper Music International Competition in Italy and gave many solo and chamber music performances as part of the Semper Music International Festival and Summer Academy. He also performed at Carnegie Hall in New York in the American Protégé Showcase 10th Anniversary concert. In 2014 he won First Prize in the "Golden Beijing" violin competition in China and in 2013, aged just five, Christian was chosen for a TV commercial in China that features him playing the violin.
It is perhaps telling to just check out the font sizes on that cover. No dounting the album is introduing Christian Li, whose name is markedly larger than Vivaldi's. The poor old Melbourners are relegated to a much smaller font and a colour that nearly merges into the picture around it.
Let's see Li in action though, directing the first movement of "Winter" with its frozen textures:
One of the most remarkab;le performances is that of the first movement of Summer, here decidedly multivalent (the marking is a nicely ambiguous "Allegro non molto"):
The finale of "Summer" is quite remarkable. It has the fire of Nigel Kennedy's famous early album but without the eccentricity, and it is a true Presto:
The positively stomping dance of the finale of "Autumn" finds the Melbourne orchestra in fine fettle - this is a performance full of life, not to mention some remarkable effects:
In short, a brilliantly enjoyable "Four Seasons": the fillers are hardly less so, beginning with a Chiese piece by Li Zili, the atmospheric, nostalgic Fisherman's Harvest Song, with Timothy Young on piano. Let's see a video of the two performing this (and note the virtuoso later sections):
More well-trodden territory for the last three "encores": the Kreisler Tambourin chimois is well chosen give the piece that immediately precedes it; and Li keeps his tuning nicely in place. It is Massenet who offers space for respite, the famous "Méditation" from the opera Thaïs:
Some lovely, throaty playing.
Finally, a real encore war-horse: Bazzini's virtuoso "Scherzo fantastique" La ronde des Lutins, here a real musical kaleidoscope: