Virtuoso Dances: Violinist Linus Roth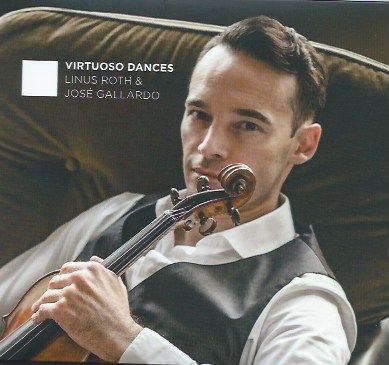 A lockdown baby, this. Forced into lockdown in Spring 2020, after a gruelling, circuitous journey back to Europe from South America (landing at a completely empty Charles de Gaulle airport in Paris), violinist Linus Roth decided to put down some of the music that lies closesto this heart. Recorded with pianist colleague José Gallardo in the stunning library of the former monastery in Ochsenhausen, Germany.
The recital starts with some of Bartóks' most-loved music. You'll know the first of the Romainan Folk Dances, a "Stick Dance":
.. but personally I love the gentle mystery of"Topogo" (In One Spot):
Béla Bartók was one of the great ethnomusicologists as well as a great composer: which means he studied the native folk music of various regions, often integrating the music into his music or setting the tunes in his characteristic harmonies (as here).
Bartók and Stravinsky make fine 20th-centiry bedfellows (and this is a timely moment to mention Riccardo Chailly's 11-CD Stravinsky Decca box which we'll be featuring in due course). But for now we have the six-movement Divertimento based on music from the ballet Le baiser de la fée ("The Fairy's Kiss"; based on Hans Christian Andersen's The Ice Maiden and intended as an homage to Tchaikovsky). Wonderful to hear how Roth and the ever-excellent Gallardo react to the different sound-world of Stravinsky; and to hear how Roth manages his tuning impeccably through the thornier passages. Listen to the swagger they bring to the "Danse Suisse" (the arrangement for violin piano is by Stravinsky and the violinist Samuel Dushkin:
The games of the Scherzo are light-hearted joy personified, while the "Pas de Deux - Adagio" finds Roth spinning a line of silk. He plays on a Stradivarius, by the way, the 1703 "Dancia," thanks to a load from the L-Bank Baden-Württemberg.
Lovers of the music of Piazzolla will be deligted that there is a nine-minute work here that is not Libertango. And good too that the pianist, José Gallardo, is himself Argentinian. The piece is Le Grand Tango, originally for cello and piano and dedicated to Rostropovich. Amazingly, there is an arrangement by the great Sofia Gubaidulina - despite YouTube's descriptor, that's not quite what we hear here. Instead, Gallardo took Gubaidulina's take as a basis, improvising around it. I have to confess to being no great Piazzolla lover, but I find this utterly convincing. There's an almost airy quality to the music, and Roth revels in the high-lying melodies later on in the piece:
Pretty much everyone knows the Brahms Hungarian Dances, yet Roth and Gallardo play them as if discovering them anew. This being an exploratory site, let's take one that is lesser-known from the set, No. 17 (this one arranged by Kreisler; the remaining three, Nos. 2, 4 and 5, are arranged by Joachim):
It's true that the opening of the Wieniawski Polonaise de Concert, Op. 4 when played on piano sounds just like an orchestral reduction which, of course, is precisely what it is. But here it's the violin that very much matters - and I like Roth's statement that the rubato he hears in performances of the Chopin Polonaises by such as ArturRubinstein and Arturo Benedetti Michelangeli have influenced his approach here. It does indeed sound spontaneous, caught on the wing. But for true virtuoso gambolling and frolicking (at speed) it's to Antonio Bazzini's Le Ronde des Lutins, Op. 26, we should head (the title means "Dance of the Goblins"). This is Fun with a capital "F":
... and finally, to music by the Polish composer Karol Szymanowski, his Notturno et Tarantella, Op. 28. here we enter another world, lush, mysterious, perfumed. How perfectly Roth and Gallardo conjure up the magical atmosphere of the opening, and listen to Roths' magnificently controlled harmonics later on before the almost angry, busy passage as the music bursts out into fiery life. And how the music buzzes with energy later; this is indeed a most involving account: