Patientia: Violin Concertos by Philip Glass and Kjetil Bjerkestrand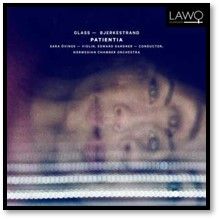 The label LAWO is establishing itself as questing, infinitely curious, and ambitious. No release shows these aspects better than this.
The Violin Concerto No. 2, "The American Four Seasons" by Philip Glass is a remarkable piece Here, the harpsichord of the orignal 2009 piece is replaced by synthesizer, which links it to Kjetil Bjerkestrand's Concerto. Glass' piece begins with amost unGlass-like Prologue, full.of musings and ruminative soliloquising:
It is only with the addition of the orchestra that we heart 'Movement 1,' with its haracteristic, morotic repetitions. Listen to how the dirrerent layers interact as solo violin operates againsst cello before a tutti positively bursting with energy. Violinist Sara Övinge is superb, both in lyrical rumination and cumulative repetition:
The solo movements are not interludes; they are like equal elements in a mosaic; after the 'Prologue,' each is called just 'Song,' Nos. 1-3 (there are eight movements in total).
The most striking movement, surely, is the fourth, simply called "Movement II' (but surely Winter? - Glass does not specify). This is beautiful, icy stasis; Övinge's line, high and subdued, is mesmeric. At over nine minutes this is by some distance the longest movement, which enables one to fully enter Glass' frozen world:
This is the still heart of the concerto, a stunning ten minutes of glacial peace; out of this comes the remarkable solo that is 'Song 2'. It is possibly the 'Movement III' (the sixth movement) that demonstrates most clearly just how attentive and accurate is Edward Gardner's handling of the orchestral contribution, and in the headlong excitement of the finale:
This Glass is in itself a phenomenal achievement; the coupling is just as fine, if less well-known.
---
The composer Kjetil Bjerkestrand (born 1955) was born in Kristainsaund in 1955 .In teh 1908s his promary interest was electronic music; his music has been linked with the likes of Ute Lemper, Dee Dee Bridgewater and Ray Charles. He has also composed music for 15 full-length films (receiving an Oscar nomination for his first, The Pathfinder, of 1987). Over the last 15 year, his music has focused ona juxtaposition of acoustic instruments and electronic sound. I love Bjerkestrand's explanation of his compositional process,  which he sees as one part a search for fixation points in a series of possible events, and one pary exploration of friction caused by the union ofthe elastic and the mechanical.
His music is often dervivced from Messiaen's third mode. But it doesn't sound like Messiaen; Listen to teh first moveent, 'Våghams,' and you hear monimalism of a completely different bent than Glass':
The more active 'En & tyve' is passionate in a way Glass rarely articulates, more heart-on-sleeve:
Nomissing the electronic element in the highly descriptive (you'll see what I mean!) 'Descent & Ascent'; but when Övinge's violin carves out its high, long line the effect is unforgettable:
The rhythmic energy of 'Seven,' with its underlying electronic beat, cedes to 'Ups & Downs' - not quite the balancing movement to "Descent & Ascent' as it functions as a profound slow movement. Övinge's lines are near-vocal in their delivery. Herethe electronic pulse] is more like a low heartbeat:
Finally, 'Patientia,' an electronic soundscape that owes something perhaps to Bjerkestrand's multimedia activites. No bad thing, at least here:slow arpeggios might seem on paper to glance towards Glass, above a slow, ground-like bass.Yet the transfixings here have Bjerkestrand's hand all over othem:
---
See here for an interview in The Strad with Övinge around this release; this is a fascinating juxtaposition of pieces.