Brahms Complete Songs #3: Volkslieder & Volkskinderlieder
All in all, this is wonderful. The singers are superbly chosen, and perfect for this repertoire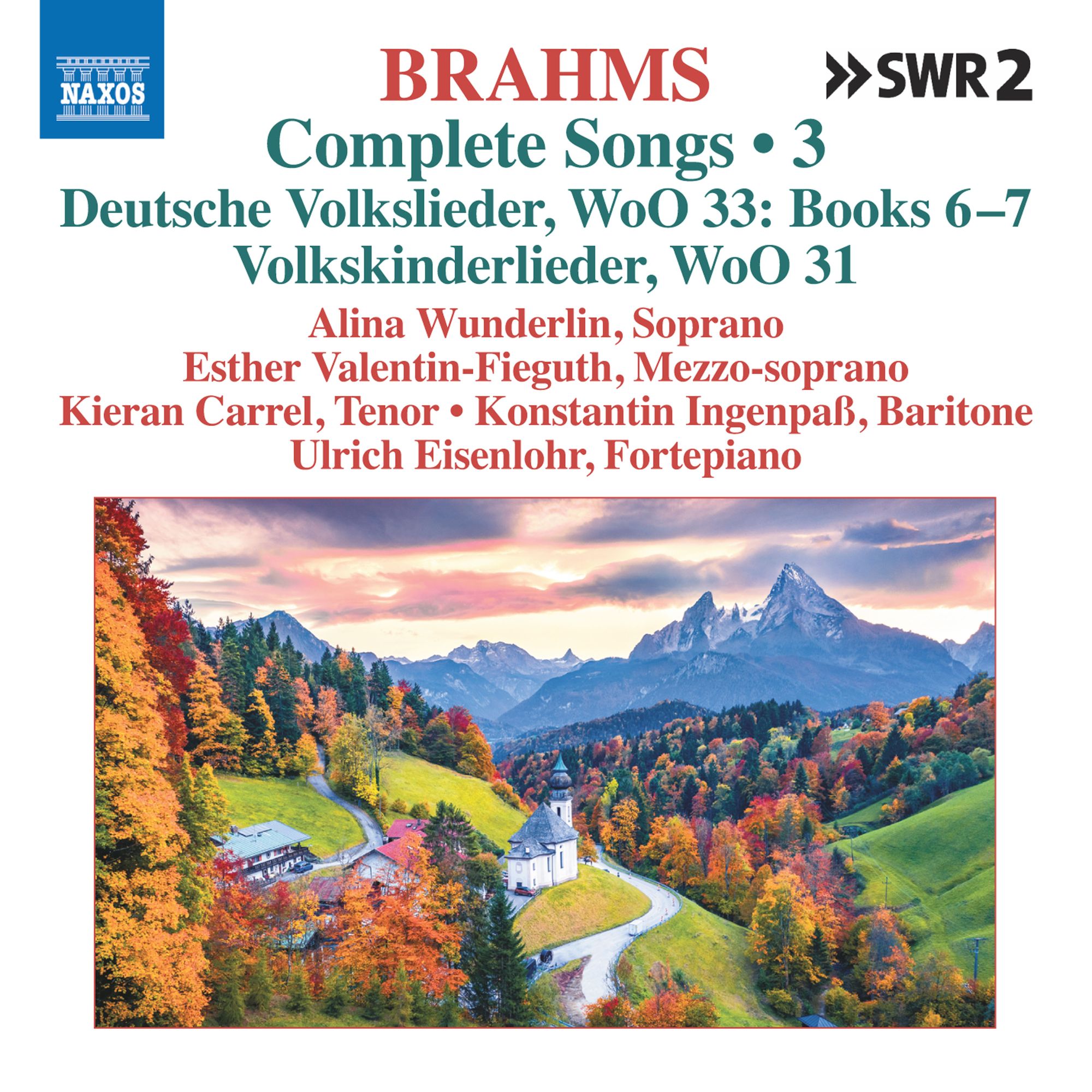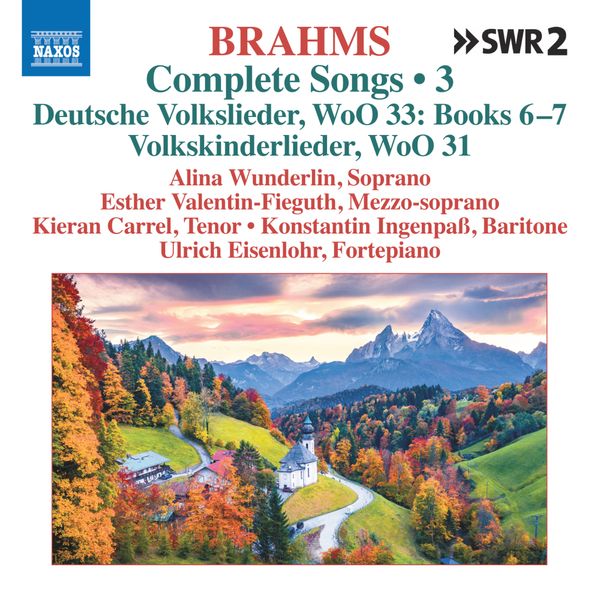 What a deliciously unexpected surprise this was when I first gave the CD a spin! It would be all too easy to dismiss Brahms' workigns of folksongs as trivial, but hey are a source of great joy, skilful and, yes, they have a Brahmsian signaure (in the keyboard contributions).
A concert at London's Wigmore Hall in January 2014 (review) really cemented the importance of theis part of Nrahms' output for me. There, the performers were Angelika Kirschlager and Jean-Yes Thibaudet. This present Naxos disc confirms the high standard of these folk settings, while adding the extra bonus of hearing the keyboard part on a fortepiano, not a pianoforte: Ulrich Eisenlohr plays on a Johann Baptuste Streicher instrument (Vienna 1684), extracting a great varity of sound - tone - and occasionally bringing real wit. Try this, with Kieran Carrel, tenor, "Beim Ritt auf dem Knie" (Riding on Someone's Knee) - the YouTube video gives the first line, erroneously, as the song title:
Brahms' link to folk music was strong and true. The songs inspired him on a deep level, adn we hear his musical signature particularly in the piano's condributions. The songs from Books 6 and 7 of the Deutsche Volkslieder (German Folk Songs) exemplify how Brahms intensified certain verses to draw out their power, or allowed the piano its own revealing melodic phrases. In Book 7 the songs are divided between a lead singer and a chorus, always handled deftly by Brahms. In the Volkskinderlieder ("Children's Folk Songs"), Brahms' economy and deftness turn lullabies into works of art.
Alina Wunderlin is a wonderfully pure-voiced soprano, as we hear in "Es steht ein Lind in jenem Tal". She has taken on roles sch as Zerbinetta (Ariadne auf Naxos) and the Queen of the Night (Zauberflöte):
... Kieran Carrel is a sweet-toned tenor (No. 40, "Ich weiß mir'n Maidlein hübsch und fein"):
One track  will surely raise eyebrows - a setting  for mezzo and piano of Heidenröslein, a poem by Goethe and, one of Schubert's most famous songs. Esther Valentin-Fiegruth is superb here - so let's hear Brahms and Schubert side-by-side, with a very characterful reading of the Schubert from Elisabeth Schwarzkopf and Gerald Moore live at the Salzburg Festival :
---
The sheer expertise of the ensemble numbers is magnificent. These come from Book 7 of the Deutsche Volkslieder.  Try the call-and-response "Es saß ein schneeweiß Vögelein", with the singers taking turns for the 'call':
Which of the singers just leaves  baritone Konstantin Ingenspaß, a performer whose expressive voice carries great warmth. Here is "Du mein einzig Licht" from Book 6:
All in all, this is wonderful. The singers are superbly chosen, and perfect for this repertoire. Eisenloh does not put a finger wrong (he provides the fine booklet notes, too), and the recording is good, too. The only possible fly in the ointment is that texts and translations have to be accessed via the internet (here), but don't let that put you off!