Truncated Traviata at ENO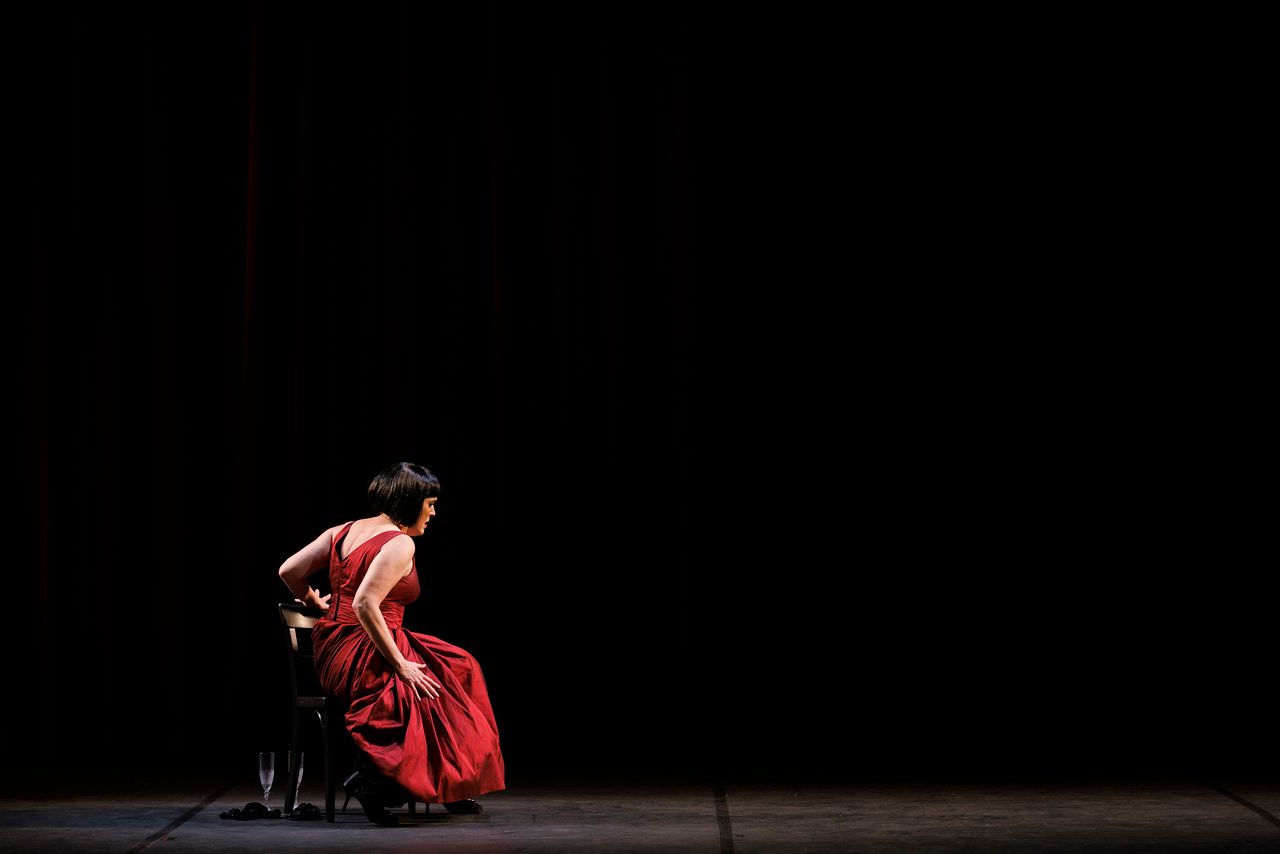 Production:
Director: Peter Konwitschny
Revival director – Ruth Knight
Designer – Johannes Leiacker
Original Lighting designer – Joachim Klein
Revival Lighting designer – Marc Rosette
Translation – Martin Fitzpatrick
Cast:
Violetta – Nicole Chevalier
Alfredo – Jose Simerilla Romero
Georgio Germont – Roland Wood
Flora – Amy Holyland
Gaston – Zwakele Tshabalala
Baron Douphol – Freddie Tong
Marquis d'Obigny – Patrick Alexander Keefe
Dr Grenvil – Jonathan Lemalu
Annina – Sarah-Jane Lewis
Messenger – Paul Sheehan
Germont's daughter – Summah Chandi / Alice Mountford
Verdi's great opera La traviata has sustained the house across the road at Covent Garden for many a year via Sir Richard Eyre's production (I have literally lost count of the times I have seen and reviewed it). A relief, then, to find English National Opera doing what they do best, offering an alternative that is thought-provoking and daring in many ways. Not least in having no interval – at times like this losing out on bar takings must hurt. But part of Peter Konwitschny's daring is that seen as a through-performed, somewhat cut, version enables the trajectory towards Violetta's demise to tell all the more. The inevitability is perhaps mirrored by the set, which is basically bare except for layer upon layer of curtains which finally part to reveal a darkness – the darkness of Violetta's oblivion. A single chair accrues maximal meaning for such a functional article, its presence at the opera's close defined by its emptiness. Alfredo, studious, nerdy, indeed sits on a pile of books in the first scene of the second act.
This is a bleak view. Society is seen as cruel, the chorus mocking Violetta's coughing early on, a ribald bunch only one or two sips of champagne away from a fully-fledged toff's orgy. Violetta's illness is in a way the seed for the ending, present right at the start, so the sense of the opera in a single breath makes sense. To enable Konwitschy's vision to come through as searingly as possible is Richard Farnes's conducting, who inspires his musicians to miracles in the pit. Rarely have I heard the ENO Orchestra – or any other pit orchestra, including Covent Garden or major houses abroad – play with such unanimity of both attack and purpose. Rarely have the gossamer string textures felt so suspended and yet so potent; rarely have wind and brass emerged as superbly balanced units. Farnes's tempi, too, have just the right feel about them, just enough space for the final tragedy to speak, just enough velocity for the energy of the party to fly (and yet, he projects a suspicion of darkness under the festivities).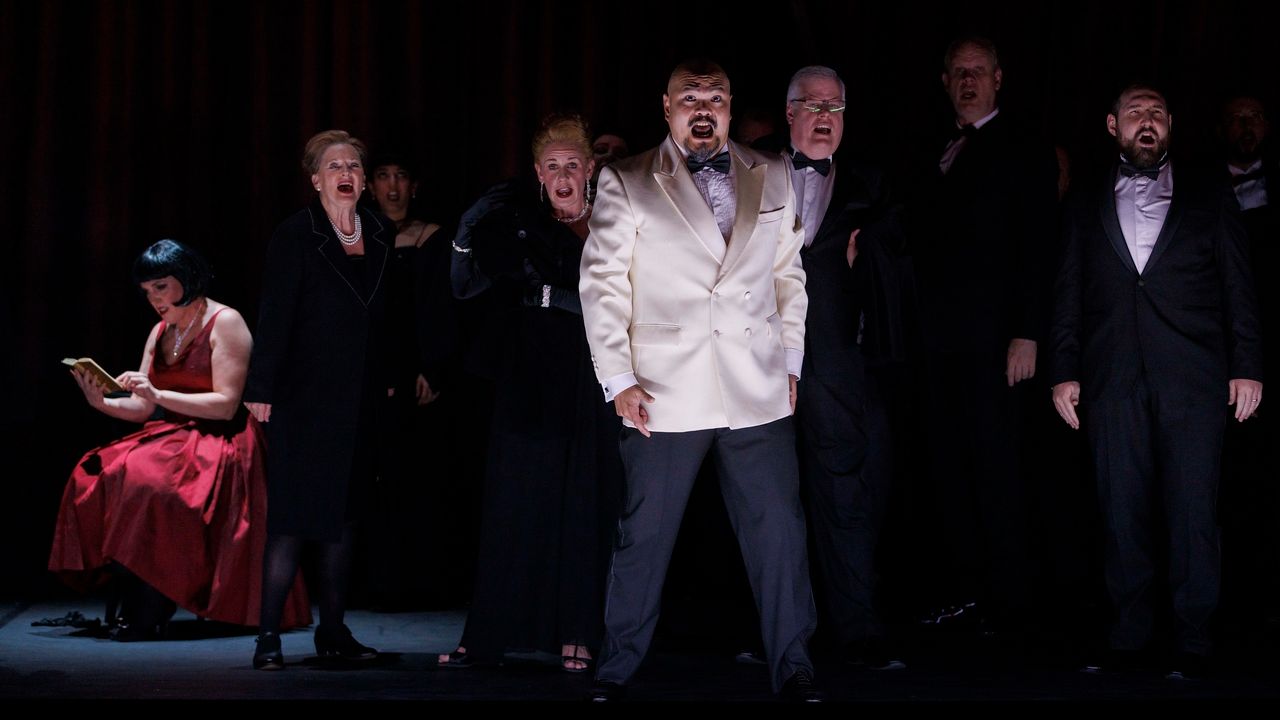 Konwitschny has commented on Verdi's second act and that it is a 'weakness' of the piece that Violetta gives in to Giorgio Germont's demands so quickly. So he adds an extra character, Germont's daughter (shared by Summah Chandi and Alice Mountford), to add to the emotional blackmail Giorgio applies. The extra character also enables Konwitschny to demonstrate the violence under Germont père's surface respectability.
Traditionalists will, for sure, hate this. The shredding of the score to put the spotlight firmly on Violetta's demise, the lack of 'placement' in a building or even era, the almost total lack of props. And yet with the focus on someone afflicted by illness and mocked by a cruel society, Verdi's piece makes its mark even more. Konwitschny uses the space of the London Coliseum stage well, too, with initially Alfredo alone in the stalls singing to Violetta, but at the very end, all the characters except for the fallen one grouped together in the stalls, leaving Violetta so very, very alone in her final moments.
---
The singing was variable: Nicole Chevalier is superb, her vocal agility excellent, her dramatic presence powerful. Her excellence is mirrored by Roland Wood's superbly stoic Giorgio Germont. Zwakele Tshabalala, an ENO Harewood Artist, is superb both vocally and dramatically as Gaston (his voice sounds beautiful) while Freddie Tong is a stalwart Baron Douphol and Patrick Alexander Keefe, another Harewood Artist, is a strong Marquis d'Obigny. Sarah-Jane Lewis made the most of the part of Annina and to fine effect. Even the Messenger, Paul Sheehan, made his mark.
Which leaves but one Achilles Heel, one role left. And it is an important one – Alfredo, the tenor lead. José Simerilla Romero's voice is too small for this house – one could argue that mirrored the bookish character he was made to play, but this contradicts Verdi's writing too much. Often simply too quiet, his ardour, such as it was, was difficult to believe.
The ENO Chorus was on stellar form, complementing the true excellence of the orchestra. Both conspired to bring Farnes's conception to fruition – and one was left in no doubt of Verdi's genius.
Konwitschny's concept is an interesting one, although whether I could sit through it as many times as Covent Garden's … well, I doubt it. But ENO – what I fondly think of as London's ENO, a company I have attended since the 1980s – remains a vital part of London's operatic life. Where would we be without it? Let's hope we don't find out. At least we know ENO is here to stay until at least 2029…