Anna Netrebko in Verdi's 'Trovatore'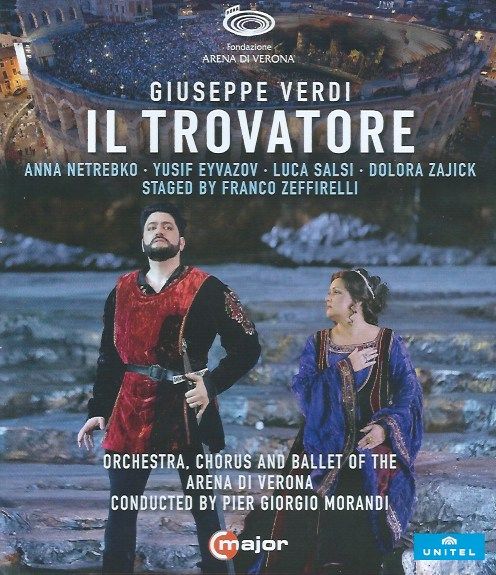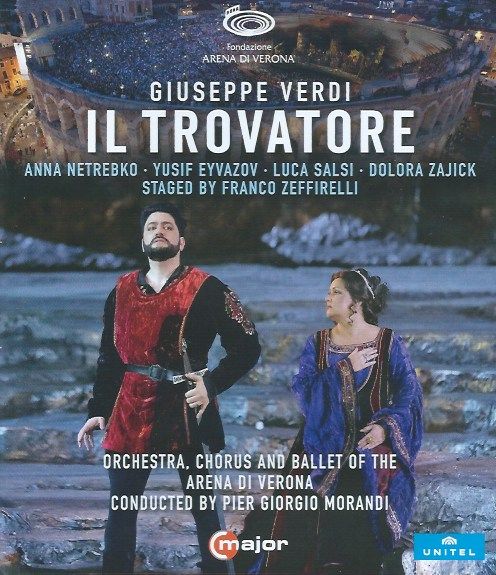 Only a few days ago, Classical Explorer featured a post on a production of Lohengrin that, while fascinating, played fast and free with what Wagner actually intended. So it makes the perfect contrast to introduce director Franco Zeffirelli's Il trovatore (The Troubadour) in a very traditional production from the huge (I say again, huge) Arena di Verona dominated by three towers. Nothing monochrome about the costumes, certainly, and all of an age of the tale itself.
Verdi's Trovatore seems to be going through something of an undeserved fallow patch. Take the Royal Opera House, Covent Garden, who for years have been filling thier sets regularly with their house production of La Traviata; productions of Trovatore are much rarer. But the piece itself shows middle period Verdi at its finest.
First performed in Rome in 1853, Trovatore's action takes place in Aragon and Biscay during the 15th century; it is based on a Spanish play by A. G. Guttierrez which was first produced in 1836. This places the text at the apex of the Romantic age, with its idalisation of earlier times, and of convoluted love itself. The story has witchcraft, murder, vengeance, revealed indentities, and love - who could want more?.
Manrico and the Count di Luna are destined to be at opposite sides of both war and love, for both fall in love with Leonora. And it is Leonora who is at the centre of it all; the part needs someone who can command the stage, and thankfully one such is Anna Netrebko.
Netrebko, star of stars and World-renowned for her Leonora, brings a real mezzo tinge to the part; her voice has a most satisfying power; ahs made her Verona house debut in this production. She is absolitely spell-binding. Here is her "Tacea la notte":
Her Manrico, the big tenor lead, is Yusif Eyvazov (Netrebko's real-life husband), here of fine voice. Here's his  "Di quella pira":
What is amazing is that even in such a vast space as Verona we can hear not only Netrebko's subtleties, but those of the orchestra , under Pier Giorgio Morandi. And how powerful is the Azucrna, here the renowned Delora Zajick. And yet, on the other side of the coin, choruses are huge (not least the famous Gypsy Chorus) which give the performance real backbone.
With a strong appeal to traditionalists in its staging and with an unforgettable Leonora from Anna Netrebko, Verona's Trovatore  appeals on many, many levels; as well as acting as a reminder as to what an extraordinary piece this is.