The Chamber Music of Eduard Nápravník
Superbly recorded, brilliantly and extensively annotated, this entire disc breathes class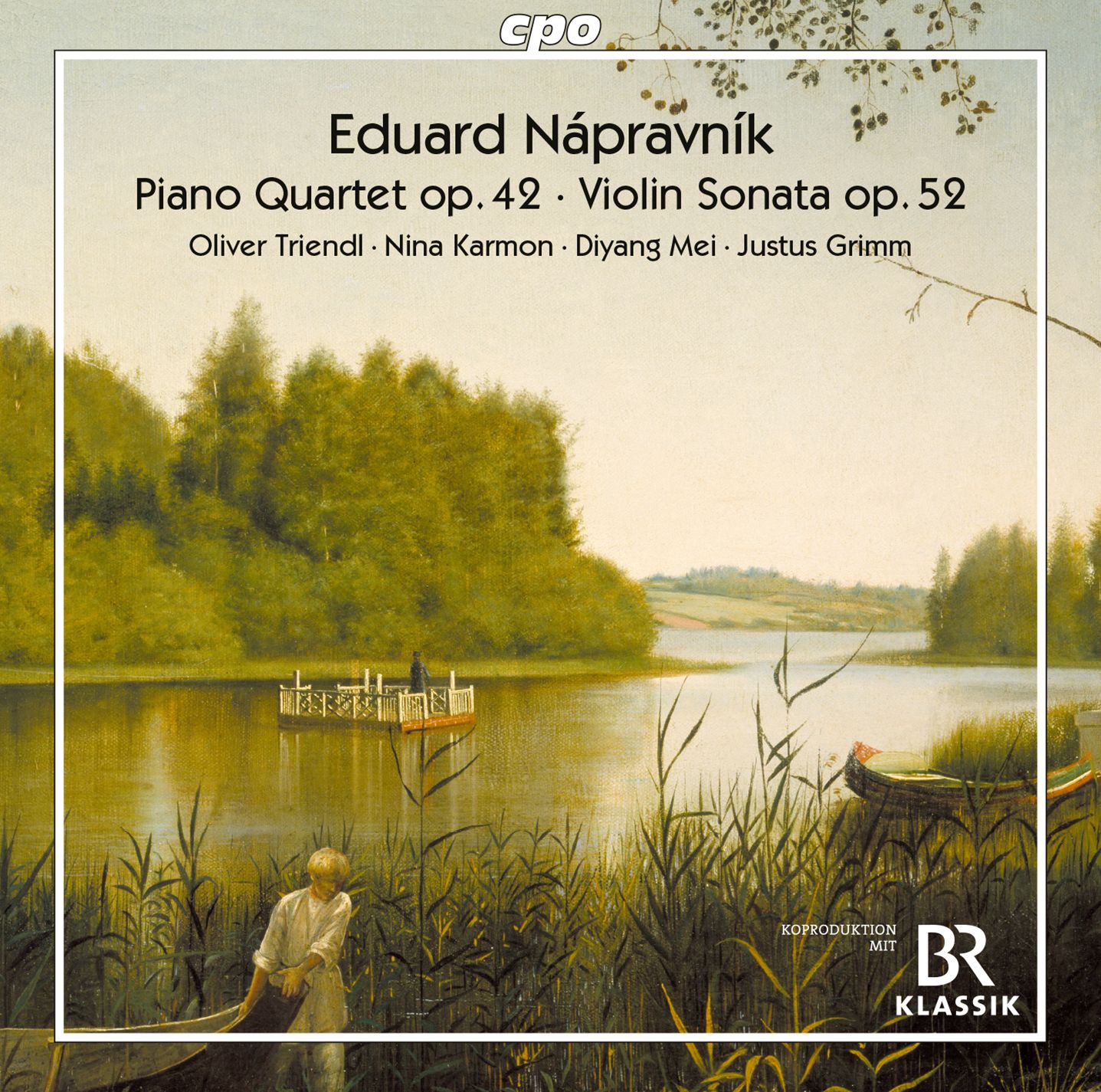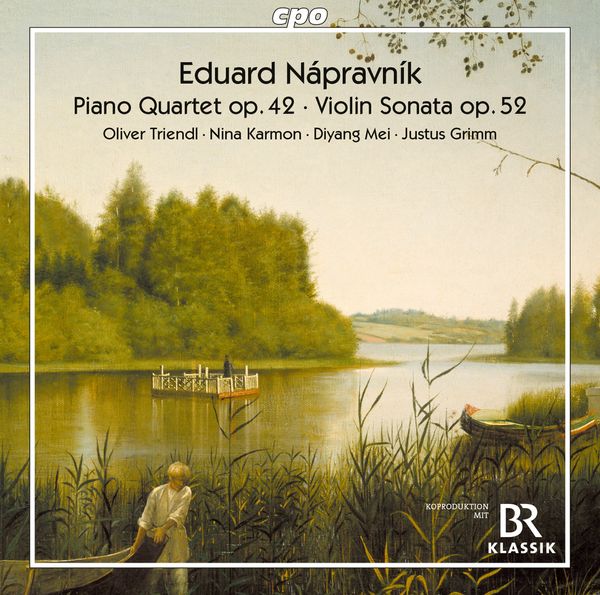 Osnabrück-based record company cpo offers up some of the most fascinating repertoire in fine performanes. This is a prime example: collectors are most likely to know the name of Eduard Náprávník (1839-1916) via Hyperion's epic "The Romantic Piano Concerto" series (Volume 37, Nápravnïk's Concerto symphonique, Op 27 and Fantaisie russe, Op. 39, both in first recordings, coupled with Blumenfeld's Allegro de concert, Op. 7: pianist Evgeny Soifertis with the BBC Scottish SO and Alexander Titov); but there is also an ongoing chamber music series on Martin Anderson's ever-enterprising record label Toccata Classics, and the complete Piano Trios on Dabringhaus und Grimm to be getting on with.
Czech-born Nápravník left behind about 200 works, including four operas and four symphonies. His main claim to fame is his stewardship of the Mari'insky Theatre in St Petersberg - he was in charge for nearly 50 years. His musical beginnings though lay in the lovely Czech town of Pardubice, where he became organist (arranged by his uncle after the boy was orphaned); he quickly continued his musical eduation in Prague. After a stint as conductor at Frankfurt Opera,  he was notiecd by several anonymous Russian heirs of Prince Nikolai Borisovich Yusopov (1750-1831); initially he was in charge of the family's own orchestra before moving to the Mari'insky (a sudden substitution featuring Náprávník on piano was a determining factor). Nápravník was to remain at the Mari'insky until 1914, just two years before his death.
Composed in 1882 and published the next year in Leipzig, the Piano Quartet in A-Minor, Op. 42 is composed on a large canvas. Some 30 minutes in duration, this is a major piece of chamber music I for one am aching to hear in the concert hall: the Wigmore Hall would be ideal. The booklet notes point out that there are long stretches of pure octaves for the piano, an effect beloved of one Dmitri Shostakovich:
The pure Romantic bent of many of the melodies is a pure joy, especially in this superb performance (heard in an equally impressive recording). Oliver Treindl is a fluent, impassioned pianist, while Nina Karmon's violin sings beautifully (dialogues with Justus Grimm's cello are equally relishable). Worth noting too how, given the symphonic scope, and writing of this music, that textures are always clear, no matter how congested the score (and it gets pretty complex at times!).
The Scherzo offers a distinctly Russian sense of dynamism (I'm not sure it quite does what the booklet says, which is to "frolic at a madcap tempo with saucy quavers" (!)) but I do agree that jeu perlé is prevalent in the main body, and  Treindl is exceptional here; the Trio is a real place of repose, gently singing its way along:
No missing the Marcia funebre aspect of the slow movement (it is marked "Molto moderato, quasi Marcia funebre"), a panel of unexpected depth given the general open-heartedness of the music so far in this Quartet. There are some fine solos here from Diyang Mei on viola and Justus Grimm on cello, and Treindl shapes the chordal melodies beautifully, but it is the composer's invention and superb construction of this movement that hit home most. And some of the textures are so inventive, including a pianissimo ghostly, held-breath passage just before movement close, performed with miraculous accuracy of both note and atmosphere here:
In contrast, the finale burns fiercely in its furious dance (the booklet notes suggest it is a "Russian alla breve answer to the tarantella" and it is easy to hear this):
---
The Violin Sonata in G-Major, Op. 52 of 1890 was at one point championed by none other than Alexander Siloti (1863-1945). The booklet notes mention a performance on YouTube by Grigori Feigin and Viktor Poltoratsky, and I include it here not only for purposes of comparison, should you wish: it also usefully includes the score:
[Movements:
00:00 Andante Sostenuto 09:54 Scherzo 16:53 Andantino Doloroso 23:31 Allegro con fuoco]
Here on cpo we have Nina Karmon and Oliver Treindl. We already know the standard of their playing from their participation in the Piano Quartet, and how they excel in this warm-hearted piece. Cast in a sunnier G-Major (as opposed to the Piano Quartet's A-Minor), again, we ar on a symphonic scale - nearly 33 minutes in total this time. The interchanges between Karmon and Treindl, coupled with Nápravnïk's expert, layered polyphony is a joy:
I hear a sort of Russian Mendelssohn aspect to the fast-moving Scherzo, which finds Treindl fleet of finger and Karmon impeccably agile; and listen to the simply massive contrast offered by the Trio:
Another touching slow movement follows, this time an Andantino doloroso. Karmon and Treindl find the perfect tempo, moving along nicely for this mellifluous music (there are some lovely, gentle gestures from the piano, and a superbly executed mini-cadenza from Karmon). There is a purity of Romantic expression in both music and performance here that makes this movement, for me, the highlight of the sonata:
The finale, an Allegro con fuoco, is a large-sclae (nine-minute) structure, full of exquisite contrasts as the fire of the movement indication dims  - if fire could melt, this one does - into moments of sweet reminiscence and recollection, at which Karmon's tone is at her sweetest:
---
Superbly recorded, brilliantly and extensively annotated, and even with a lovely front cover (a painting by Grigori Vasilyevich Soroka), this entire disc breathes class.