String Quartets by Felix Draeseke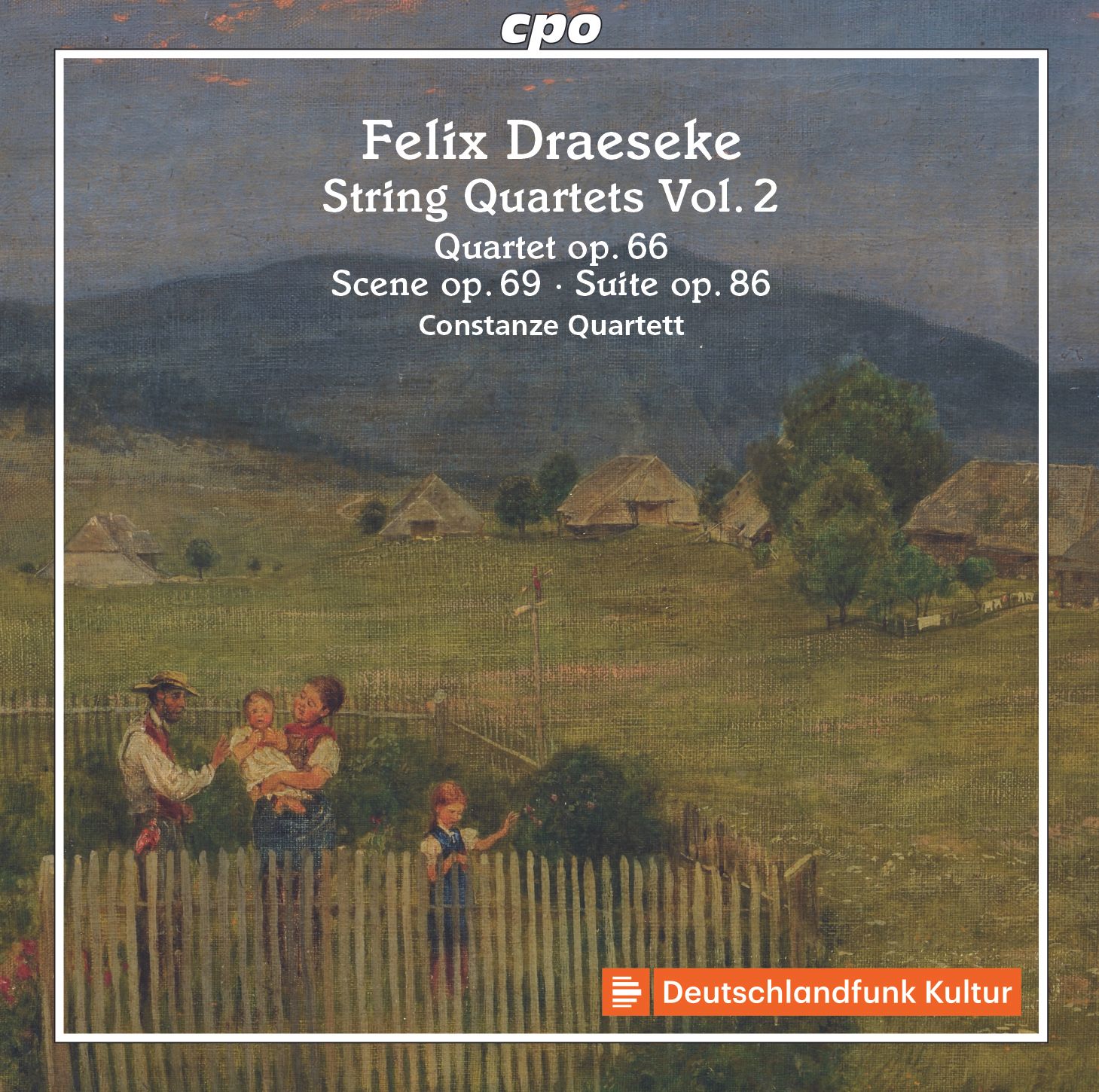 Late Romantic string quartets on offer here from Felix Draeseke (1835-1913), Anyone who likes Schoenberg's Verklärte Nacht will find an affinity to Draeseke's output. Before we get into the composer himself, just listen to this, the third movement (of five) of Draeseke's Third String Quartet, Op. 66 (in C sharp minor):
Born in Coburg, Germany, Draeseke was highly influenced by a performance of Wagner's Lohengrin; he became allied to the "New German" schoool of composers (centred around Liszt at Weimar). Later, he moved to Switzerland to teach (Lausanne) before returning to Germany.
Draeseke's music is beautiful because of his way with linear writing and counterpoint. Each of the four instruments has its own independent voice, meaning his music is the perfect blend of rigour and expression. Listen to the first movement of the Third Quartet:
Draeseke also uses mitives as a unifying thread, as is typical amongst Romantic composers. Interestingly, thiis Third Quartet was often performed during the  composer's lifetime (including a signiifcant concert in Leipzig to celebrate the centenary of Liszt's birth); it's easy to hear why, and just as difficult to explain its neglect.
It's important to realise that the music is not all contrapuntal seriousness: there is much light in the second movement, a Scherzo marked "Allegro spumante":
... while the fourth movement is an almost Brahmsian Intermezzo, light and sunny (admittedly with some clouds for contrast!):
The gritty finale brings to a close a major work for string quartet. The balance Draeseke achives between the serious counterpoint (which semetimes verges on proto-Expressionist) and the lighter shades of expression is remarkable. The performance by the Constanze String Quartet is remarkable, intense throughout (as this music demands); teh recording is similarly top notch.
This is part of a seris of discs which foreground Draeseke's Quartets. The couplings here are a piece for violin and piano, the Op. 69 Scene, and a Suite for Two violins, Op. 86. Both are fairly extended (ten and 15 minutes respectively). Erich Kleiber, no less, described the Scene as an aelaboration of a scene from Draeseke's opera Bertran de Born, although the (extensive) booklet notes question this. It is a beautiful mix of the melodically discursive and the formally tight (it is cast in sonata form). A superb performance here by Emeline Pierre on violin and Irina Frisardi on piano:
There is a real exuberance to the Scene; in contrast, the Suite for Two Violins in F sharp minor begins in a far more restrained vein, with a first movement marked "Grave":
There are some exquisite harmonic clashes in thsi first moveent; this is late Draeseke and has a real concentration about it. The two violins from the Constanze Quartet, Emeline Pierre and Esther Gutiérrez  Redondo, act as one, reacting perfectly to each other. There's the most charming yet sophisticated Menuett as the central movement that's worth quoting:
Teh cat-and-mpouse games of teh finale are postively delightful, and the performers here captrue the music's spirit to a tee.
If you do find you like Draeseke's music, maybe also try the magnificent orchestral Sonnenhymnus (Hymn to the Sun) as a complement to this disc, link below.