Springtime in Amsterdam: Annette Dasch and Thomas Oliemans star
This is a gloriously escapist film - and everyone involved gives their all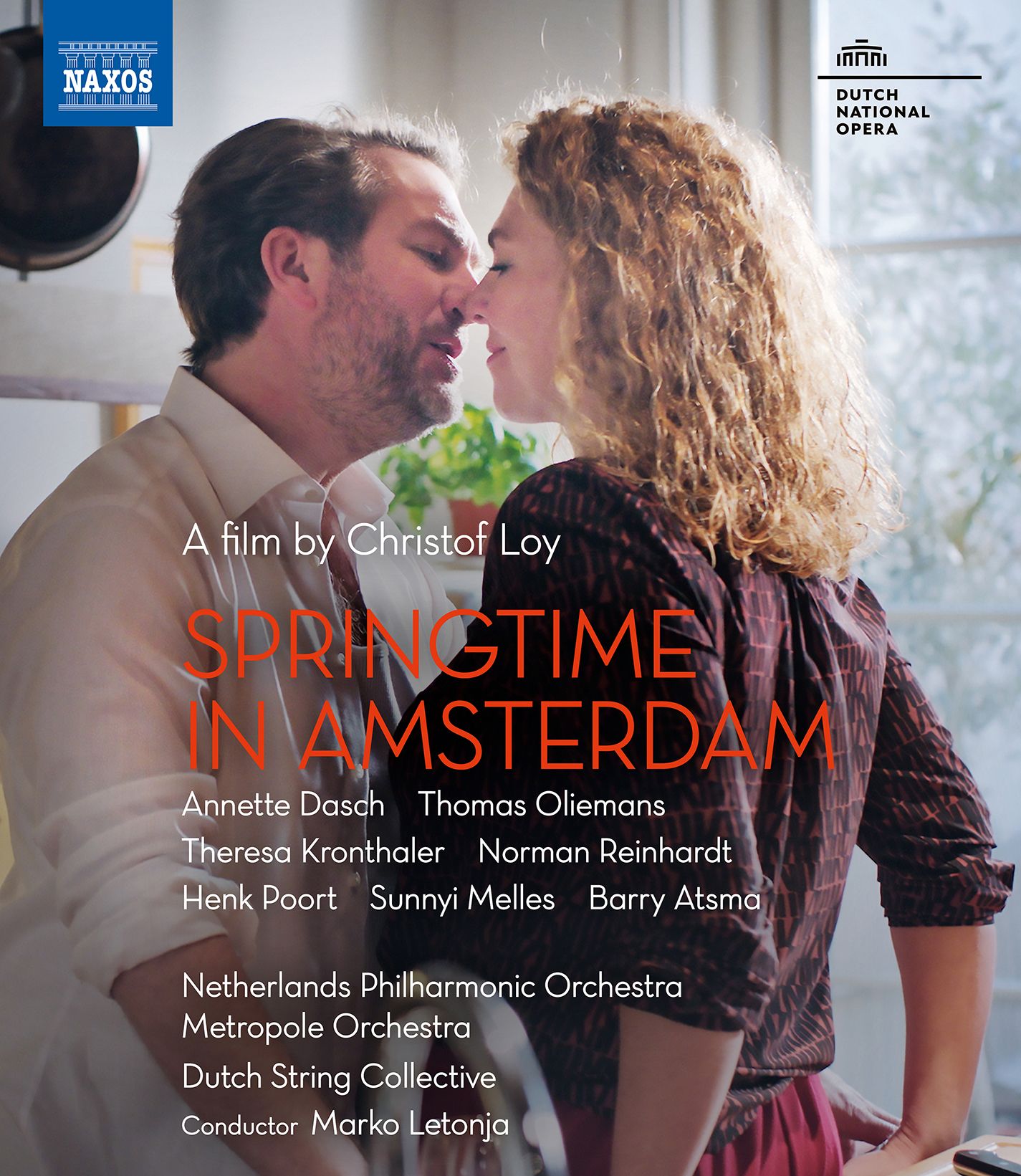 Christof Loy is best known for his work as a director in major opera houses the World over - vertainly, his Tosca at English National Opera in 2022 was fascinating in its re-envisioning of Puccini's drama (see my review). Loy is now 60, and has been awarded Director of the Year (several time) by Opernwelt magazine. In 2017 he was named Director of the Year at the International Opera Awards, where he also won the 2016 award for Best New Production for Peter Grimes at the Theater an der Wien.
This is Loy's first feature film (it is produced by Dutch National Opera), and it exudes old-time joy. The premise is that meeting accidentally in Amsterdam, a group of four people experience a series of confusions that must be resolved within 48 hours. The film is multi-lingual - a celebration of Europe, one might say - Loy homself connects it to the sty;e established by jacques Demy, referring to musical movies with Yvonne Printemps and Sacha Guitry.
The four people are Annette (a diva soprano en route to Paris), Thomas (a poor Dutch musician making money as a tourist guide), Norman (an American composer en route to Vienna looking for his roots, staying over in Amsterdam) and Theresa (a chambermaid and Norman's love interest).
Reality intrudes - Theresa also works in Amsterdam's Red Light district, Annette is lured back to her old life by her agent; the crossroads of Amsterdam emerges as something of a dream space, a place of transition in which anything can - and does - happen.
Iconic locations such as the Hotel de l'Europe provide the backdrop. Music featured includes Johann Strauss II, Oscar Straus, Kálmán, Jerome Kern, Duct chansons (and French ones, too - Jacques Brel features, including his famous song Amsterdam).
The chosen music includes Viennese operetta, Dutch and French chansons, and the American song book, performed by a renowned cast of singers and conducted by Marko Letonja, well versed in popular music. Annette Dasch will need little introduction, but there is no sense of one star here. All contributions find the actor-singers at the top of their game.
Here is a taster:
... and here's more of Dasch in similar repertoire: Lecocq's O Paris, Gai Séjour.
---
Loy picks his music perfectly - the Intermezzo (Czárdas) from Kodály's Háry János Suits is the perfect partner for Loy's visuals (Matko Letonja is the expert conductor). This earthy music immediately precedes a dream sequence that finds Hammer House of Horrors organ music ceding to Brel's iconic Amsterdam (unforgettably sung by Sunnyi Melles).
Thomas Oliemans gives a superb performance of a wonderful song: "Ach, dass ich doch ein Räuber wär" from Carl Millöcker's Gasparone. In absentia Oliemans on YouTube let's explore the historical aspect fo thsi magnificent song: here is Eduard Lichtenstein (1889-1953), who fits nicely as he emigrated to the Netherlands in 1933 (he was born in Karlovy Vary/Karlsbad and taught voice at the Amsterdam Conservatory - he was able to stay in Amsterdam during the Nazi occupation because he had acquired Turkish citizenship!). Here's a fascinating short article about Lichtenstein.
In the film, Oliemans' Millöcker is blissfully complemented by the next song, Dasch in Oscar Straus' "Je ne suis pas ce que l'on pense" from Les Trois Valses -  she sings this with a perfect sense of style and in perfect French.  
One of the most pognant moments of the film is the late duet between Theresa and Norman (Kronthaler and Reinhardt) in Paul Abraham's "Reich mir zum Abschied noch einmal die Hände". Kronthaler is superbly convincing, her blanched voice ideal; Reinhardt's voice in response is certaily beautiful, but it is to Kronthaler to whom the ear and heart gravitate. Here is an alternative performance from the Good Old Days: Ruolf Schock and Anna Moffo with the Berlin Symphony Orchestra under Werner Schmidt-Boelke. For once it is worth quoting the comments on a YouTube video - one commentator calls it "Bezaubernd schön" - magically (bemagicked, literally!) beautiful. And it is:
It is another song about Amsertdam that offers the closing number: Peter Schott"s Aan de Amsterdamsche Grachten ("It is to the canals of Amsterdam that I have committed my heart for all time" go the lyrics), a song sometimes heard as upbeat (try this one), here shot through with melancholy in Thomas Oliemans' performacnce - he accompanies himself at an upright piano in an otherwise deserted, empty apartment before, as the film's closing gesture, turning to stare out ofthe window..
---
Performances for Loy's masterly movie are uniformly excellent. This is a gloriously escapist film, beautifully shot and with some great contrasts - an outgoing ensemble dance number cedes immediately to the Dasch's poignant "Warum hast du mich wachgeküßt" (What did you wake me with a kiss), a performance of huge emotive weight given by "Annette" while in bed with her lover. There is no doubt that everyone involved gives their all. This is a refreshing yet touching film, full of imaginatve sleights from Christof Loy.
I would suggest watching the film several times as there is so much here, both in terms of music, story and mastery of direction.