Spiritato: The Taste of This Nation
Reviving, ever-appealing music, expertly performed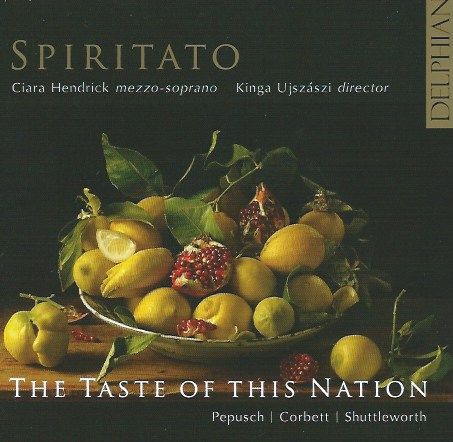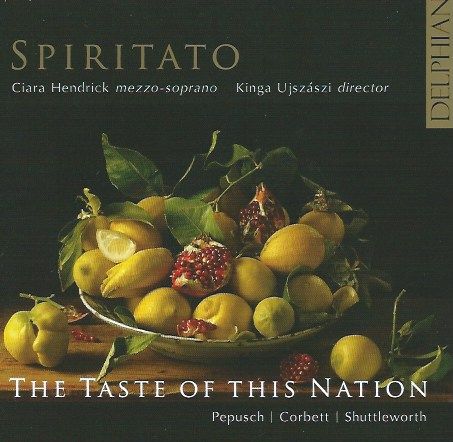 "Spiritato" is the name of the period ensemble making its debut recording here, a fine group that presents a focused portrait of how Italian styles flourished in the music of London of the early 1700s - a time prior to the arrival of Handel, in 1710.
The starting point for this programme was Daniel Purcell's preface to a volume of cantatas "after the Italian manner," which inspired William Russell to construct the hour or so's music we hear. Russell also prepared the performing materials for the Pepusch; Kinga Ujszászi, the leader of Spiritato, prepared the materials for the Corbett and Dr. Andrew Pink prepared those for the Shuttleworth.
William Corbett (1680-1748) published a set of concertos under the name Le Bizarrie Universali. Corbett had lived and studied in Italy (and is that a hint of Vivaldi I hear in some of the gestures here, in his Le Bizarrie Universali: Al' Inglese)?
There's a grace to the central "Aria cantabile" that perhaps recalls Corelli while adding some extra sophistication:
Corbett's Sonata for Trumpet and Oboe, Op. 1/12, is a little slice of bliss: Oonagh Lee (oboe) and William Russell (trumpet) shine in this (to me, at least) slightly unexpected pairing of instruments: and yet they blend so beautifully. Try this tantalisingly brief (46 seconds) "Vivace - Pastorale" to hear what I mean:
The disc actually ends with some Corbett, and just as the first piece came from Le Bizarre Universali, so does this, but it's "Alla Bolognese" this time, a brazen attempt to tap into the British appetite for Italian elements at the time .
The cantata Kindly faith at length receive me  by Johann Christoph (aka John or Christopher)  Pepusch (1667-1752) was published in 1720, and offers a highly melodic aria-recitative-aria structure. Here's the first aria:
Interestingly, the finale ("Rouse, rouse, rouse") gives us a glimpse into concerto writing in its use of trumpet; but the real star here is mezzo Ciara Hendrick (who sang on Accent's recording of Handel's Susanna, HWV 66, 1749). The echo effects between voice and trumpet in this finale are also of note. William Russell is the clarion trumpeter.
Very appropriate for the moment, The Spring by Pepusch is a brief but eloquent piece from that composer's first set of English Cantatas (1710). Hendrick is a fabulous singer, her sense of style superb, the emotion she brings to the texts immediate and fresh. Listen to the final movement aria, "Love and Pleasures gaily flowing":
Pepusch's To Chloe is a clear highlight of the disc, Hendrick supremely characterful in the recitative. But how gallant is the final "Shepherds this I've done to prove thee":
The final Pepusch cantata on the disc is While pale Britannia pensive state, which includes this most expressive air, "How long, unhappy isle," a Largo:
Readers of a certain age might remember a captivating HMV LP recording of the John Gay/Pepusch The Beggar's Opera (the piece that is probably Pepusch's claim to fame thus far - let's hope these cantatas change that): Malcolm Sargent conducted the Pro Arte Orchestra and the cast included Elsie Morison and Ian Wallace. Needless to say, the Spiritato performance of Pepusch's music is more historically informed; and if you're after a more HIP Beggar's Opera, try the Harmonia Mundi with The Broadside Band (link below).
Obediah Shuttleworth's Concerto Grosso No. 1 is written "after" Corelli's Violin Sonata, Op. 5/1. Robert Rawson in his notes is right to call this a work of "creative reimagining"; it is as delightful as it is successful. Just try this excerpt, the second Allegro (and the fourth movement, of eight), and listen to how the approach to the final cadence is gloriously expanded. The excerpt is just over two minutes long, so worth hearing complete:
Shuttleworth's Concerto Grosso No. 11  is also included (after Corelli's Op. 6/1), just as imaginative, just as courtly, just as superbly played.
I can't praise the booklet highly enough: so much information, so readably presented. The cover illustration shows a bowl of fruit ripe for consumption, wholesome, appealing. Much the same could be said of the music here: reviving, ever-appealing (and expertly performed), and very much ripe for consumption.