Soloists from the Karajan-Akademie excel in Ravel and Beethoven
An hour of pure joy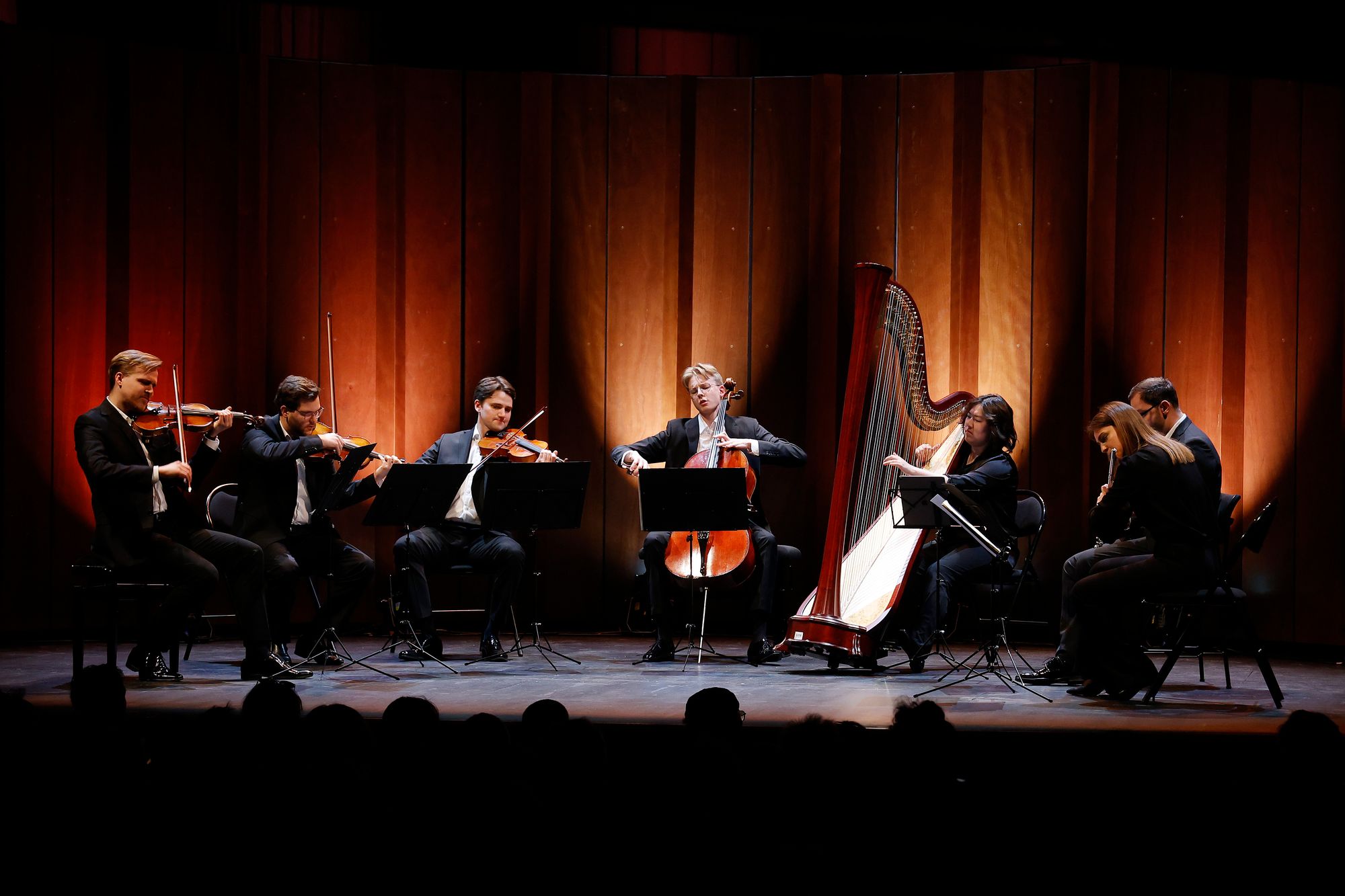 Aix-en-Provence Easter Festival: Ravel, Beethoven. Soloists from the Karajan-Akademie of the Berlin Philharmonic. Théâtre du Jeu de Paume, Aix-en-Provence, France, 15.04.2023
Ravel  Introduction and Allegro (1905)
Beethoven Septet in E flat, Op. 20 (1800)
This is a very special year for the Aix Easter Festival – ten years since its formation in 2013. A lavish hardback book celebrates its achievement, and the programme for 2023 included many, many highlights.
With its own 'Generation à Aix' acknowledgement of the importance of youth in music, it seemed only fitting that a concert by soloists from the Karajan Academy of the Berliner Philharmoniker should preface an evening concert featuring Yuja Wang, the Orchestre de Paris and conductor Klaus Mäkelä in Magnus Lindberg's new Third Piano Concerto.
This was actually the second concert of the Karajan-Akademie at this year's Festival – the ensemble is in residence for this year's festival. On Tuesday, April 13 the larger Karajan-Akademie orchestra had presented Ravel's Le tombeau de Couperin, Berlioz' Les nuits d'été (with Alix Le Saux, mezzo) and Beethoven's Fourth Symphony uneder Lionel Bringuier (the youngest ever winner of the Besançon conducting competition).
The Karajan-Akademie was founded some half-century ago, preparing Europe's most talented young musicians for a life of orchestral playing. Chamber music is a vital part of any musician's life, and this was a celebration par excellence of youthful enthusiasm and, in the Beethoven, vigour,
But first, Ravel's exquisite, intimate Introduction and Allegro for harp, flute, clarinet and string quartet. Anja Malkov and Lorenzo Dainelli were the excellent wind players, Sophie Shen the harpist, and the string quartet comprised Oleh Kurochkin, Natan Tishin, violins, Albun Ulusijärvi, viola and Tatu Kouppinen, cello. A wonderful mix of nationalities creating music as one. Melodic handovers, where the line moves from one instrument to another, were beautiful (one between flute and viola was particularly impressive and seamless). From glassy harp harmonics and washes of sound from harpist Sophie Shen to some lovely clarinet playing from Lorenzo Dainelli, the piece emerged as spellbinding, its status as masterpiece firmly underlined. This was considered, expert playing that exuded a mastery far beyond the players' actual ages.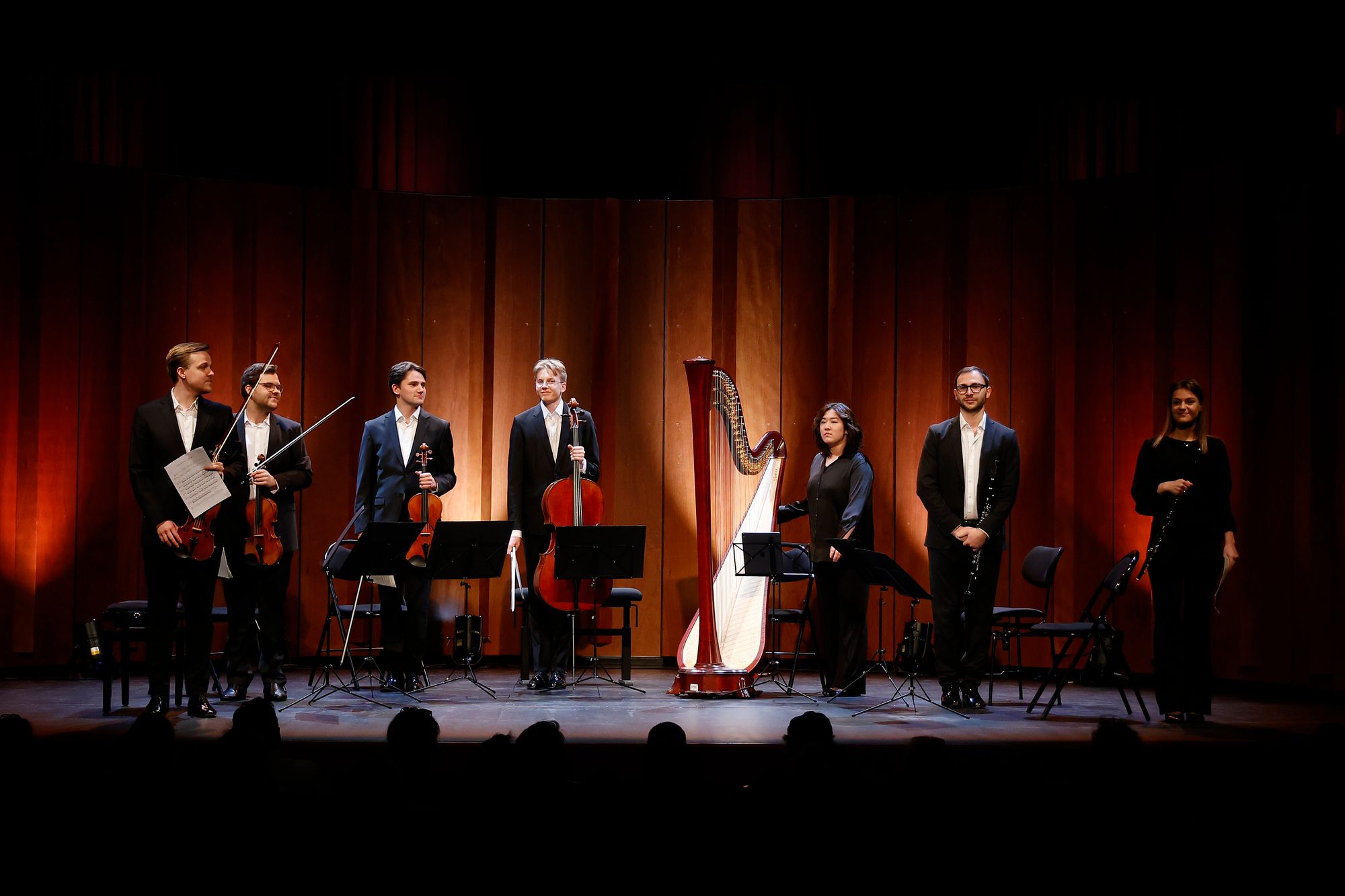 While we are here, let's enjoy a performance of this piece, a classic recording from the Nash Ensemble on the wonderful CRD label:
---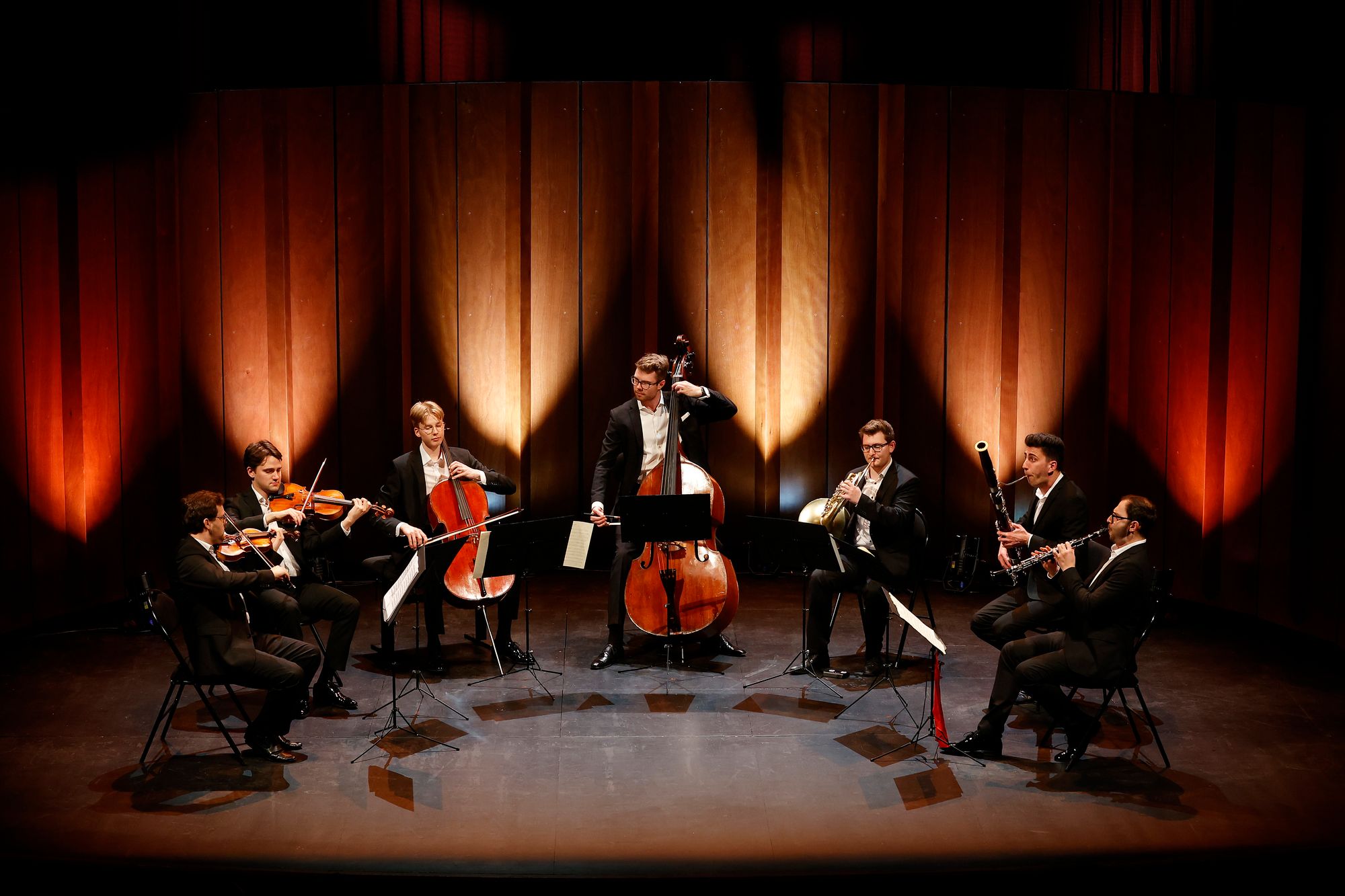 Why the Beethoven Septet is not played more defeats me. Written just over a century prior to the Ravel, it exudes a soundworld all of its own. It enjoyed much popularity during the composer's lifetime, is expertly written and breathes an air of easy inspiration. Despite the composer himself famously  dismissing the work for its popularity, it remains delightful and a perfect example, were it not for the scoring, of Harmoniemusik (interestingly, Beethoven's pupil rearranged it as a Sextet). Harmoniemusik was music for winds, often designed for outdoor performance. Beethoven's Septet adds violin, viola, cello and double-bass (this last, Moritz Tunn) to a wind line-up of clarinet, horn (Thomas Mittler) and bassoon (Luka Mitev). Like Ravel, Beethoven creates a unique sound universe for his piece, and all credit to the Karajan-Akademie players for balancing it so well. This piece, perhaps, could have benefitted form a better acoustic (the sound in the Théâtre du Jeu de Paume feels rather dry). That did not stop moments of magic from happening, most notably  Dainelli's molten clarinet solo that opened the second movement Adagio cantabile, Oleh Kurochkin's violin riposte almost as eloquent. The tempo was ideal, flowing yet with space for expression and realisation of subtle harmonic shifts.
The Septet contains both minuet and scherzo. The main theme of the Tempo di menuetto will be known to many through the Piano Sonata Op. 49/2, where the theme forms the basis of the second (and final) movement. Here in the Septet, the Trio poses many challenges to the horn player (the excellent Thomas Mittler); there are some lovely horn/clarinet exchanges there, too, in this Aix performance, the epitome of chamber music. Beethoven was a master of the variation form, and this Tema con variazioni is a joyous exploration of a martial theme, beautifully delivered with considered use of staccato by the ensemble. Some very characterful cello playing from Tati Kauppinen going forwards, and an engaging bassoon (Luka Mitev) and clarinet variation. The 'minore' variation was nicely shaded.
Nice that the Karajan-Akademie players made a hard distinction between Menuetto and Scherzo, the latter hard edged until its more lyrical Trio. Some nicely cantabile horn playing from Mittler graces the finale's Andante con moto alla marcia before the positively scampering Presto seemed to sum up all that is good in the world. Taking the simplest of downward arpeggiations on the horn, Beethoven creates a place of pure escapism. Any harmonic clouds are markedly short-lived, and this is just the type of music to benefit from performances from youthful players, full of optimism and life.
This was far more than an apératif for the main event an hour or so later over at the Grand Théâtre de Provence. It was an hour (almost exactly) of the pure joy that can be gleaned from the act of music making with friends.
There is a wealth of information on the Berliner Philharmoniker's Karajan-Akademie page, and a stack of videos on their YouTube channel.
Full listing of performers: Anja Malkov, flute; Lorenzo Dainelli, clarinet; Luka Mitev, bassoon, Thomas Mittler, horn; Oleh Kurochkin, Natan Tishin, violins; Albin Uusjärvi, viola; Tatu Kauppinen, cello; Sophie Shen, harp; Moritz Tunn, double-bass.
For a recorded example of the Beethoven Septet, let's indulge in the Leipzig Gewandhaus Orchestra Soloists, recorded in the mid-1960's (if you scroll down the comments, there's an interesting bit of trivia about Beethoven's Op. 20 and Liszt). Interestingly, Leonidas Kavakos chose Op. 20 as a disc companion for his recording of the Beethoven Violin Concerto.
All photos © Festival de Pâques Aix-en-Provence 2023, Caroline Doutre