Dresdner Festspiele, SchwarzWeiss: Michael Wollny Trio in Dresden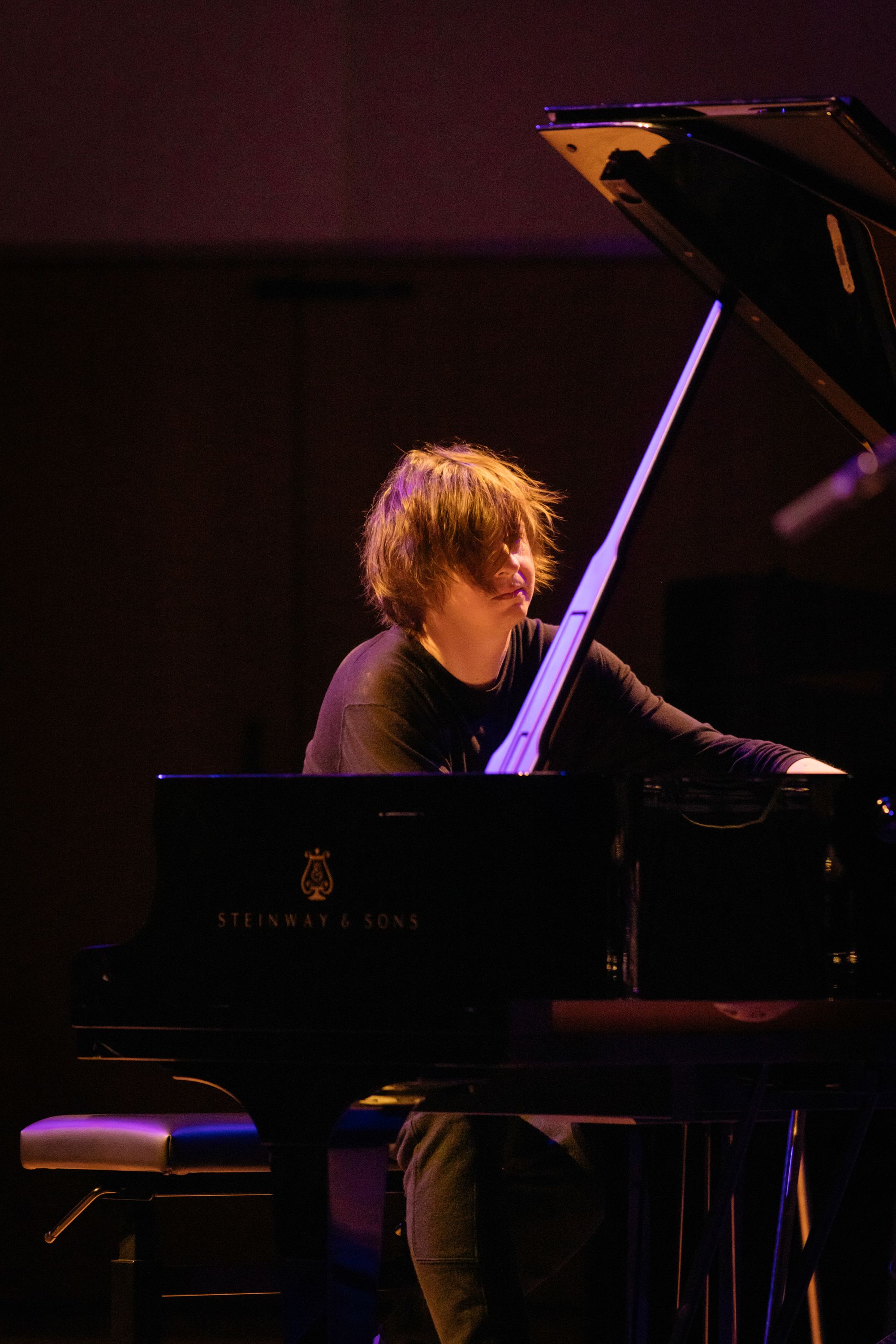 Dresden Festival 2023 : Michael Wollny Trio Michael Wollny (piano); Tim Lefebvre (double-bass/guitar/synth); Eric Schaefer (drums). Kulturpalast, Dresden, 12.06.2023
Gershwin/Wollny I loves you, Porgy
Wollny      Nacht. Lasse! (arr. Schaefer)
Hindemith/Wollny Rufe in der horchenden Nacht (No. 4 from Hindemith's In           einer Nacht, Op. 15)
Wollny      Der Wanderer. Hauntology. Monsters Never Breathe.          When the Sleeper Wakes
Ellis Cave      Hand of God
Duke Elllington   In a Sentimental Mood
Brion/Kaufmann  I'm just a little person
This was a real privilege: the Michael Wollny Trio is one of the most imaginative jazz ensembles around today, a collective of three individuals at the height of their talents. I say 'individuals' as Wollny, Tim Lefebvre and Eric Schaefer are each individual jazz giants.
The opening take on Gershwin's I loves you, Porgy is also heard on the Michael Wollny Trio's 2022 album Ghosts – an 'easy' way in, slowly unravelling, the Gershwin initially 'ghosted' until that composer's hallmark harmonies start to creep into Wollny's rather more modernistic soundworld. Here's a link to the abum track.
It was a track from the 2014 album Weltentraum that featured next: Nacht, perhaps a touch Debussian at the opening (but against restless rhythms from bass and drums/cymbals). The combination of slowly-unveling piano sequences against quietly active drums, underpinned by again quiet but urgent double-bass rhythms, is highly effective. It is worth noting earlier rather than later in this review the excellence of Eric Schaefer's percussion contributions: always imaginative, always an integral yet (unless in solo) non-invasive part of the sonic scenery. Here's a complementary live performance, his one from Leverkusen.
Masterly; both Schaefer and Lefebvre provide the perfect backdrop for Wollny's ever-imaginative playing. Wollny seems to revel in each work's harmonic palette; he plays as if he holds it up in his hand and looks at it in wonder.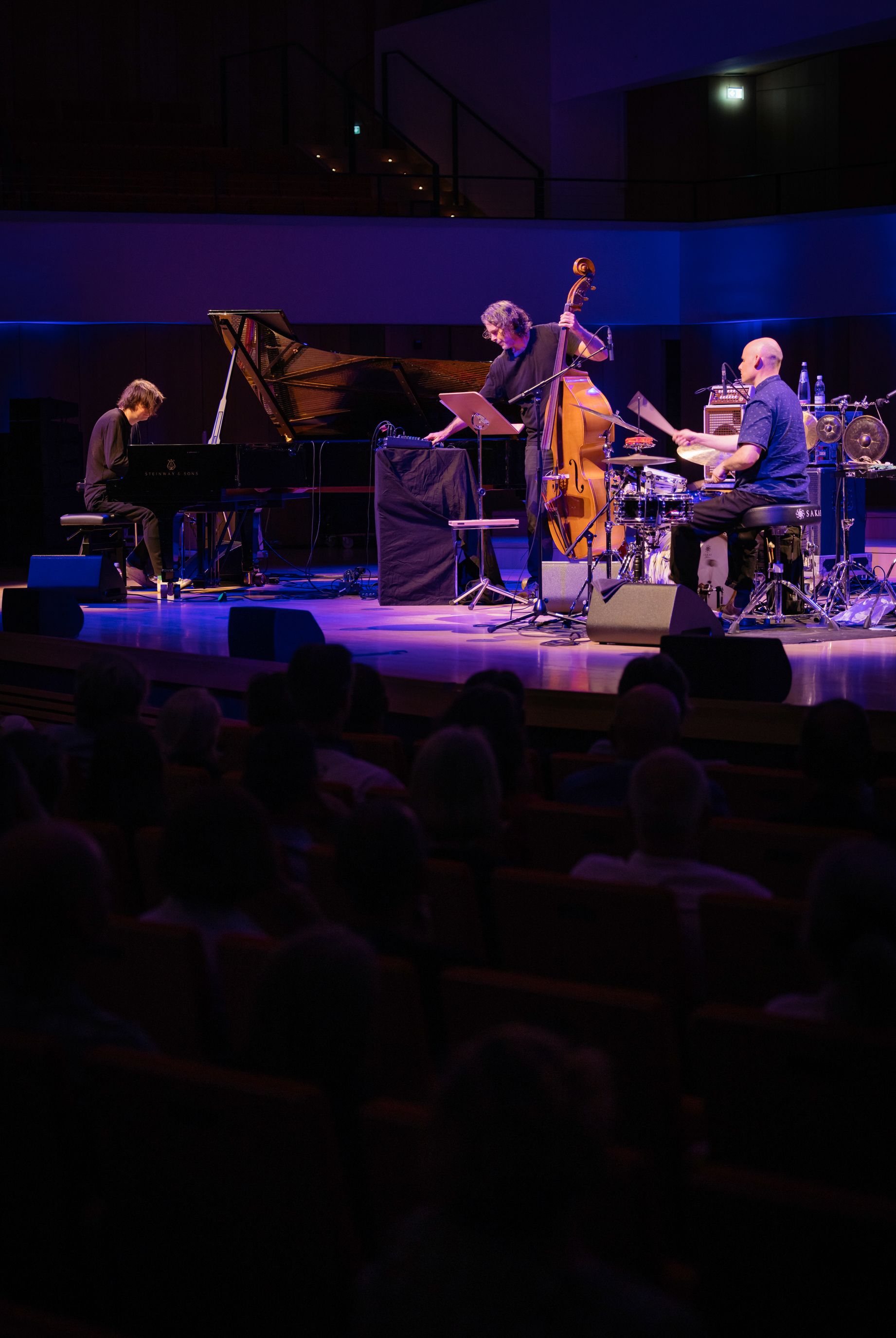 One can hear this again at the opening of Wollny's fascinating take on a piece by Hindemith: "Rufe in der horchenden Nacht" from that latter composer's In einer Nacht, Op. 15 (a link to the original, performed by Bernhard Billeter on the Jecklin label). It is interesting how the music creates harmonic fields over which each individual instrumentalist can riff: Lefebvre's double-bass break a case in point here (Lefebvre si one of the finest jazz double-bassists I have ever heard). Wollny's takes on other composers' music are never less than fascinating (do seek out his version of Schubert's Erlkönig on the album Ghosts: link).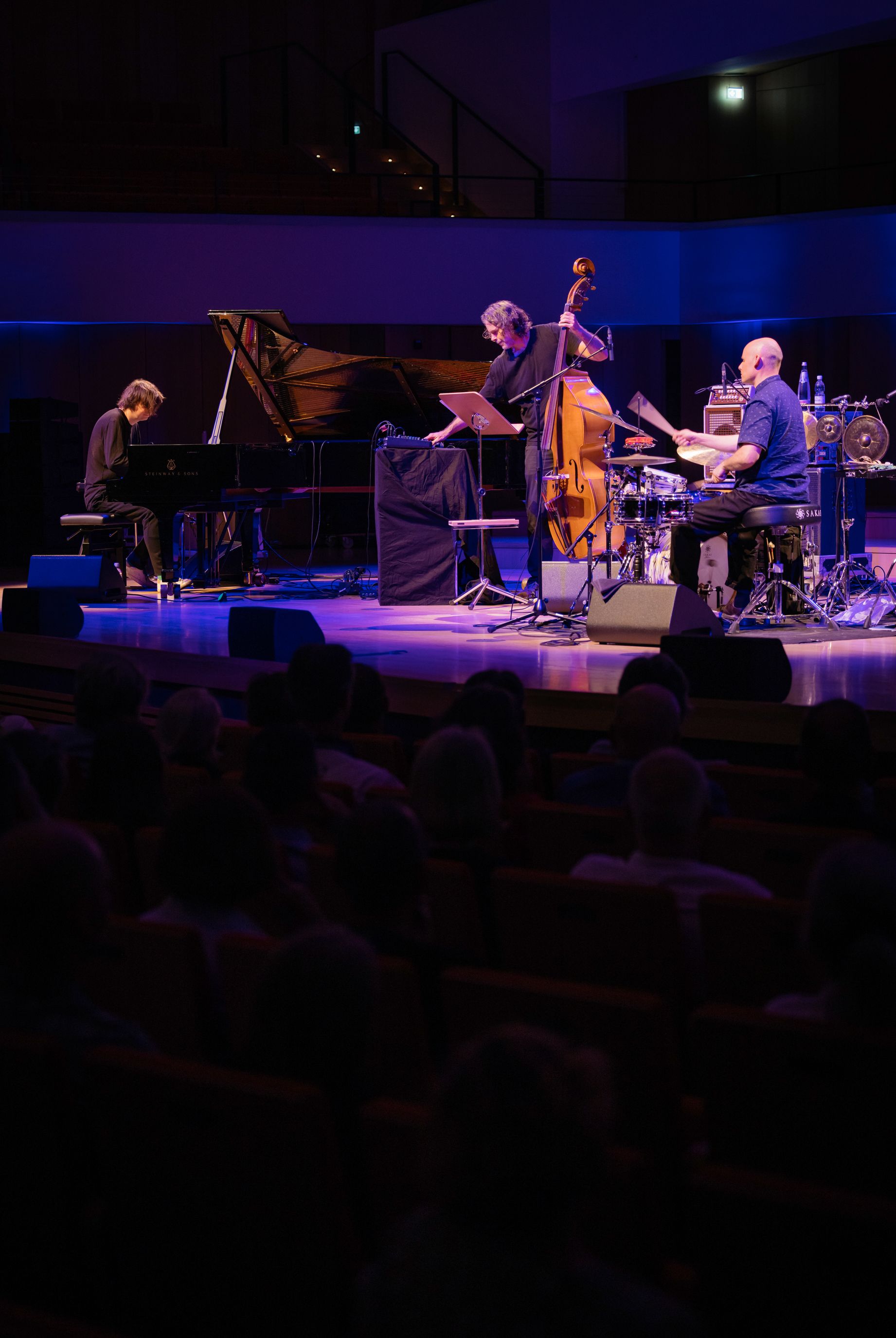 The piece Der Wanderer had featured on Wollny's 2015 album nachtfahrten: here's the official video of that. A plateau of rest, this was underpinned and garlanded by Eric Schaefer's confident, soft activity and grounded by Lefebvre's basslines. It was complemented by the harmonically unstable Huantology (from the 2022 album Ghosts), its left-hand ostinato niggling, incessant against a right-hand high chord sequence. Again, Lefebvre offered a treatise on expert double-bass playing. As on that album, Hauntology was followed by the Michael Wolllny Trio's take on Nick Cave and Warren Ellis's Hand of God (the original is available as a YouTube video). Wollny's take had an ever-increasing velocity: some of his piano breaks were remarkable (faster, it seemed, than on the album); dialogue with Lefebvre was stunning.
There was some sense of rest to Monsters Never Breathe (again, from Ghosts: link to that track); interesting that Wollny's version of Duke Ellington's In a Sentimental Mood was somewhat destabilising, texturally sparse, occasionally obsessing with micro-motifs. (that sense of relentless ostinato returns here). One should not perhaps forget that Ellington himself offered an alternative version of that piece with John Coltrane). Levels of discombobulation in Wollny's pieces vary: they were less marked in the performance of Lasse! (which can also be heard on the album Weltentraum) - a piece that came across as something of a post-Chopin Barcarolle.
The idea of simplicity blossoming quickly into complexity is encapsulated in When the Sleeper Wakes (from the album Weltentraum), its repeated notes and staccato piano breaks in contrast to the sea of active drums from Schaefer (who came into his own here as much as Vollny's impressively rapid prestidigitations). It was left to Little Person (from Weltentraum)  to round off the evening: an interval was planned but never materialised, Wollney told us ...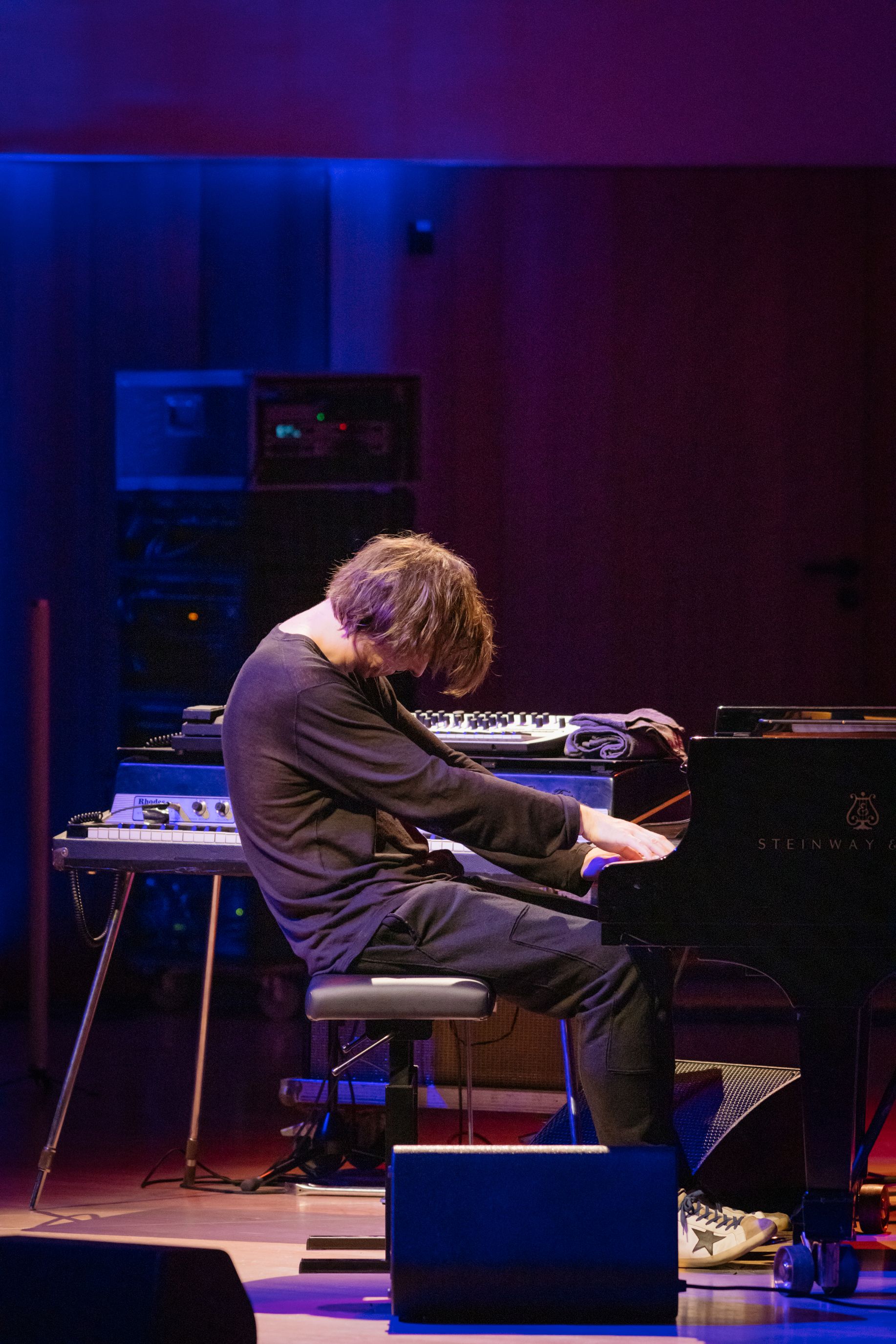 Wollny's ear for texture is second to none: he creates tapestries of sound, kaleidoscopic vistas that both hypnotise and enchant. That he has two such world-class collaborators to realise his musical dreams is remarkable. An unforgettable evening. I was just surprised it was not sold out (the Nagano period informed Rheingold, my real reason for being in Dresden, very much was). Part of the Schwarzweiss Dresdner Festspiele, the Michael Wollny Trio offered an unforgettable experience.
Post cover photo also © Oliver Killig