Schumann Complete Piano Trios, plus more treats ...
One of the finest sets of chamber music in recent years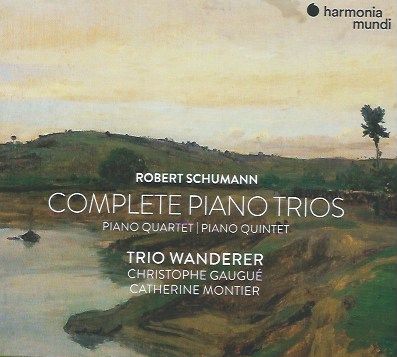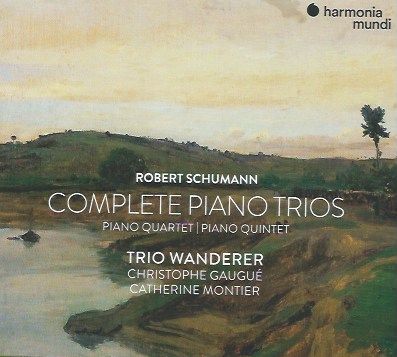 This three-disc set presents chamber music at its very best. And not just anyone's chamber music - Robert Schumann's, whose chamber music for some reason has always seemed undervalued. In performances of great warmth, spirit, and depth, Schumann's music positively shines.
The Wanderer Trio (a piano trio) is joined by viola player Christophe Gaugué and violinist Catherine Montier on the first disc, which  presents two of the greatest pieces of Schumann's chamber music, the Piano Quartet and the Piano Quintet. Of the two, the Op 47 Piano Quartet is the lesser-known butthe Trio Wanderer with Christophe Gaugué certaily persuade us this should not be so. The Trio Wanderer's pianist, Vincent Coq, is magnificently fleet-fingered in the Scherzo:
The Piano Quintet in E flat, Op. 44 is a true masterpiece. Listen to the natural unfolding of the first movement - not to mention the sheer strength of the opening statement:
The second movement is "In modo d'una Marcia," almost shady, its quiet but unstoppable tread massively atmospheric here. Here's a film of their performance:
The descending chords on the piano in the Scherzo are like a chruch bell's carillon; that whole movement exudes the energy of youth before  the dance of the finale stomps its way in. This performance holds valuable lessons - how careful observance of tempo markings yields maximal results. The Trio Wanderer and friends listen to Schumann when he asks them for "Allegro ma non troppo": fast, but not too much so. And so it is that every note speaks and there is a sort of "bounce" to the rhythm that would have been eradicated at a quicker tempo:
There are three PIano Trios. The first, in D minor, Op. 63 revceives a glowing, impassioned performance. The Scherzo is the most famous movement, but let's hear the first for the superb, light interchanges between the three players:
The Second Piano Trio (F major, Op. 80) is a work of clear genius from first to last, and the Trio Wanderer presents an unforgettable performance, light, fleet, yet possessed of infinite depth. The lyrical outpouring of the slow movement is a true high point, and losten to the sophistication of Schumann's fragile writing here:
The Third Piano Trio (G minor, Op. 110, 1852) takes us into very different  territory, and the Trio Wanderer pimpoints the change in expression - it seems to make the perfect partner to the Phantasiestücke that close the set. Let's hear the magnificent first movement of Op. 110. Suddnely the music is perceptibly darker:
One of the finest sets of chamber music in recent years. At less than £16 currently on Amazon, so just over £5 a disc, this might just must be the bargain of the month!