Schumann chamber music from the Kungsbacka Piano Trio
Schumann's Third Trio is a masterpiece; and then there are those fascinating Canonic Studies ...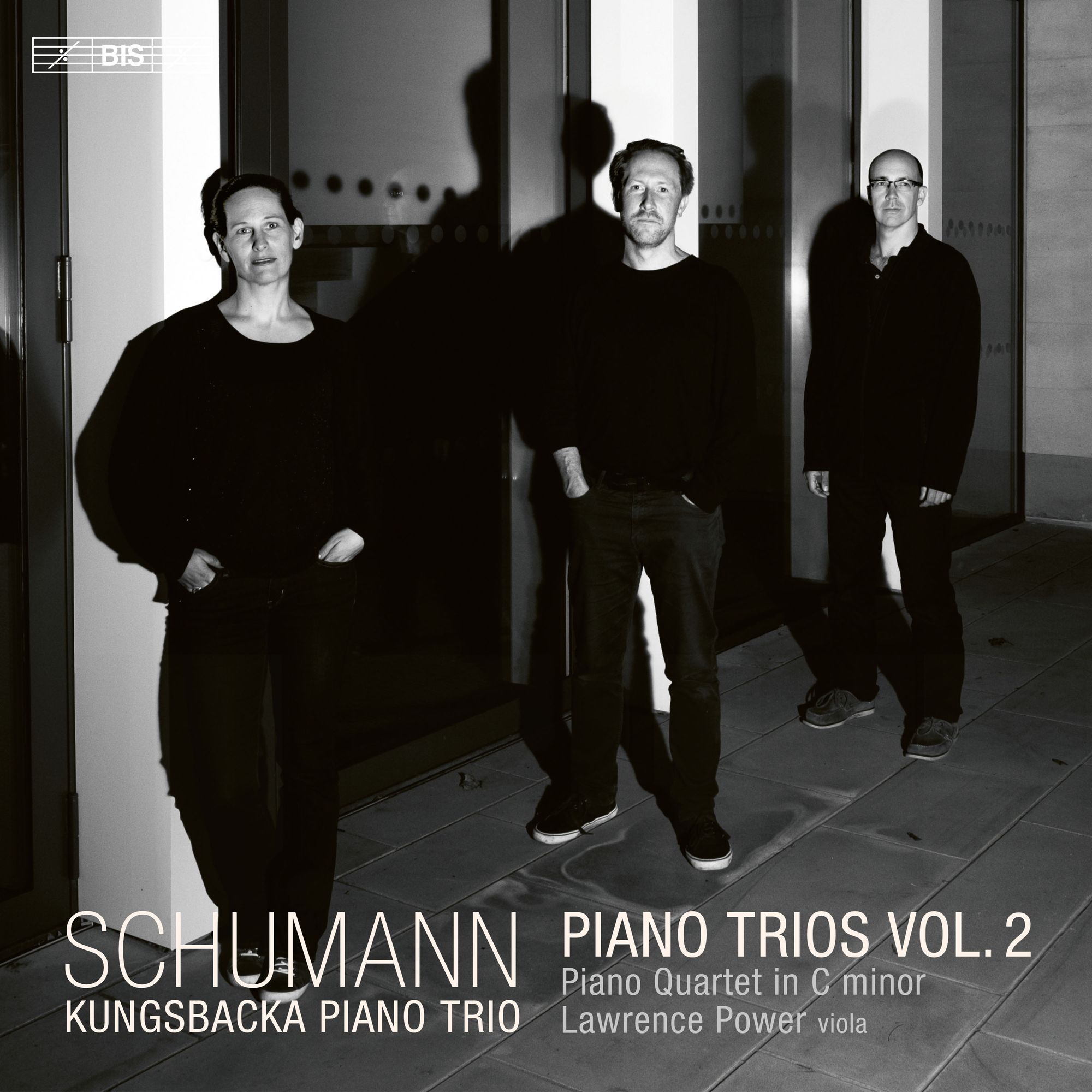 Formed in 1997, the Kungsbacka Piano Trio (Jesper Svedberg, cello; Simon Crawford-Phillips, piano; Malin Broman, violin) won First Prize in the Melbourne International Chamber Music Competition; the players went on to join the Young Concert Artists' Trust, the BBC Radio 3's New Generation Artists' scheme, and became 'Rising Stars' with the European Concert Halls Organisation, performing at venues including New York's Carnegie Hall, the Concertgebouw, Amsterdam and Konzerthaus, Vienna. In the United Kingdom, the Trio performs at the South Bank Centre, Wigmore Hall, Bridgewater Hall, LSO St Luke's, and the City of London, Cheltenham and Edinburgh International Festivals.

The ensemble founded the innovative Change Music Festival in the town of Kungsbacka, Sweden and was awarded the prestigious "Interpretpris" from the Swedish Royal Academy of Music in recognition of its artistic achievements.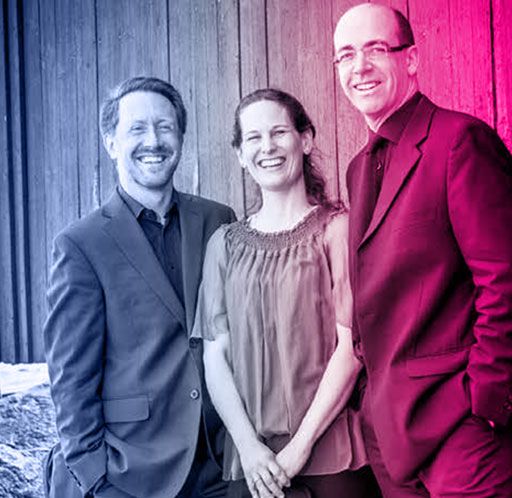 The Kungsbacka Piano Trio's first disc on BIS was of Schumann's Piano Trios Nos. 1 and 2. Here is the wonderful Third Piano Trio, the Piano Quartet in C-Minor (1829, with violist Lawrence Power) and the Six Studies in Canonic Form (Sechs Studien in kanonischer Form), Op. 56, orignally for pedal piano, and the earlu PIano Quartet in C-Minor (violin, viola, cello, piano)m only published in 1979!
Pianist Simin Crawford-Philips has referred to "obsessive impulses" running through Schumann's late Third Piano Trio (1851). Here's the extrarodinarily concentrated, yet restless, first movement, and just listen to the high level of chamber music performance here:
The slow movement is fascinating in its contrasts, its long-breathed opening melod and ensuing sense of dialogue between the strings contrasted with a decidedly more nervous central secion (the metre also changes, from 12/8 to 9/8). Interestingly, the return to the opening tempo brings music that still holds a shadow of the middle section's disquiet:
The repetitions of the third movement, both on a micro-level (thematic) and a macro-level (the returns of the first section after contrasting panels)  seem to unpeel a core of nervousness, the contrasting episodes' attempts to provide balm never really succeeding. The off-beat mature of the principal theme of the movement seem just to underline this malaise. This is fascinating music, underpineed by a sense of searching:
The finale is described in the booklet notes for this release as "weirdly upbeat" and link it to the irony one can find in Mahler and Shostakovich. Quite right; it also contains more ruminative moments that tend towards navel-gazing before the music suddenly pulls itself together into something more resolute. Tracking this music as one listens is quite the ride; and yet it all sounds impeccably of Schumann - it could not really have been written by anyone else!:
What a piece Schumann's Op. 110 is!
---
The Six Studies in Canonic Form are rarely heard, and yet little individual miracles. Schumann had a keen interest in Bach's music, and  appear as small contrapuntal jewels that testify to Robert Schumann's keen interest in Johann Sebastian Bach's Preludes and Fugues. One could see the six miniatures as sudies in different aspects of counterpoint; they are certainly born of a Romanic temperament. Schumann had suffered a breakdown in 1844; the pieces date from 1945, and could almost be seen as therapeutic for the composer. They are far from academic: there is utmost beauty in the second:
That beauty is echoed in the fourth, which then goes on to create a real sense of unease through spiralling imitation:
The Kingsbacka's performances are impeccable, nowehere more so than in the somewhat jaunty fifth, with its almost elfin close:
Originally written for pedal piano, they are heard in an arrangement for piano trio by Theodore Kirchner (1823-1903) that clarifies the textures beautifully.
---
Finally, to the extreme other end of Schumann's life and the Piano Quartet composed in 1829, when the composer was a mere 18 years old. The Kungsbacks Piano Trio is joined by Lawrence Power on viola (luxury casting there!). The piano part was not fully written out by Schumann, and has been copleted by Joachim Draheim.
It is clear there is an amalgam of influences here: Beethoven, Mendelssohn, Chopin. The actual recording quality shifts, too: different venue and date (the PIano Trio and Studies were recorded in Potton Hall, Suffolk, in March 2019 and have beautiful bloom, warmth and detail; the Piano Quartet was recorded in Stockholm's Berwaldhallen in May 2022 and seems somewhat more insubstantial, and the strings sound a bit more wiry.That said, the performance is a fine one and it is interesting to hear this passionate, driven piece. Here's the expansive first movement:
Contrasts are writ large in the second movement, ostensibly a "Menuetto' and yet marked Presto (!) with a ruminative Trio:
The finest movement is the Andante, whispered, interior, beautiful, especially in this fine performance:
There is excitement aplenty in the galloping finale,wth Crawford-Phillips fleet of finger; violinist Malin Broman also has her work cut out and similarly triumphs:
---
Schumann's Third Trio is a masterpiece, and then there are those fascinating Canonic Studies ... The Kinhsbacka Trio's superb performances throughout are a joy.
Incidentally, the Kungsbacka Trio has recorded for Naxos: from Chopin to Fauré, from Mozart to Haydn. I did a random sample, listening to the first movement Piano Trio No. 21 in C-Major by Haydn (on their Naxos disc of Haydn Trios Nos. 14, 21, 22 & 23). It is a fine recording, full of life and love, full of detail and élan. The slow introduction is intriguingly marked, "Adagio pastorale" and leads to a  Vivace assai (should you seek out this disc, I would point out the slow movement of that Trio, a Molto andante, is an absolute dream; while the finale is a veritable powerhouse of joy, performed here at Haydn's marking of Presto - and, should you purchase the disc, listen out for the cheeky little coda in that last movement!)
Worth pointing out that on Amazon (link below, underneath the Schumann Spotifies) this randomly-chosen Haydn disc is selling brand new for £5.99, with second hand copies for as low as £2.44.