Two Responses to Verdi's Otello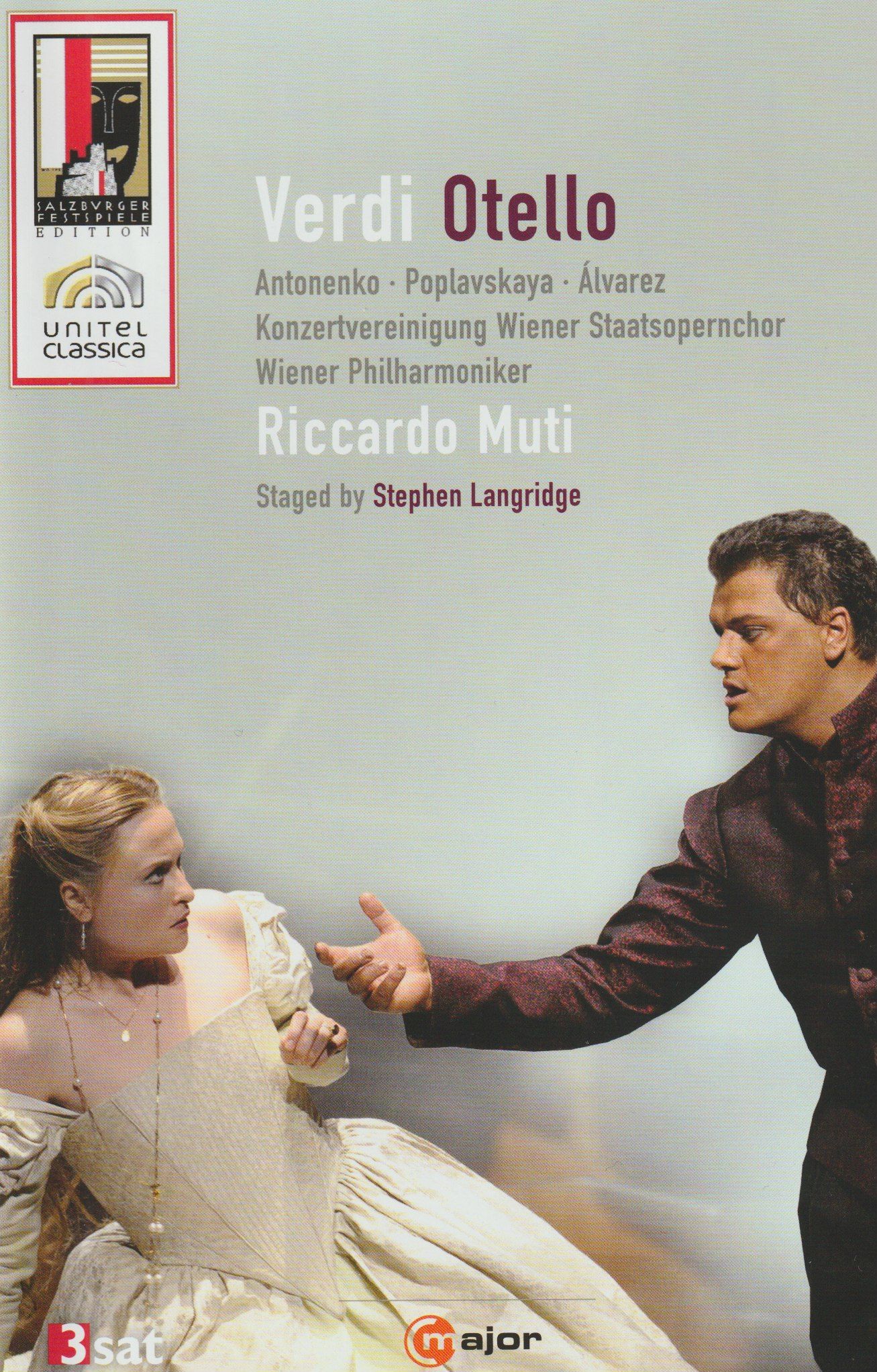 The recent revival of Keith Warner's Otello at Covent Garden occasioned a look around the DVDs/Blurays available, and a lighting upon Steven Langridge's production of Otello; remember one of our first posts on Classical Explorer was Otello, also: Pappano on Sony, with Jonas Kaufmann in the title role. Stephen Langridge is one of the most interesting of directors around at the moment; his eco-friendly Gothenburg Ring was a major achievement, and presently he is at the helm at Glyndebourne. (You can find my review sof the Gothenburg Walküre and Götterdämmerung in back issues of the magazine Opera Now).
His Otello uses video projection (immediately, for the storm, later, to persepctivise the arrival of the "Lion of St. Mark"); a not inconsiderable amount of dry ice to onjure up a place of battle. A raised platform cracks diring the opera (reflecting Otello's mental state, presumably). There's something of a sub-plot around a slave-boy who is tempted by a trio of overtly sexual ladies of the night during the Fire Chorus. Muti is himself on fire, the Vienna Philharmonic sounding copletely idiomatic in this music. While the stage does not commit itself to a historical period, the costumes seem approrpiate for the time of the story.
Aleksandrs Antonenko as Otello arrives with a sword that could almost be a cross, and an "Esultate!" that is like a vocal trumpet (the sword takes centre stage later, especially in the DVD rendering, at act III's "Dio! Mi potevi scagliar, and is a vital part of Desdemona's  "A terra! Sì, nel livido fango".  Both Antonenko and his Desdemona, Marina Paplovskaya (a regular at Covent Garden,of course) were making their role debuts here. Poplavskaya both looks the part of a pure beauty and sings like one, shigning in the final act (from "Piangea cantando"; Barbara Di Castri makes a fine fist of the role of her assistant, Amilia. Antonenko gives, after that initial arrival, a surprisingly nuanced account - he doesn't belt out "Ora e per sempre addio" (in the second act) for example, but its power lies in his declamation.
Here is Antonenko's "Dio mi potevi," referenced above. You can't miss that sword:
.. and here is Poplavskaya's "Willow Song":
Carlos Álvarez takes on Iago (as he did in London when Pappano conducted the Keith Warner production in 2019) and he remains one of the finest Iagos., dark, evil, full-voiced. H pulls the curtain behind him before the Credo ("Credo in un Dio crudel") as if to imply it is intended for the audience's consumption. He tells his dark story as if the blackness ofthe heart is what should be a normative statuus, and oso makes it all the more chilling.
Muti uses the Paris edition (so Desdemona has some "extra" music in the third act); his grasp of the score is total, finding gentleness in teh second act of Desdemona.
In terms of camera-work, this is not faultless - occasionally slightly uncontrolled, and the deliberate full-on head shots, presumably meant to be discomfiting, don't quite work.
... and so over to Covent Garden ...
Here is the Covent Garden taster for Warner's production. A lion this time, not a sword, tends to domonate here:
... and here's my full review of the recent Covent Garden Otello:
Verdi Otello Cast; Chorus & Orchestra of the Royal Opera House, Covent Garden / Daniele Rustioni (conductor). Royal Opera House, Covent Garden, London, 12.07.2022
Production:
Director – Keith Warner
Revival Director – Isabelle Kettle
Set design – Boris Kudlička
Costume design – Kaspar Glarner
Lighting design – Bruno Poet
Movement director – Michael Barry
Fight director – Ran Arthur Braun
Cast:
Otello – Russell Thomas  
Iago – Christopher Maltman
Desdemona – Hrachuhí Bessénz  
Montano – Blaise Malaba  
Cassio – Oiotr Buszewski  
Roderigo – Andrés Presno
Emilia – Monika-Evelin Liiv (replacing Kseniia Nikolaieva)  
Lodovico – Alexandrer Köpeczi
Herald – David Kimberg
I reported on Pappano's conducting of Keith Warner's production of Verdi's Otello just pre-pandemic (review); now under Revival Director Isabelle Kettle, the production reveals more and more layers. It is  certainly a staging of opposites: darkness dominates (as it does in the story) except for the Persil-white of Desdemona's bedroom and moments of Spring. It is rare to see a staging where sliding panels work so well (although the winged lion that slides across the stage seemed less sure of itself on this occasion); Warner dares, also, to leave characters along in a 'stage void' that emphasises their loneliness., and/or their internal darkness The gesture of Iago, on his own at the opera's beginning prior to the orchestral storm, with a theatre mask (which returns in his great 'Credo') carries great power.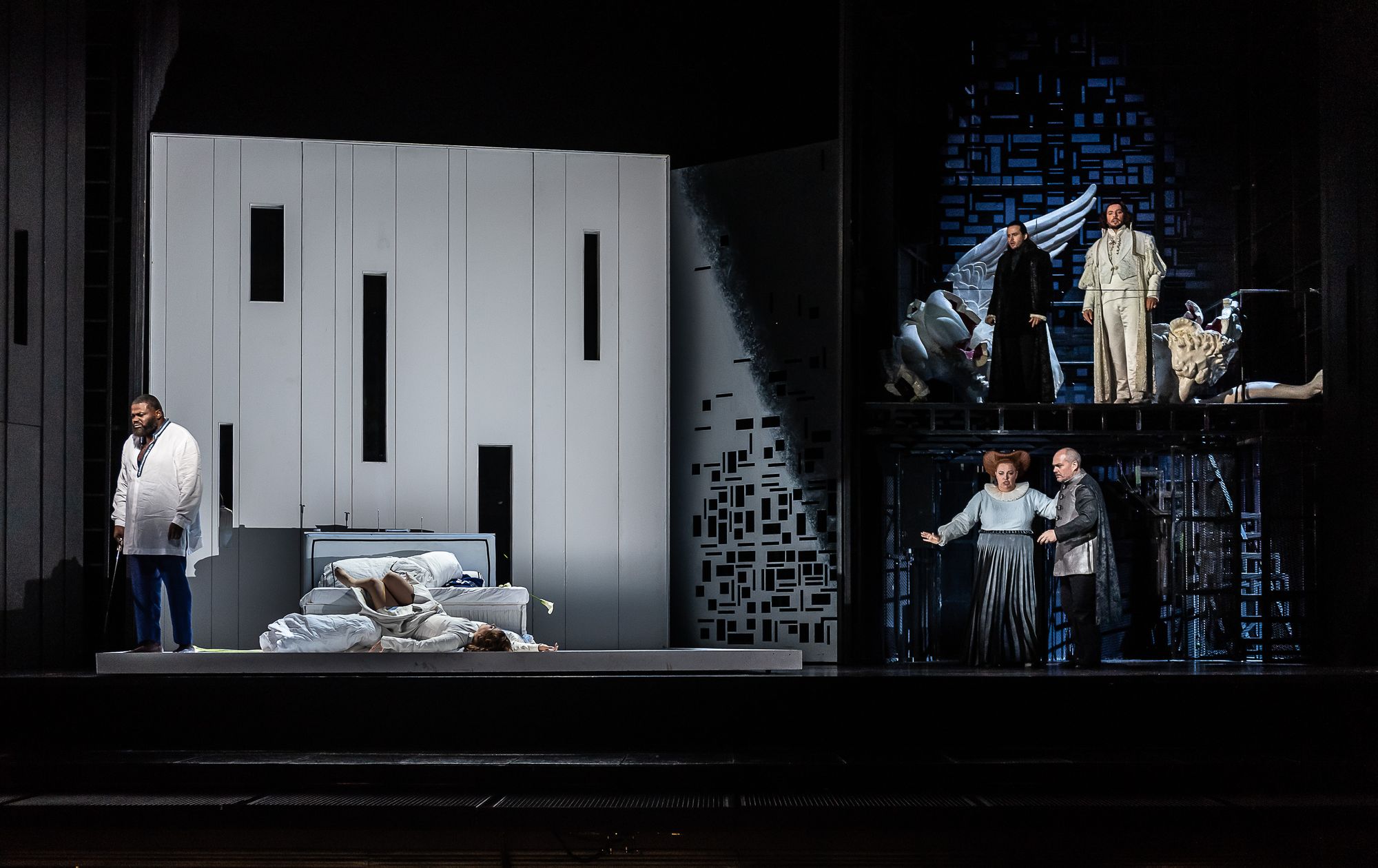 Perhaps the performance will settle as the run continues. I was mightily taken by Daniele Rustioni's conducting of Verdi's Macbeth in November 2021; almost but not quite as much so here. He paces the work well and clearly, again, sees its overall arch. A couple of moments of messy ensemble just contributed to the feeling that we are on the way to a substantive Otello but not quite there yet.
Fine though Ermonela Jaho was last time around as Desdemona, it was Armenian soprano Hrachuhi Bassénz that dominated the evening. Although Bassénz had previously impressed as Donna Elvira in Don Giovanni (2018: review), this was another level. Her voice is clearly soprano but has elements of mezzo-like timbre, and a strong lower aspect. More, she is capable of ravishing beauty and pathos (as in her 'Willow Song' and, particularly, her 'Ave Maria'); we the audience felt every twist and turn of her manipulated emotions.
As Otello himself, Russell Thomas seemed slightly under-powered until the final scenes of the evening. Yet he certainly has stage presence. Much has been made of his being the first black Otello at Covent Garden (including an article in today's - 13.7.2022 - Times, page 23 – in which he says he is 'quite sad' that in well over 200 performances at the Royal Opera, not one Otello has been black). While Thomas has performed the title role some 21 times so far in his career, this is the first time he has appeared in the UK with it. The topic. of 'blackfacing' is certainly in the news at the moment already, given Netrebko's Verona Aida. As far as Thomas' dramatic assumption is concerned, listening from the very back of the stalls it often felt under-powered, his 'Esultate' not really the ringing, clarion arrival Verdi surely intended, nor his later cries of 'Sangue' ('blood'). There is no denying Thomas' acting ability to convey emotional pain – we often felt Otello's torment – and given the power of the final half hour, it is entirely possible audiences later in the run will enjoy more of that vocal congruence. But even taking his acting alone, it was difficult to believe his fury in the third act.
Last time around, it was Carlos Álvarez who gave simply the best Iago this reviewer has (so far) seen, the very incarnation of evil. Christopher Maltman offers a very different Iago. Plotting, certainly, manipulating, definitely; more of a politician's delight in manipulating reality than the spawn of Satan, though. It is an interesting view, as we feel more of Iago the human; perhaps just a tad more malevolence would have sealed the deal.
Replacing Kseniia Nikolaieva as Emilia, Estonian mezzo Monika-Evelyn Liiv (Jette Parker 2007-9) made a huge impression, a fine singer and actress and perfect foil for her Desdemona; and yet more than that. Dramatically, as the opera unfolded, one felt Emilia as a separate character, one that is intriguing and, caring. Liiv's voice is a joy, full, perfectly in tune and the perfect size for Verdi. Her repertoire includes Azucena (which on this evidence is eminently believable). The Cassio, Piotr Biszewski, was imposing both in stage presence and vocal delivery; Andrès Presno returned to take on Rodrigo, confidently. Finally, Alexander Köpeczi devoured the role of Lodovico, the Ambassador from Venice.
There was perhaps a little of a feel of a near miss to this performance, one that could easily be remedied as the run continues. Definitely worth it for Bassénz and Liiv, though.
Otello is in rep at Covent Garden until July 24.
Verdi Otello (Muti) DVD
Verdi Otello (Muti) Bluray