Puccini's Tosca at English National Opera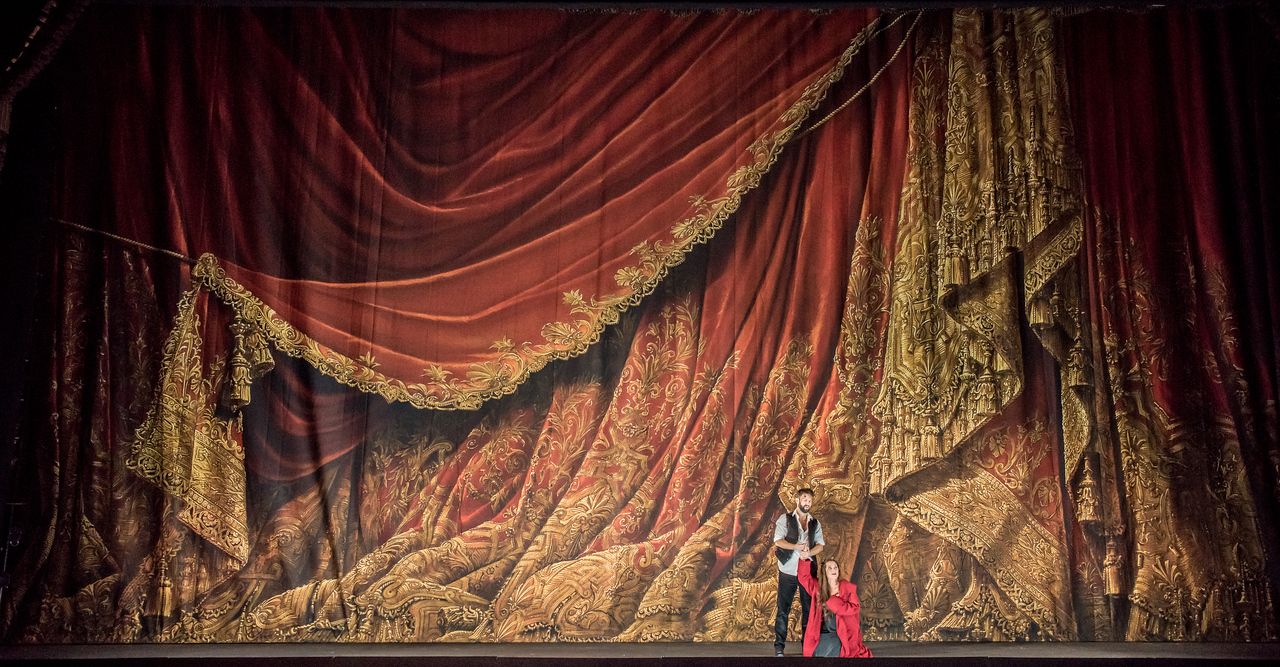 Puccini Tosca (sung in English, translated by Edmund Tracey). Cast; Chorus and Orchestra of English National Opera / Leo Hussain. London Coliseum, St Martin's Lane, London, 30.09.2022
Production:
Director – Christof Loy
Associate Director – Georg Zlabinger
Designer – Christain Schmidt
Associate set designer – Federica Pacher
Associate costume designer – Uta Baatz
Lighting designer – Olaf Winter
Associate lighting designer – Kimma Ruskela
Cast:
Floria Tosca - Sinéad Campbell-Wallace
Mario Cavaradossi – Adam Smith
Scarpia – Noel Bouley (walking) / Roland Wood (singing)
Cesare Angelotti – Msimelala Mbali
Sacristan – Lucia Lucas
Spoletta – John Findon
Sciarrone – Ossian Huskinson
Gaoler – Ronald Naime
A girl – Matilda McDonald
Lots to say about the performance and the production here, but first, let's tackle the indisposition. Noel Bouley walked the role of Scarpia, with Roland Wood singing it as a last-minute stand-in from the side of the stage.
Christof Loy's staging was first seen in Finland in 2018. A theatre curtain is seen in various degrees of reveal in the opera, present early on but taking up the whole of the back of the set later  – a reference to Tosca as opera singer, for sure, but also of the drama of the 'real' situation(so, what is happening to Tosca herself in the opera), and perhaps pointing to Tosca's own interpretation of events around her as from a theatrical perspective – the persona of the 'diva' pervades her very being. Strikingly, Loy utilises a variety of costumes from different periods, with Scarpia in 18th-century clothing (as are his henchmen); the congregation is 20th-centuy, possibly the 1950s/60s, but some appear bewigged as if from pre-Revolutionary France); and Tosca at one point wears a dress from the 19th-century, while Cavaradossi is of our time (forward-looking in his political ideals, then, against Scarpia's entrenched ideals, represented by his earlier dress style). Twists and tweaks abound - in the first act we see a spark between Tosca and Scarpia, maybe even affection and certainly a near-kiss, while the Shepherd Boy in the final act appears as if Tosca in a dream. Act One is certainly brightly lit as if there is nowhere to hide (from fate?); but there are some traditional elements, as in Tosca's leap to her death at the close (we definitely see her in mid-air, briefly), and there is clearly a church; plus, Tosca's stabbing of Scarpia is nothing if not enthusiastic. Loy's take is engaging and fascinating, but so full of ideas and interventions hat I wonder what a Tosca virgin would make of it. Certainly, one hopes they night get wrapped up in the sheer verismo drama. The staging succeeds in an unexpected way, in that I did not feel as 'manipulated' by Puccini's music in the way that Tosca often manifests.
The casting was well thought-through – and even before we get to the main lady, one should acknowledge the success of Rowland Wood's singing and Noel Bouley's acting in co-creating a powerful Scarpia. As Tosca, Sinéad Campbell-Wallace confirmed the talent we have seen from her previously in an unforgettable account of the title role, a performance that encompassed passion and sensitivity (a superb 'Vissi d'arte' representing the latter side). Musically, too, this was the most accurate Tosca I have heard. Her Cavaradossi was Adam Smith, in fine voice (a magnificent 'Vittoria!'  -  here 'Vic-tor-ious!' - moment), and both dramatically and vocally full of confidence (he has previously sung Pinkerton Madama Butterfly for ENO and is certainly most welcome back).
English National Opera is known as a company opera, and this certainly felt like an ensemble effort, with superb chorus in the 'Te Deum,' and with a cast that was clearly thought-through. Cesare Angelotti was sung by Msimelelo Mbali, in terrific voice, while both John Findon and Ossian Huskinson as Spoletta and Sciarrone respectively, both ENO Harewood artists, filled their roles to perfection. As did Lucia Lucas as the Sacristan (she is a singer who made history by creating the first female transgender role on an American stage, in Don Giovanni in Tulsa, USA in March 2018).
With two intervals that themselves seemed extended, and an unexpected poetry reading at the start from Keiran Rennie (holder of an ENO Creative Residency) this was a long evening. But no doubting that Leo Hussain brought out the best of the ENO orchestra, those tricky high cello passages succeeding where, in this house, they have most resolutely failed before. His natural sense of dramatic flow was certainly an asset to the evening.
Richard Farnes conducts the performances on November 2 and 4.