Plaisirs illuminés: Camerata Bern delivers a sensational programme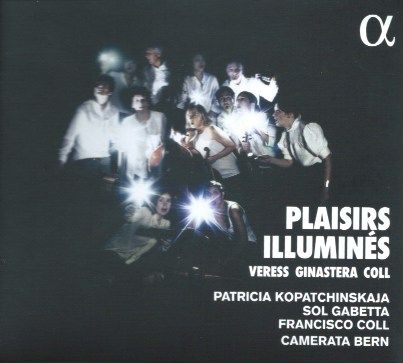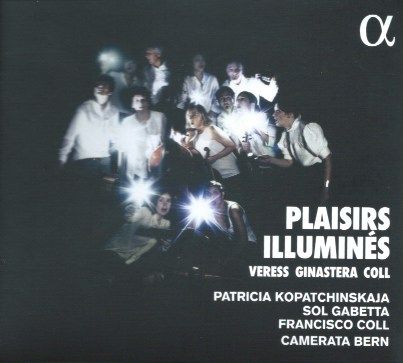 Fans of the music of Bartók who wonder what to listen to next need look no further than fellow Hungarian Sándor Veress' Musica concertante per 12 archi (Concertante music for twelve strings). Veress (1907-1992) was a student of both Bartók and Kodály; he taught the major Hungarian composers Ligeti and Kurtág and so acts as a sort of bridge. If you haven't heard any of his music before, now is the time; in terms of this disc, there is a further link in that after emigrating in 1949, he taught in Bern. The Musica concerntante is a work that seems to start with Bartók and expand on that starting point. The first movement moves towards the manic in its cadenzas for first-desk players:
while the second, a "Meditation," speaks of Bartókian Night Music:
I'll leave the active, exciting finale for you to discover, but it is incredible. It demands virtuosity and certainly receives it from Camerata Bern; one shudders to think what would happen in lesser hands!
Known for her questing intellect and her wide-ranging, stimulating programmes, violinist Patricia Kopatchinskaja stars in this ear-opening disc which also showcases the talents of Camerata Bern and the phenomenal cellist Sol Gabetta.
Here's a remarkable teaser for the disc: Kopatchinskaya and Gabetta in Francisco Coll's Lalulalied:
György Kurtág, Bartók himself and György Ligeti are all represented on this brilliant disc. One can certainly hear Kurtág's quirkiness and unpredictability in "Trio Jelek" from Games, Signs and Messages (characteristically, it lasts less than a minute).
We move to Argentina for a Concerto for Strings by Alberto Ginastera (1916-83). But there's a Bartók influence here, too, harmonically, in amongst all of the heart-felt yearning (and what cello playing by Sol Gabetta!). This piece, which dates from 1966 and is a revision of the composer's Second String Quartet, is a high-voltage ride. Just listen to the Scherzo fantastico:
The Kurtág, Ligeti and Bartók pieces receive rather short shrift from the booklet notes (there's a wrong accent on Bartók ("Bártok") on the back cover too). None of which should diminish our enjoyment of the music: the fizzing performance of Bartók's Duo Pizzicato, or the miraculously plaintive opening to the folk-like duo, Balada si joc by Ligeti (and its reel-like subsequent festivities).
Francisco Coll (born 1985) provides two pieces, the first of which is Les Plaisirs illuminés, inspired by the painting of the same name by Salvador Dalí. The backbone idea of Coll is to follow the Surrealist idea of creating impossible works in a very realistic way. The outer movements are extended versions of a piece commissioned by Patricia Kopatchinskaya, Rizorna. There is high excitement here (one can almost see Kopatchinskaya's mobile way of playing as one listens), but high expressivity, too, in the second movement "Wiegenlied" (Cradle Song), manic episodes (in "Allegrias") and chilling stillness (the finale, "Lamento"). A remarkable piece.
The first video above gives you an impression of the very different LalulaLied (as you can see, the voice is Kopatchinskaya's; the text is a nonsense poem by Christian Morgenstern). The demands are extreme: one is reminded of the great singer Cathy Berberian; there can surely be no higher praise!. I see Kopatchinskaya also performs Ligeti's Mysteries of the Macabre, which gives a clue as to her prowess in this field. Here she is:
... and here, just for fun while we're on this little diversion, is Barbara Hannigan with the LSO and Rattle for an alternative view:
Finally, an improvisation, "Camerata's Birds" rounds off Camerata Bern's phenomenal disc. It is vitally alive.
The notes do speak of the Everest-like challenge of recording this repertoire. and how the players - and Kopatchinskaya and Gabetta - triumph! Magnificent.