Pene Pati: Opera Arias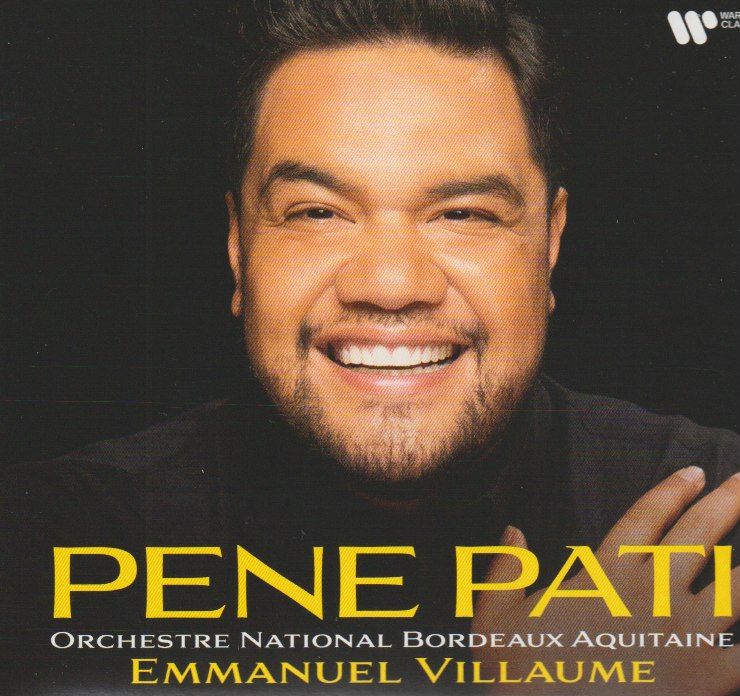 If there's one thing that attracts me to a disc of opera arias, it is the inclusion of  lesser-known arias alongside the familiar. And so it is here, in Samoan tenor Pene Pati's debut album: arias from Verdi's La battaglia di Legnano, Rossini's Moïse et Pharaon, Gounod's Polyeucte, Meyerbeer's L'Étoile du Nord and Gounod's Roméo et Juliette sit alongside more familiar excerpts from Rigoletto, L'elisir d;amore and Massenet's Manon.
Pati is joined by the superb Orchestre National de Bordeaux Aquitaine under the operatically experienced conductor Emanuel Villaume
The Verdi Rigoletto is strong and virile, vocally - but Pati also has a beautiful voice throughout his range. This is highly impressive singing (there's a little addiiton of a chorus as well). It is in the Gounod Roméo et Juliette excerpt ('L'amour! ... Ah! lève-toi, soleil!') that we really hear what Pati can do. His voice fits the repertoire and range perfectly, honeyed, impassioned. Here's the Spotify single link, along with the Donizetti, the famous 'Une furtiva lagrima' from L'Elisir d'amore:
Each of the arias here, Pati says, has played an "integral part" in his journey; each piece, he says, moves him and musically resonates with him, and it really does sound as such.
Meyerbeer remains woefully underappreciated by the musical world at large, so it is good to hear an excerpt from one of his major grand operas, Les Huguenots. Teh final part of this excerpt, "Plus blanche que la blanche hermine,' finds Pati thinning his voice to match Meyerbeer's wonderfully spare textures (teh Hugueots excerpts also include a solo part for solo viola d'amore - superbly played by Stéphane Rougier!).
Another underappreciated piece here (although thsi time not the coposer) is Guillaume Tell, Rossini's massive opera on teh famous Swiss story. Pati sungs Arnold's aria "Asile héréditaire" - worth noting before we consider his contribution that the Bordeaux orchestra is on top form, the horns (so important in this opera) sounding splendid.
Lesser-known Verdi doesn't mean second-tier Verdi in apretty much all cases - and Arrigo's aria from La battaglia di Legnano bears this out fully. The accompanied recitative "O magnanima") is beautifully shaded by Pati, the aria proper ("La pia materna mano") full of long, legato vocal lines counterpointed against light woodwind:
The Rossini Moïse et Pharaon excerpt brings in the excellent bass-baritone Mirco Palazzi as Pharaon (Piti sings the part of Aménophis) - the tenor part is one of those that revels in the extreme hig register:
No missing the funeral march that opens "Source déliceuse" from Gounod's rarely-heard Polyeucte.
Pati has a particular resonace with Donizetti - that's clear from the Roberto Devereux excerpt ("Bagnato il sen di lagrime") as well as the more famous "Una furtiva lagrima" above.  And yet in teh French repertoire he excels, also: his "En fermant les yeux," a famous air from Massenet's Manon, Pati and teh Bordeaux orchestra weave a magical tapestry:
The final two arias are less known: the fabulously lyrical, open-hearted "Quel trouble affreux" from Meyerbeer's L'Étoile du Nord and an aria from Benjamin Godard's Jocelyn.
Released just yesterday (March 24, 2022), this is a wonderful collection. There seems to be a wellspring of talent from Samoa, what with the Samoan Ring that was performed in West London recently plus a Così at teh Coliseum which, in its current run, includes two Samoan singers as principals. Pati adds to teh positive impressions, and then ratchets them up some. Add to that teh sensitivity of tehconducting of Emmanuel Villaume, who clearly inspires teh Bordeaux orchestra: I enjoyed his La bohème at the Royal Opera House, Covent Garden in January 2020, and I enjoy his contribution here very much.