Patricia Kopatchinskaya and friends at the Queen Elizabeth Hall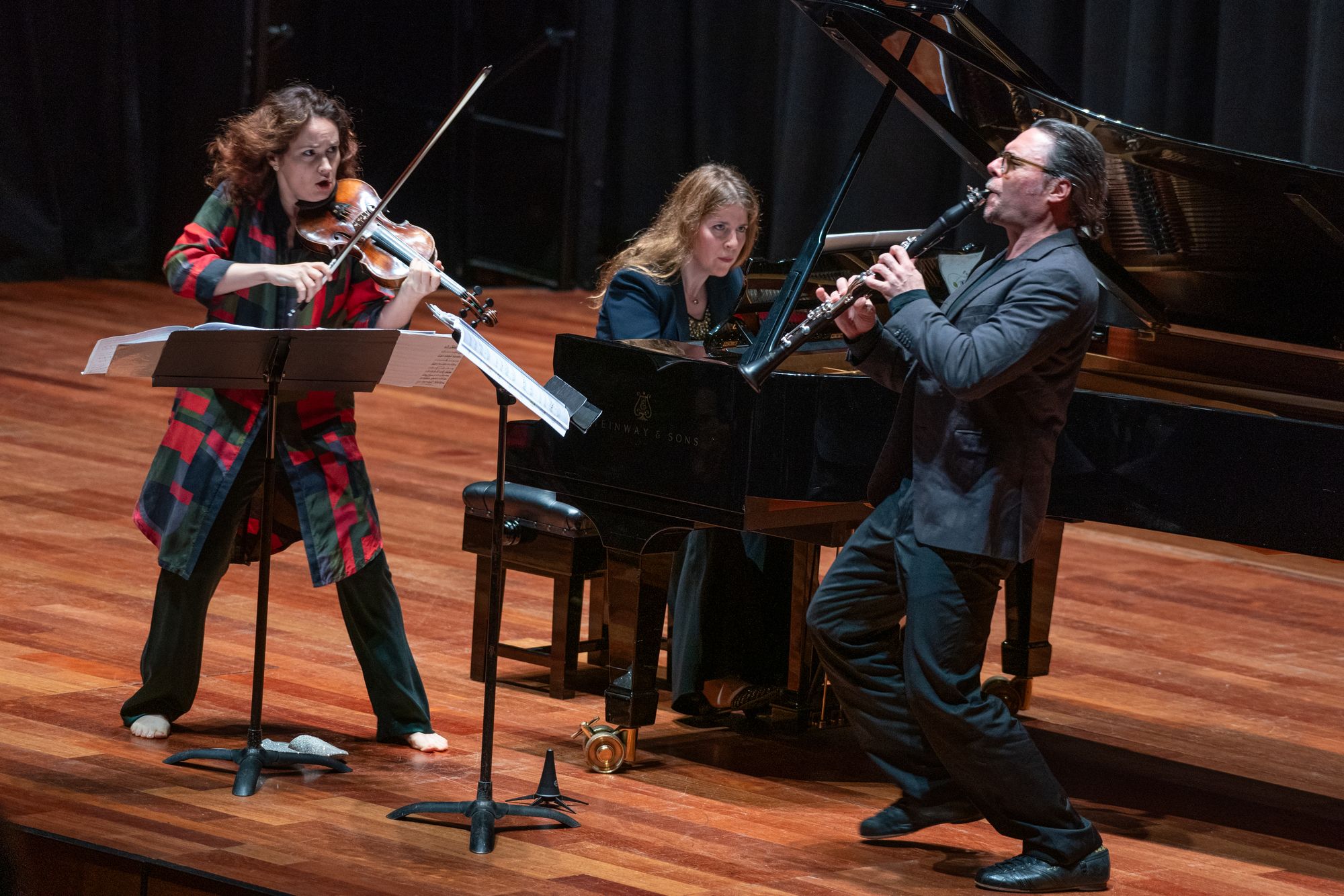 Enescu, Poulenc, PatKop, Bartók, Milhaud, Schoenfield. Patricia Kopatchinskaja (violin); Reto Bieri (clarinet); Polina Leschenko (piano). Queen Elizabeth Hall, 24.09.2023
Enescu   Impressions d'enfance, Op. 28 (1940)  - Ménétrier. Violin Sonata No.       3 in A minor, Op. 25 (1926)
Poulenc  Suite, L'Invitation au château, FP 138 (1947, excerpts)
PatKop  Für Reto ... wo? (2021)
Bartók  Contrasts (1938)
Milhaud  Suite, Op. 157b (1936) – Jeu.
Schoenfield Trio for clarinet, violin and piano (1990)
When one thinks of Patricia Kopatchinskja, one remembers Vivaldis Tod concert with Il Giardino Armonico at Gstaad a couple of years ago - available to view here -  or the extraordinary event this year that I was also privileged to attend, Les Adieux – Music for the Planet (available here, and probably your only chance ever to hear the unbelievable sound of a carnyx – please note that due to illness, Mirga Granyte-Tyla did not conduct the concert as the listing implies, and it was PatKop who took the reins). Keywords and phrases for Kopatchinskaja seem to be maverick, imaginative, fiercely caring.
This Queen Elizabeth Hall concert was the inaugural event of Kopatchinskaja's stint as Resident Artist at Southbank Centre. The vast majority of the first part of the concert was taken up by the music of Enescu, a composer curiously little acknowledged in the United Kingdom. Kopatchinskaja chose to begin with the first movement of his Impressions d'enfance, Op. 28, 'Ménétrier' (The country fiddler) is for solo violin (the piano joins in for the second, 'Vieux mendiant',) not heard here. Dispensing with her footwear and performing barefoot, as if sending rootts down into Waterloo's soil, Kopatchinskaja found great varety in this piece, relishing the inter-phrase silences (and giving a delicious look to one sinning cougher in the audience). The end was wondreously witty; before that, Koptachiskaja found an ideal balance between itinerant fiddler and lyrical concert hall executant.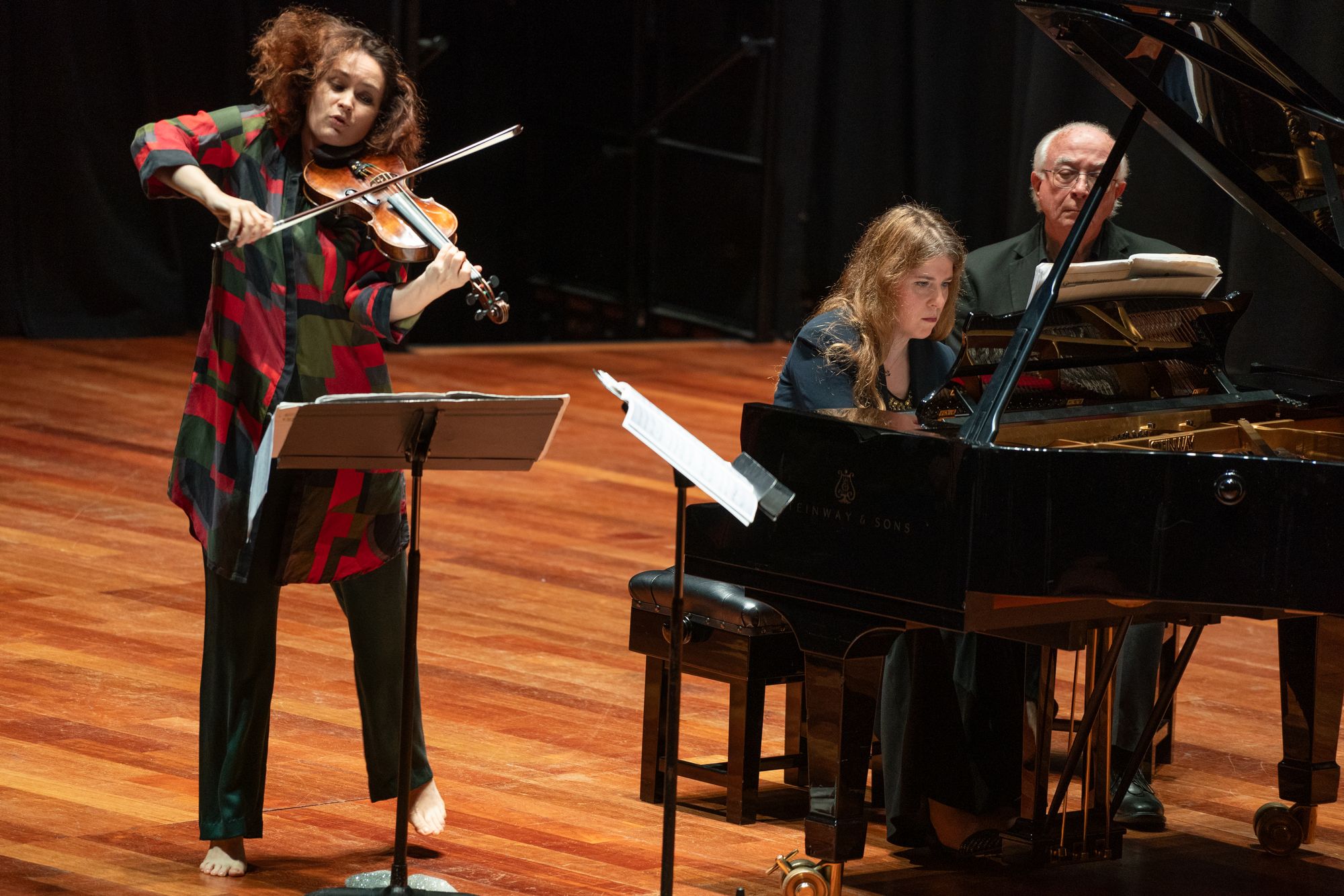 The Third Sonata for Violin and Piano dates from some 14 years earlier. Immediately, its first movement breathes a very different air. Marked 'Moderato malincolico,' this work invoked folk music (to my ears, ancient folk melodies) without ever actually quoting them. It requires two equal performers and that it received. Polina Leschenko is a protegé of Martha Argerich, and her playing is astonishing: a complete technical kit is the basis for real duo playing, chamber music of two equal partners. Leschenko, like Kopatchinskaja, found myriad colours in this music, with the violin's lines ruminating beautifully. Harmonic arrivals in the work's first panel were perfectly done. Leschenko brought out the inherent potential energy in the repeated single note of the central Andante sostenuto misterioso. Some have found this reminiscent of the croaking of frogs; in Kopatchinskaja and Leschenko's hands, it turned into an alternative to Bartök's night music. There are shadows of folk music here, wispy, impossible to grasp hold of. One can point to the technical excellences (plural) but it was the perfect capturing of the music's world that so impressed. When the two instruments unite, the piano seems to explode with joy in a welter of curlicues. The moment was fierce, but subsided into the most extraordinary ruminations. The finale, an Allegro con brio, ma non troppo mosso, was perfectly judged, a dance  hat , perhaps, prefigured the end of the concert (more of that later).
Finally, a selection of movements from Poulenc's L'invitation au château, beginning with the Tango from the second act (this is music to a 1947 play about a ball hosted by a young man who disapproves of the engagement of his brother). Kopatchinskaja and Reto Bieri were perfectly matched protagonists – Bieri has quite simply the most magical pianissimo from any clarinettist I have ever heard. From the opening Tango through a madcap 'Très vite et très canaille' (Very fast and cheeky) to a Valse, this was the perfect palette-cleanser to lead into an interval.
The second part began with a piece dedicated to the clarinetist here: Für Reto ... wo?, a set of three miniatures for violin and clarinet that have a pronounced theatrical element. Each piece (she refers to them as 'ghirbizzi' - whims) brings joy in different ways. The interchange in the first (each player beginning on a different side of the sage), the sheer virtuosity of the second ('Ein Gesprräch' - a conversation - but they talk at cross-purposes) and finally 'Sonnerie' (Ringing), a bright conclusion.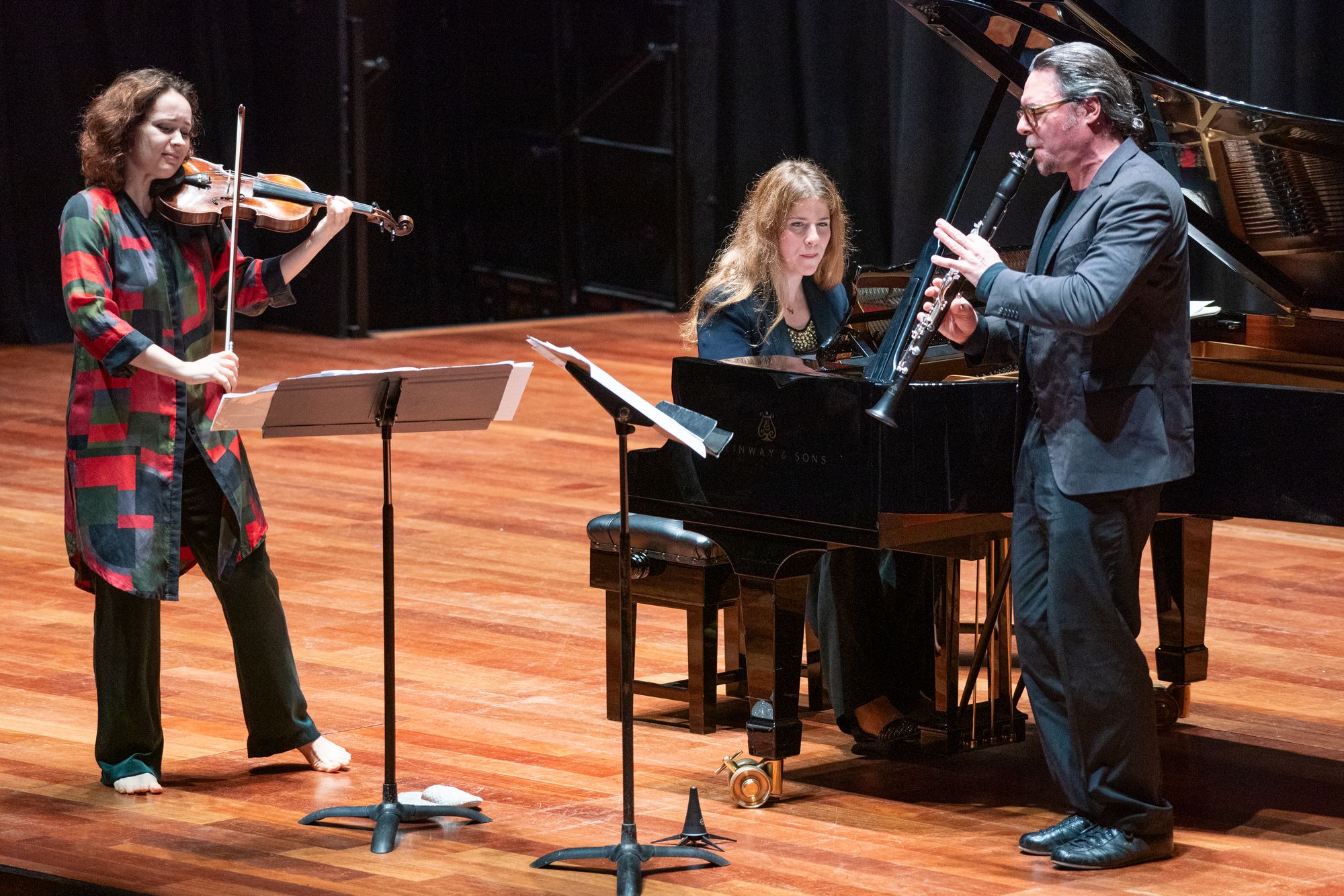 Bartök's Contrasts comes with a truly great recorded history, given that one can hear it played by the composer on piano, Benny Goodman on clarinet and Joseph Szigeti on violin (it was commissioned by Goodman in 1938). Here, proper Bartök night music resides (and certainly did in this Southbank performance). The theee players, Kopatchinskaja, Leschenko and Bieri, gave an account of such fierce conviction it would turn any Bartók denier (they do exist?). Communication between the players was phenomenal (there is a passage for clarinet and violin that sounded as if it was one instrument). Contrast was indeed the watchword here, rapt music nestling next to cheekiness. The piece also requires a second, scordatura violin (tuned G sharp – D – A – E flat instead of the usual G-D-A-E). It is a fascinating effect (the clarinet also hasto change instruments in this piece). The sheer understanding this performance oozed was spellbinding. Again, we had something of a palette cleanser, here the tart (and fittingly rustic) tones of Darius Milhaud's 'Jeu,' the third movement of his Op. 157b Suite for violin, clarinet and piano.
Finally, the Trio by Paul Schoenfield, commissioned by David Shifrin in 1988 and completed in 1990. It is a skilful, entertaining work that celebrates Hassidic music and gatherings The sshrieks and glissandos of the clarinet certainly spoke of a musical unbuttoning in the opening 'Freylakh' (a well-known Jewish dance). The slinkier 'March' that follows is of somewhat nightmarish Kletzmer bent (it brought to mind in feel the central episode in the slow movement of Mahler's First Symphony). While the third movement ('Nigun') has a fine melody, stated via high clarinet and low violin, but the piano writing sounds more workaday; criticism is swept away by the wild, almost Bartókian final dance (with astonishingly grungy clarinet playing from Bieri) - a 'Kozatska,' a Ukrainian cossack dance that became part of the kletzmer tradition.
It is the Enescu that will live in the memory, though. There can surely be no more persuasive advocates of his music than Kopatchinskaja and Leschenko. One encore, a literal invitation to dance a waltz (and, despite the eminently justifiable lamentation of one audience member - 'but we're English!' - some did).
A fabulous concert that was surely the very epitome of chamber music at its highest level. Hopes are high for Kopatchinskaja's Southbank residency.