Paris: Hilary Hahn plays Chausson, Prokofiev & Rautavaara
The choice of music is exquisite; the result, fully satisfying ...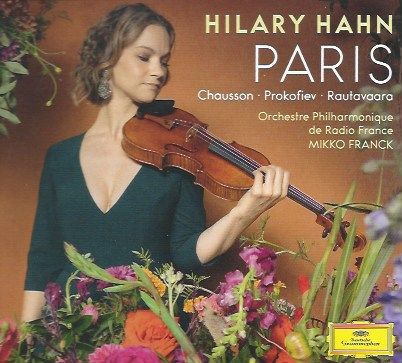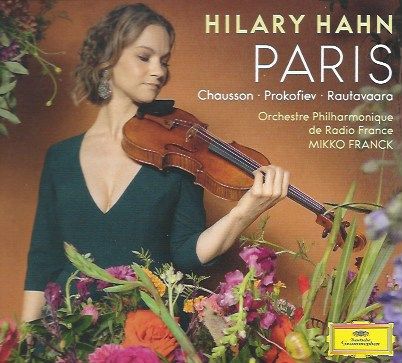 New on DG, this is a beautifully planned disc that proves that stuffing as much music as one can onto a compact disc really isn't the way to go. Playing time is 53 minutes, but the choice of music is exquisite; the result, fully satisfying.
As Hilary Hahn says,
Paris is about expression, it's about emotion, it's about feeling connected to a city and a cultural intersection, in a way that's inspiring for the player and the listener. It has Parisian threads all the way through it. But it's also a big reference to the arc of my career. I've been playing in Paris since I was a teenager.
From her introductory essay to the disc, it is clear that Paris means a huge amount to Hahn - she returns there every year. Even her violin is Parisian (an 1865 Vuillaume). And a follow-on affinity has been with the Orchestre Philharmonique de Radio France, the orchestra she almost exlusively plays with tehre and the orchestra who gave her, under Mikko Franck's tenure, a multifaceted artistic residency in 2018/19. The disc is recorded in the Auditorium de Radio France, a fabulous hall (you can find my review of a Gounod Gala I attended there in June 2018 here).
The Poème by Ernest Chausson (1855-1899) is a gorgeous way to start the album, fragrant, unhurried even at its most quiixotic, 17 minutes of purest beauty pervaded with what Hahn memorably calls a "brooding melancholy". Her violin finds powerful expression in the music's very restraint:
There is even a personal connection: the dedicatee is Eugène Ysaÿe, who was Hahn's teacher's teacher. Chausson hosted a Parisian salon whose attendees included Ysaÿe (alongside names such as Debussy, Fauré and, from the art world, Manet and Degas, not to mention the seminal poet Mallarmé). His Poème was inspired by a short story by Turgenev, "The Song of Triumphant Love".
The first movement of Prokofiev's Violin Concerto No. 1 in D, Op. 19, premiered in Paris in October 1923, is marked Andantino - Andante assai and, placed here, its moderate tempo makes it iitially sound like a slightly spicier prolongation ofteh Chausson.  What Hahn has to say about this concerto is particularly pertinent to this first movement: "The immediacy of the emotional evolution from one phrase to the next is astoniching". And we feel this flow perfectly in Hahn and Franck's account, the OPRF with her all the way. the synergy between soloist, conductor and orchestra is remarkable, as is the sense of Hahn relishing Prokofiev's demands (of which there are many!).
The Concerto's Scherzo is quicksilver; it is difficult to imagine a finer performance than this:
Hahns' expressivity in the Moderato opening of the finale has to be heard to be believed.
Experienced collectors will of course cherish Szigeti (the 1935 premiere recording with the London Philahrmonic under Beecham - was there ever a better conductor to appreciate Prokofiev's humour?), Isaac Stern (a high-wire, tensile account with the New York Phlharmonic/Dmitri Mitropoulos) and the great David Oistrakh with the Moscow Philharmonic and the equally great conductor Kiril Kondrashin; or, indeed, Oistrakh with the London Symphony Ochestra and Lovro von Matačić. And one should not forget Perlman with Gennadi Rozhdestvensky; but I would go as far as to say that Hahn's Prokofiev First is the Prokofiev First for our time. Her connection with the music is undeniable; she takes us on an unforgettable journey.
It is so good to see some music here by the Finnish composer Einojuhani Rautavaara (1928-2016). His Deux Sérénades were written for Hilary Hahn and here receive their World Premiere recording. The premiere occured in February 2019; Mikko Franck was a close friend of the compsoer's, and is known as the leading interpreter of Raitavaara's music. Here begins the most incredible story.
After performing Rautavaara's Violin Concerto together with the OPRF, there was a discussion between Hahn annd Franck as to whether Rautavaara might write a new piece for Hahn. The idea was mooted, but it seemed however that Rautavaara was at that point in poor health - and that was that.
But no. After Rautavaara's funeral, Franck was shown a manuscript of two "Sérénades:" for violin and orchestra. The French title was significant, as Rautavaara normally named pieces in Finish and English, not French. It was nearly complete: through to the middle of the second Sérénade, where the piece was only in reduced piano format. Enter the Finnish composer (and violinist) Kalevi Aho, known to collectors through recordings of his works on the Swedish BIS label. What is really beautiful about this disc is that what we have here is a live recording from the 2019 premiere.
The two Sérénades are titled "Sérénade pour mon amour" and "Sérénade pour la vie": Serenade for my love and Serenade for life. The first is an unforgettable outpouring for violin and strings; Rautavaara adds pairs of woodwinds and four horns to the second, to magical effect:
"Everything in this recording is a labor (sic) of love, for the love of music and for the love of expressoin," says Hahn. And that love shines through everywhere on this radiant, gorgeous album.