Mozart Sonatas for Four Hands with Rados & Gerstein
An absolute joy: two top musicians, beautfully attuned, both to each other and to Mozart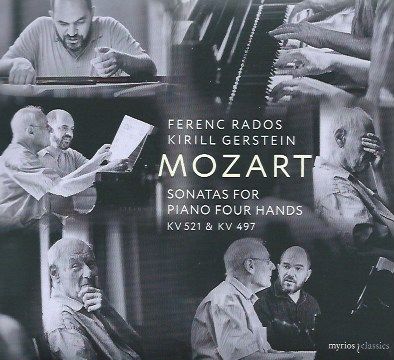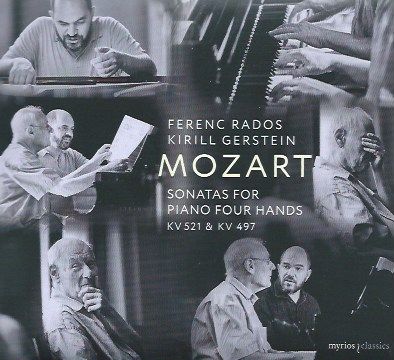 In terms of recordings, Mozart's music for keyboard four hands is some of the lesser-known; but in terms of quality, it is some of the highest. It is also music that benefits from the finest performers: step forward Ferenc Rados and Kirill Gerstein, who offer the first serious competition in decades to the classic Deutsche Grammofon Christoph Eschenbach/Justus Franz recordings of this repertoire.
While the name of Kirill Gerstein will doubtless be familiar as a questing, intelligent spirit, that of Ferenc Rados might be less so. But as a teacher at the Liszt Academy in Budapest, his students have numebred András Schiff, Deszö Ránki and Zoltán Kocsis. Rados and Gerstein met in 2004, and the connection continues to this day - and one can feel the link between them in these performances. The Mozart performances by these two began in Salzburg in 2016 (and you can hear one of those below!). The two Sonatas they played on that occasion are enshrined here on disc, recorded in June 2018 at the Jesus-Christus-Kirche in Berlin-Dahlem. The arrangement is that Gerstein plays primo (first part) in the first, C Major Sonata, Rados plays primo in the F Major.
If anything, Rados and Gerstein are even more joyous and spirited than Eschenbach/Franz in the great C major Sonata, K 521:
The C major is "Hausmusik": domestic music, blissfully crafted, although the magnificent Andante shows Mozart's imagination at its finest, while Gerstein and Rados show a matching chamber music eloquence:
The last movement of K 521 has real grace - its a theme that can all too easily sounds music-boxy but here has a real sense of maturity in combination with sparkle. There's again real sense of dialogue between the players:
Interesting how with F major Sonata Mozart moves here into a much grander space - not always the case with this key in his output. And it is here that Gerstein and Rados brook no comparisons: this is my reading of choice from now on. Their understanding of Mozart's emotional landscape is superb. What depth they find in the Adagio slow introduction to the first movement of K 497:
The major part of the first movement is bright but certainly not facile; it almost feels like we're in a string quartet with the interaction of lines; some thorny passages are beautifully elucidated. This sonata is a very different beast; the central Andante is serious, reflective and contains moments of exquisite beauty, and a finale that (again unhurriedly) sparkles.
But let's round off the post with a real treat: one of those performances from Salzburg, K 497, filmed live:
This new disc, on the Myrios label, is an absolute joy: two top musicians beautifully attuned, both to each other, and to Mozart.