Mendelssohn The Three String Quintets on Chandos
I really cannot recommend the Doric/Ridout performances highly enough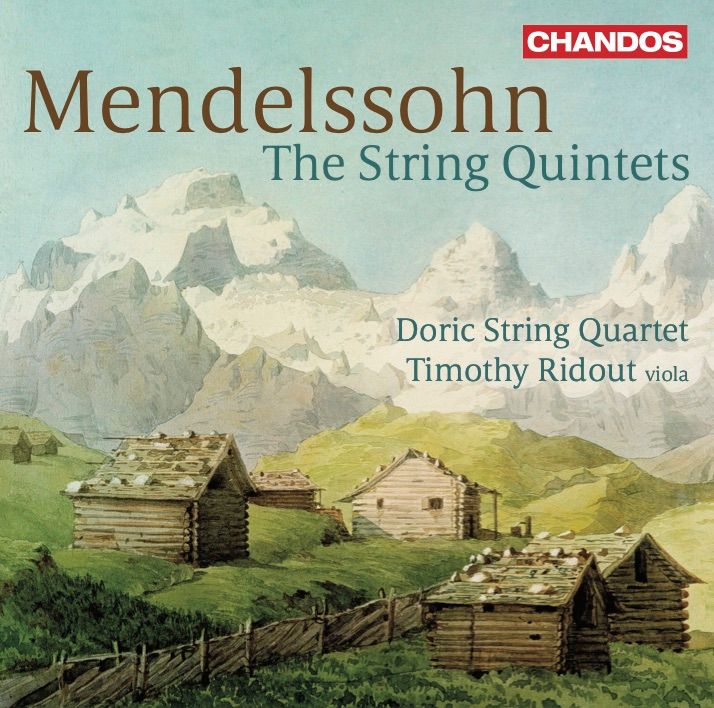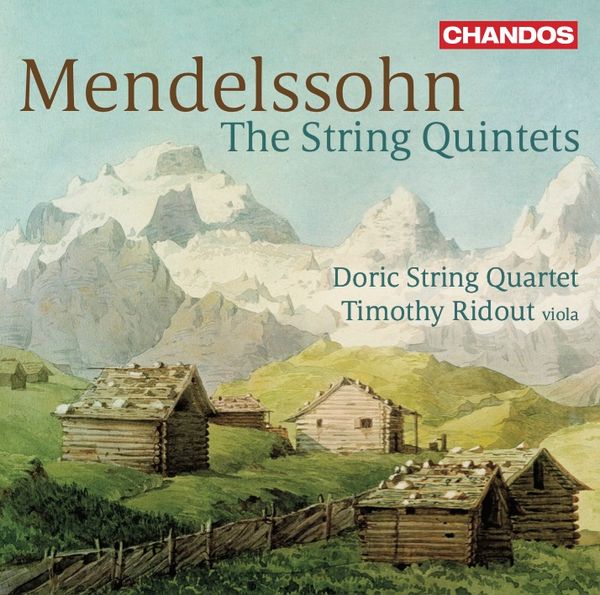 One of the leading young quartets of its generation, the Doric String Quartet has already established a firm reputation the Classical repertoire, particularly Haydn. Theur recordings of Mendelssohn String Quartets were lauded; here they are joined by violist Timothy Ridout (a superb soloist - see my review of his Strasbourg Berlioz Harold en Italie here) in Mendelssohn's two String Quintets.
These works were written at the beginning and end of Mendelssohn's short  life:   No. 1 was composed in 1826, shortly before the Overture to A Midsummer Night's Dream, when the composer was just seventeen. No. 2 was written in 1845, when he was thirty-six, a year before the première of Elijah and just two years before his death.
Here's the Doric Quartet and Timothy Ridout themselves introducing their performances, with excerpts from teh recording sessions for this disc:
The First Quintet dates from just after the famous Octet. At the age of 17, Mendelssohn began composing this Quintet in A-Major, a piece also on quite a
large canvas. The piece underwent revisions, with Mendelssohn replacing one movement with a beautiful Andante sostenuto we hear here:
The work is beautifully constructed, the first movement of a largely untroubled fluency. There's nothign like a Mendelssohn Scherzo, though, an dtheone here patters its way along, in this performance as light of foot as can be (but with some remarkably modern-sounding interruptions - make sure you listen to the whole movement!):
The finale is full of fire - and technical hurdles that pose no problems for the Doric Quartet and Ridout. The sense of dialogue between instruments and groups of instruments is remarkable, and Mendelssohn's contrapuntal expertise reminds us of his reverence for J. S. Bach. Listen also to how tight he litte; turns are on violin right at the close:
Moving to the Second Quintet takes us to another side of Mendelssohn: almost fierce, and certainly virtuoso (there is speculation that the composer might have expected the performer to be the renowned virtuoso Ferdinand David, already the recipient of Mendelssohn's Violin Concerto). Amazxing to think Mendelssohn had a level of dissatisfaction with this work (it was posthumously published, in 1851).
What strikes me is the sophistication fo the development section of this first movement, which seems to have no problems transporting us to new areas, texturally and emotionally. And while certain passages might hint of Schubert, the extension of the coda into effectively another development section owes much to beethoven's praxis:
.The maturity of the way Mendelssohn handles his characteristically light material in the second movement Allegretto scherzando beings great joy - as does the players' staccato here!. This is a 6 /8 rondo in G-Minor with two episodes:
The funeral march of the Adagio e lento is remarkable. The booklet notes claim it is unique in mendelssophn's chamber music, and the Doric Quartet certainly presents stark textures and extreme angst:
The scurrying  finale is presnted with utmost confidence here. I say that as some commentators point to structural weaknesses here: teh Doric/Ridout combo will evidently have none of it. Wonderful to have booklet notes by Bayan Northcott that go into much detail - I haven't seen his name in a a while and have always admored his writings (he's also a composer).
This new Chandos disc feels like the establishment of a modern reference recording for these pieces, with the players giving the music more space than their rivals on BIS (the Mendelssohn Quartet with Robert Mann), for example. Its nearest rival is the Henschel Quartet and Roland Glassl on Neos, a disc which also finds space for a recently discovered Quintet by Max Bruch. But I really cannot recommend the Doric/Ridout performances highly enough.
A quick muscological note: the catalogue numbers for the works are given as both Opus numbers and "MWV R" numbers. MWV stands, in time-honoured fashion, for Mendelssohn Werk Verzeichnis (Mendelssohn Work Catalogue) - this is Ralph Wehner's "systematic-thematic" catalogue, one which includes the category of work in its sequencing. So "U" is solo piano music, two hands; and  "R" is used here for chamber music without piano. Ana-Marija Markovina's set of complete Works for Piano Solo be Mendelssohn, incidentally, a recent release on Haenssler, also uses this catalogue system. You can find a full list of categories here.
Amazon Link (CD)