Maxim Vengerov live at the Albert Hall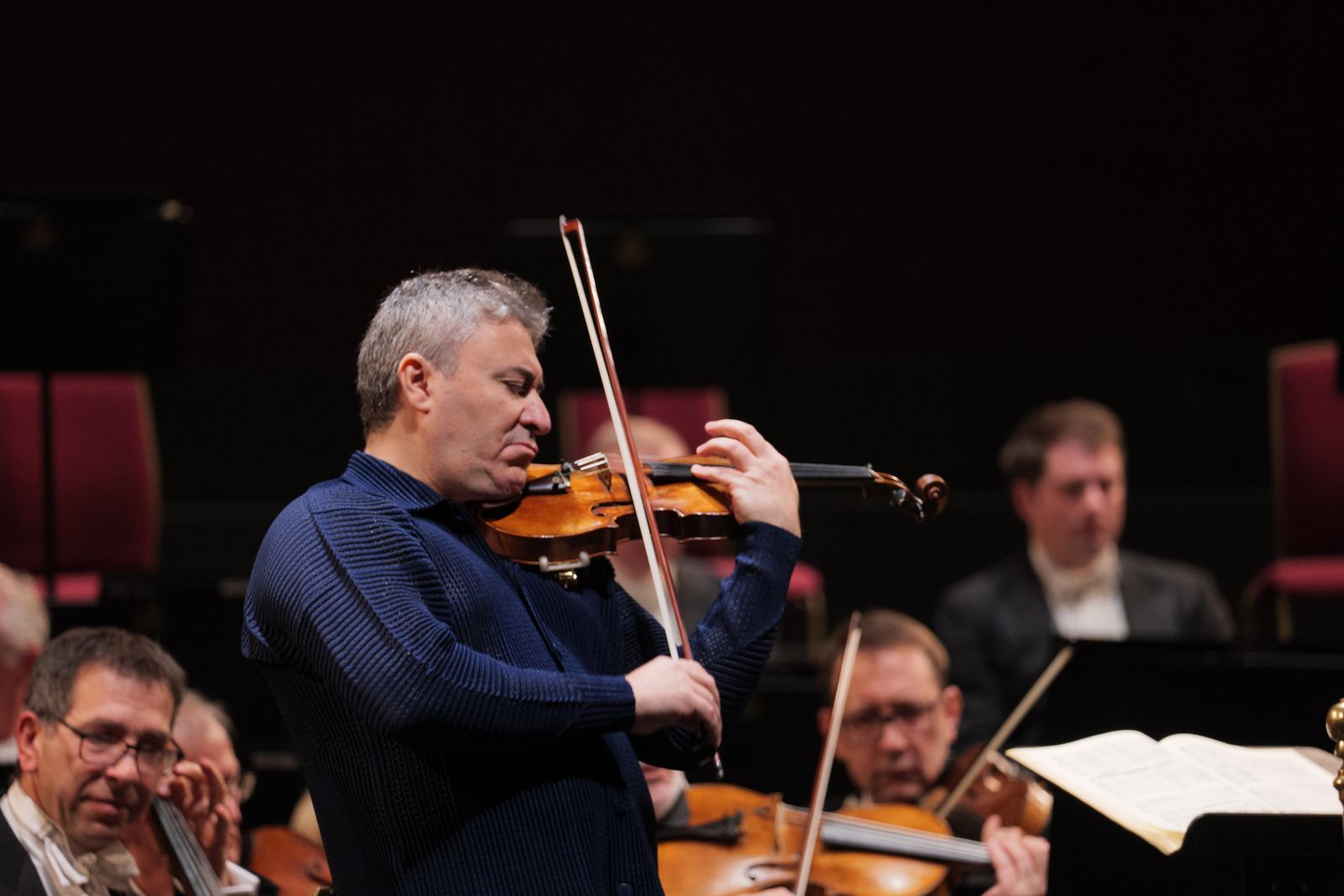 Brahms Gala Maxim Vengerov (violin); Sandra Lied Haga (cello); students from the Royal College of Music, London; Oxford Philharmonic Orchestra / Marios Papadopoulos. Royal Albert Hall, London, 26.04.2023
Academic Festival Overture, Op. 80 (1880)
Violin Concerto in D, Op. 77 (1878)
Concerto for Violin and Cello in A minor, Op. 102 (1887)
Encore: Sarasate Navarra, Maxim Vengerov with students from the Royal College of Music (Violin1: Mira Marton, David Horvat, Elif Cansever, Molin Han; Violin 2: Deniz Sensoy, Esther Park, Lucilla Mariotti, Annissa Gybel, Ilai Avni)
---
After multiple cancellations, and lots of publicity for a concert that imply did not happen, we made it. First it was COVID; then Queen Elisabeth II sadly passed away. But here it was, a Brahms Gala featuring the inimitable violin virtuoso Maxim Vengerov. Now, as we approach (on May 9) Brahms' 190th birthday, an all-Brahms programme seemed perfect – and indeed, felt just so.
The first half presented two staple favourites; the second a far rarer live performance of the Brahms Double Concerto. The scene was set by the Academic Festival Overture, a piece we had heard from these forces in just February this year (review). Papadopoulos read the Albert Hall's acoustic well; and again, as at the Barbican, the trombone contributions were noteworthy, even if here the trumpets lacked some bloom and the famous arrival at 'Gaudeamus igitur' was not quite as climactic.
The presence of Maxim Vengerov for Brahms' Violin Concerto seemed to raise the temperature somewhat, however. The orchestral exposition under Papadopoulos was properly symphonic; Vengerov himself, in response, was tensile and strong in his core sound, yet capable of heart-melting lyricism when called upon. His stopping was truly astonishing, always perfectly in tune, something heard particularly in Vengerov's own fiendish  cadenza. But both Vengerov and Papadopoulos had their eyes on the large-scale, the long-term, which had the dual benefits of allowing them to expand the more cantabile lines and retain pulse, but also to allow that cadenza to appear properly climactic.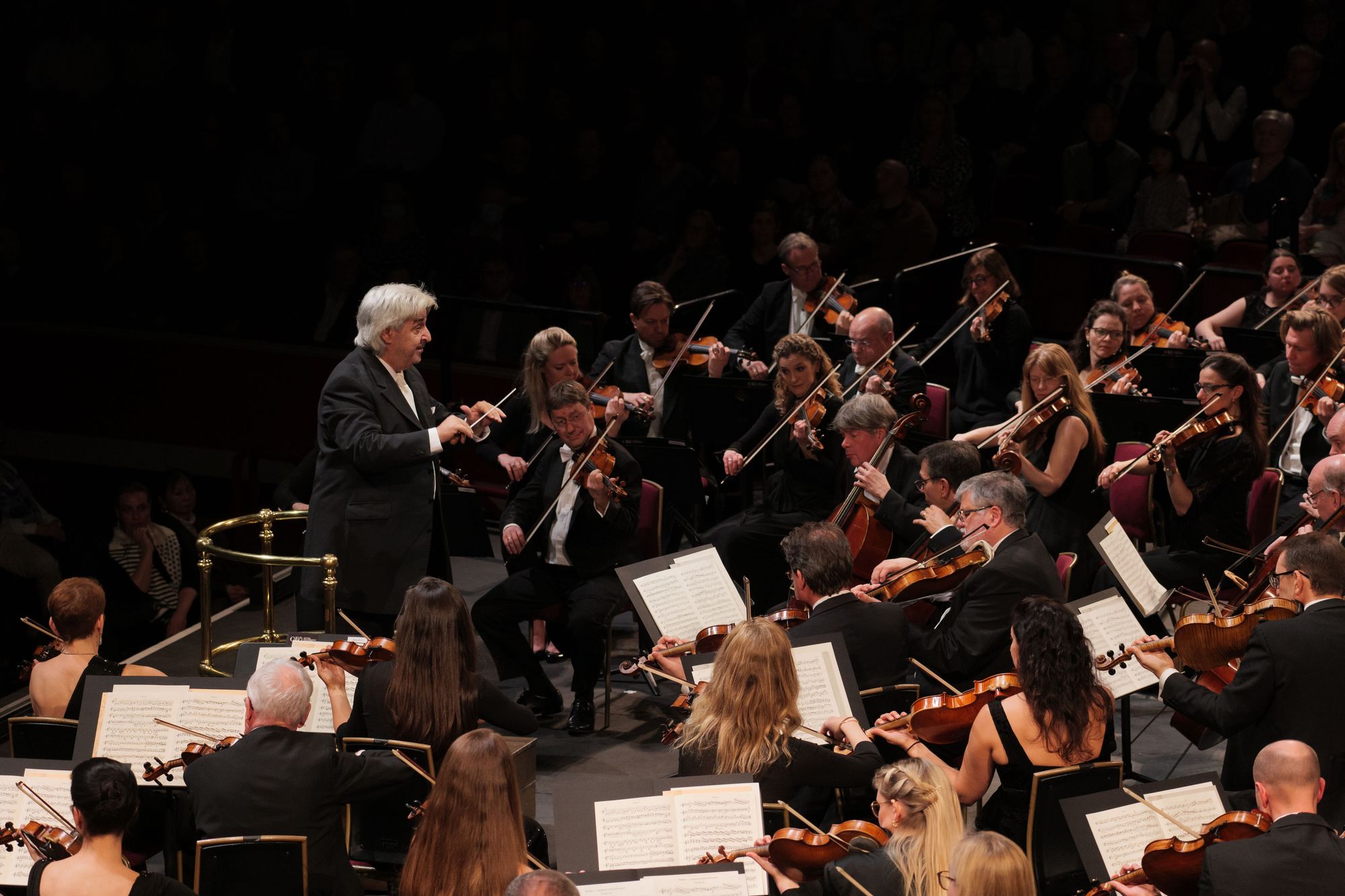 The more lyrical moments of the first movement were precursors to the lyricism of the central Adagio (a special mention beyond doubt here for the Oxford Philharmonic's Principal Oboe Gordon Hunt); Vengerov's sense of line, too, was a key part of this movement's success, while Papadopoulos ensured an almost chamberlike transparency of texture. How this stood in contrast to the robust finale, fiery, blazing, full of life from all concerned, the orchestral sound now more forceful, slightly heavier. Rarely has the Brahms Violin Concerto felt so perfectly proportioned, its structure creating a sense of inevitability for the climaxes; yet nuances were always honoured. Papadopoulos is a fine collaborator, and worked superbly with Vengerov – there is obviously a high degree of rapport between them.
But it was for the Double Concerto that the evening will surely be cherished. Vengerov was joined by the young cellist Sandra Lied Haga, a name I had only seen before in a listing for live streams from Bergen, Norway. As it was, Haga asserted her character right from the off in the opening cello solo, reaching up from the very depths of the instrument. Haga's sound is mellow, yet she projects perfectly – she is also supremely musical and a perfect musical partner for Vengerov. There was no sense of mentor and mentee; instead, passages dovetailed between violin and cello lightly and easily, enabling an exploration of the combined available registral space of violin and cello. Occasionally, Haga can over-vibrato a line, but that seemed limited to early in the piece. Orchestral passages were replete with an internal, minor-mode energy, Papadopoulos ensuring off-beat syncopations carried sufficient forward propulsion.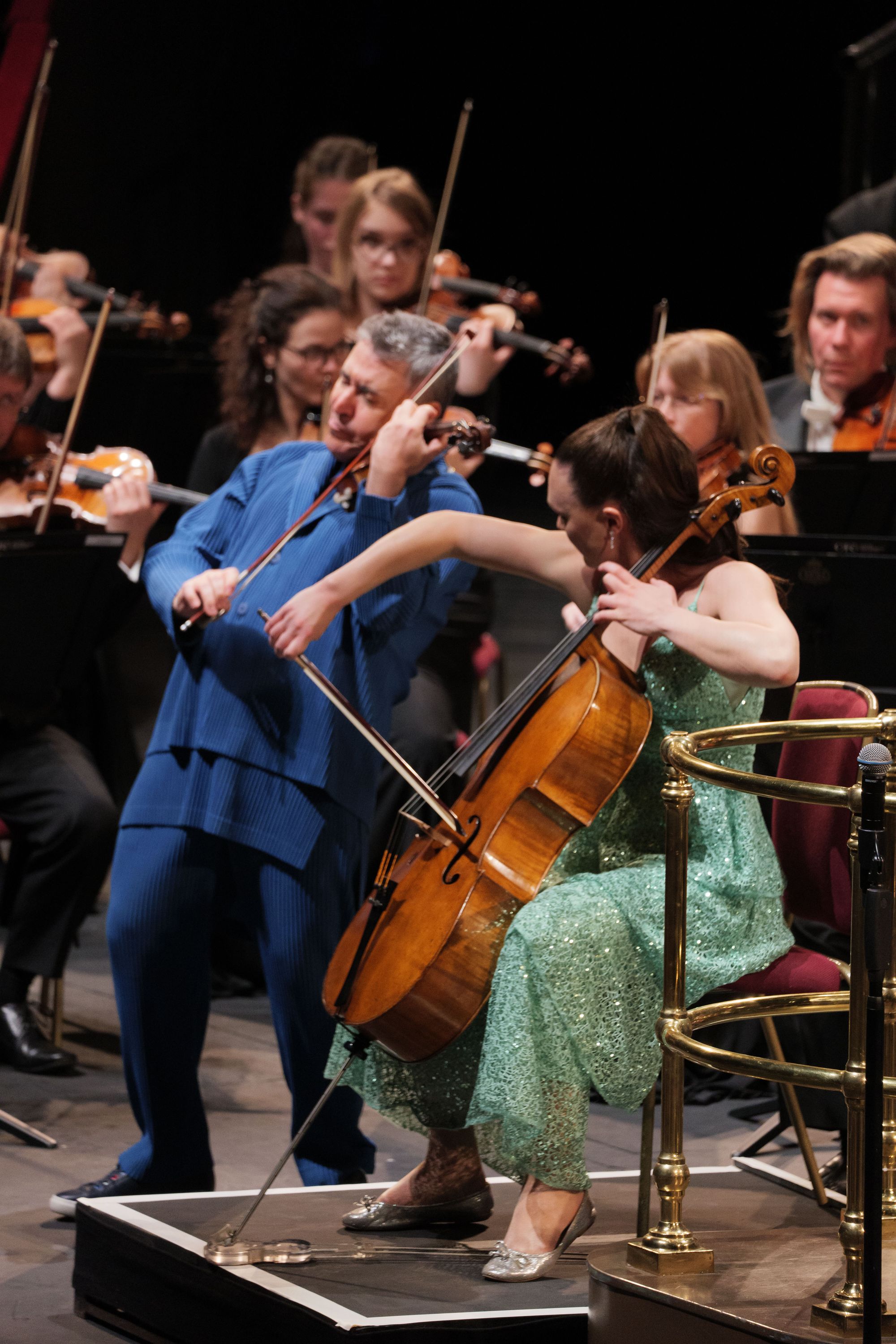 I look forward to hearing more – much more, surely – from Haga. The central Andante is one of Brahms' finest achievements. The resonance of the opening octave statement of the theme on solo instruments was rich and resonant, Vengerov's G string a thing of wonder. As in the Violin Concerto, this central panel was purest chamber music, expansive and deep, blessed with whispered pianissimi. Perhaps the cello trill underpinning Vengerov's stopping passage immediately before the radiant return of the octave opening was underplayed, but a small quibble in a fine performance.
The finale was beautifully focused, rhythms keen (again, it is cello who has the first word, with Vengerov's pure high register the ideal retort); and how convincing and right the winds before the extended stopping passage for both soloists. Majesty was part of the equation, too, Haga once more leading the way, Vengerov digging in in response.
The Brahms Double Concerto, as it is familiarly known, needs performances like this to attain its rightful place in the repertoire. I wonder how many performances of the Violin Concerto there have been for every one of the Double ….
Finally, an encore. Sarasate Navarra, Op. 33, originally for two violins and orchestra, here for ten violins and orchestra. Or, more accurately, 2 x 5 violins and orchestra (so, five violins for each part). Quite a feat, given the rapidity of the violin writing – and the stratospheric registers used, but the reinforced line worked fantastically in the more outgoing moments (and there are quite a few of them). It was at times a sound like no other, The piece is skilfully constructed fluff with a Spanish accent, of course, but that's exactly what is needed after an evening of Brahms. And one could only listen agape at the technical skills of this group of young people, led by their mentor (and I'm sure, hero), Maxim Vengerov. Remarkable.