Mahler's Das Lied revisited
This more than deserves to be heard - it shines a light into the very core of Mahler's score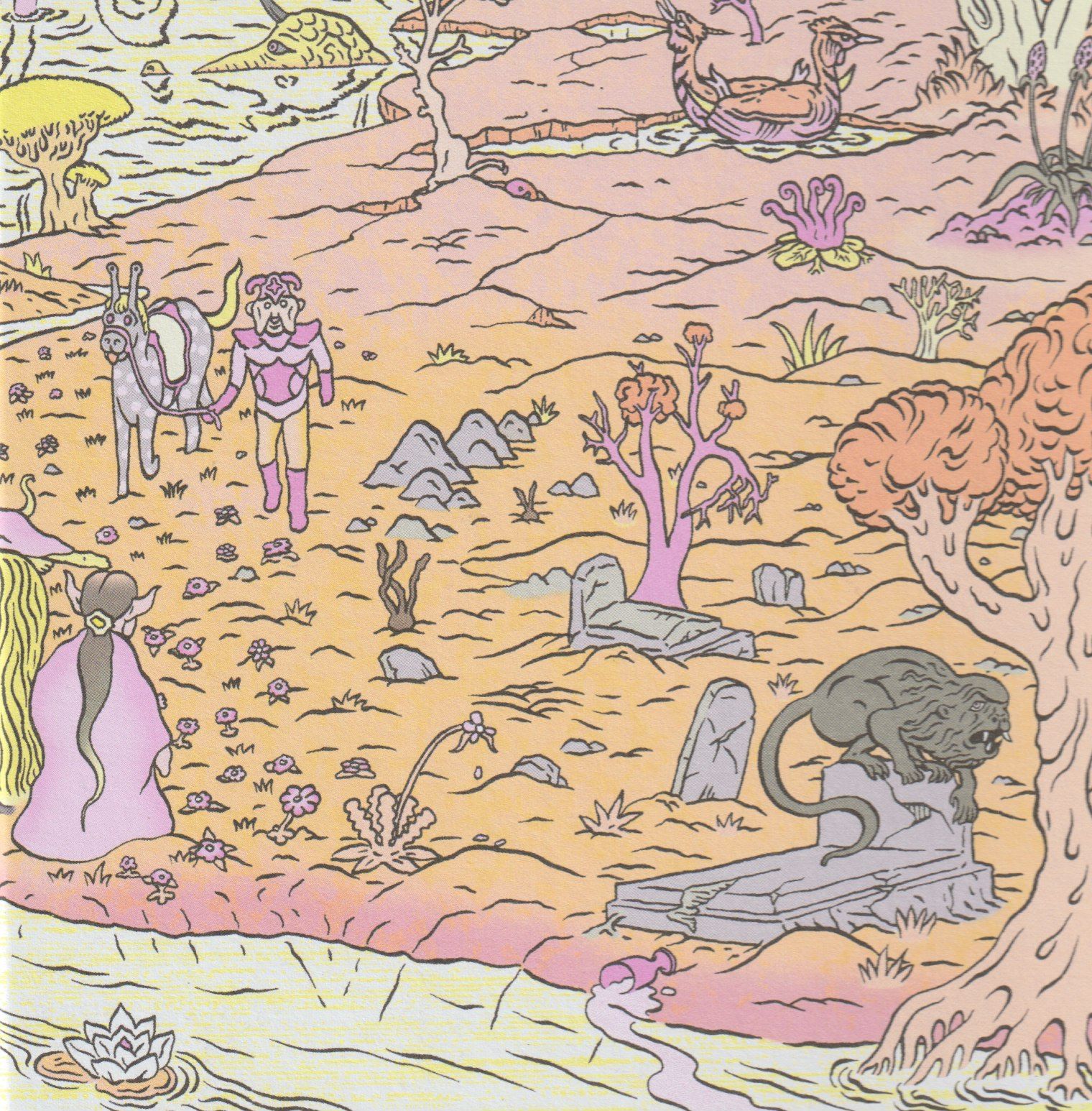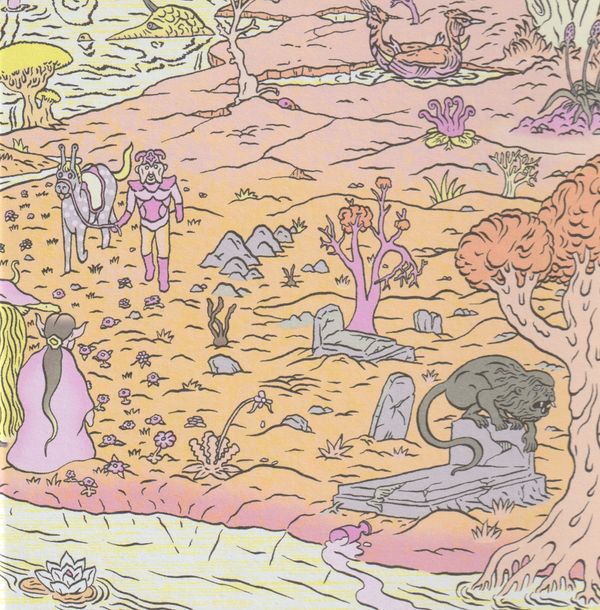 A while ago, we road tested five different Songs of the Earth. On May 27, 2022, the group Le Balcon released its version of the piece, celebrating the disc with a concert that opened the Saint Denis Festival on June 1.
Founded in 2008 and directed by Maxime Pascal, Le Balcon is a group with what it calls "variable geometry"; it is flexible, in other words, with a predilection for what might be termed as "scenic repertoire," particularly opera. Some UK concertgoers might remember a Royal Festival Hall perfmorance of Stockhausen's Donnerstag aus Licht and how effective that was, so many years after the work's London premiere.
It is good to hear them here in this performance of Mahler, presented in a lavish box. Each movement has a separate card illustration which, when one opens it, contains text and translation. Here's the one for the first song, "Das Trinklied von Jammer der Erde," with its stylised/slightly cartoony animal (ape, in the original, her possibly a manticore or a chimera in the original sense) on a gravestone, goblet of wine splilling its contents near him, a tomb nearby that looks suspiciously like a bed ... :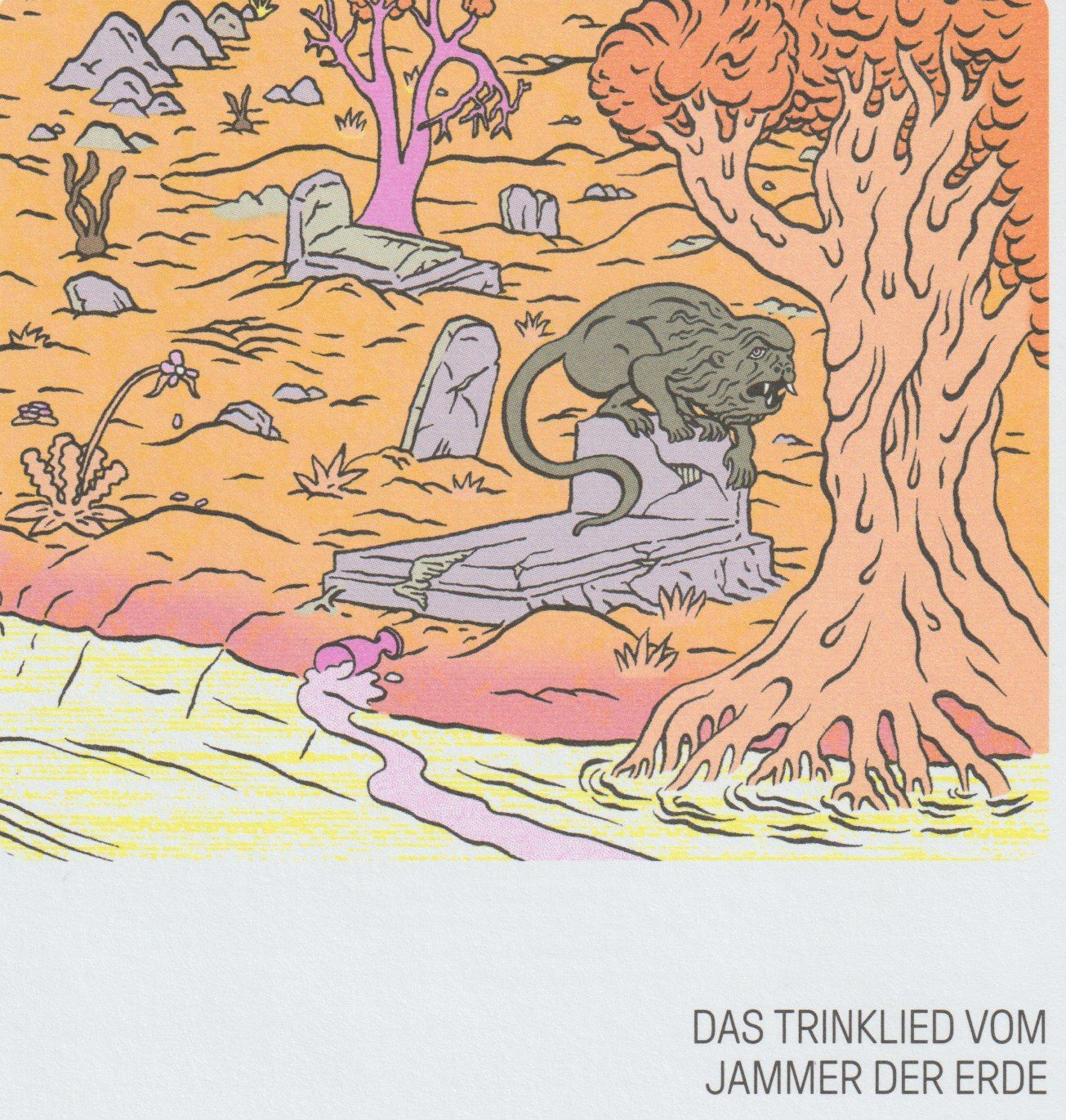 (There is also a poster included  that stitches all six illustratinos into one).
It's important to note this Das Lied is heard herein a completion of a version for chamber orchestra by Arnold Schoenberg by music ologist Rainer Riehn in 1983. It is also heard in the version for tenor and baritone (not mezzo), here the astonishing Kevin Amiel and Stéphane Degout. Here is the group's leader, Maxime Pascal, introducing the piece:
That first movement is remarkable - the arrangement brings real focus to Mahler's processes. As you can see from this three-minute excerpt at the Basilica of Saint-Denis, the recording took place near some stone tombs, really quite apposite for the first movement's image of an ape howling on the gravestones!
The arrangement is stunning - listen to how the final bars of the movement (listen via Spotify, perhaps) lose no power but add a layer of teh fantastical; or how the desolation of the instrumental opening of "Der Einsame im Herbst" makes its point beautifully. The playing throughout is remarkable, but I think particularly beautiful in this second movement, with Degout the most honeyed and expressive of baritones. We can hear Degout in the final movement, also - here he is at this text:
Die liebe Erde allüberall
Blüht auf im Lenz und grünt aufs neu!
Allüberall und ewig blauen licht die Fernen!
Ewig... ewig...
You can hear from these two excerpts the quality of the soloists and instrumentalists. When it comes to "Von der Jugend," there is no sense of strain to Kevin Amiel's tenor, while the delicacy of "Von der Schönheit" has to be heard to be believed - and how telling is Degout's close, with the most beautiful of the maidens throwing langorous glances at the departing horsemen.
It is worth mentioning that this was a live performance without audence because of covid - so the sense of forward trajectory and knife-edge excitement is preserved. We can certainly hear that in the final movement, gripping from first until last. Degout's voice is magnificent: impeccably expressive (try "Die Welt schläft ein") - and how thsi arrangement conveys the chthonic nature of the piece but also the sense of emotional barrenness until hope arrives after that remarkable interior duologue between the protagonist and Death him/herself.
I do like the dawing for this final movement. It seems flippant at first, but note how the moon is a boat ("O sieh! wie eine Silberbarke schwebt / Der Mond"):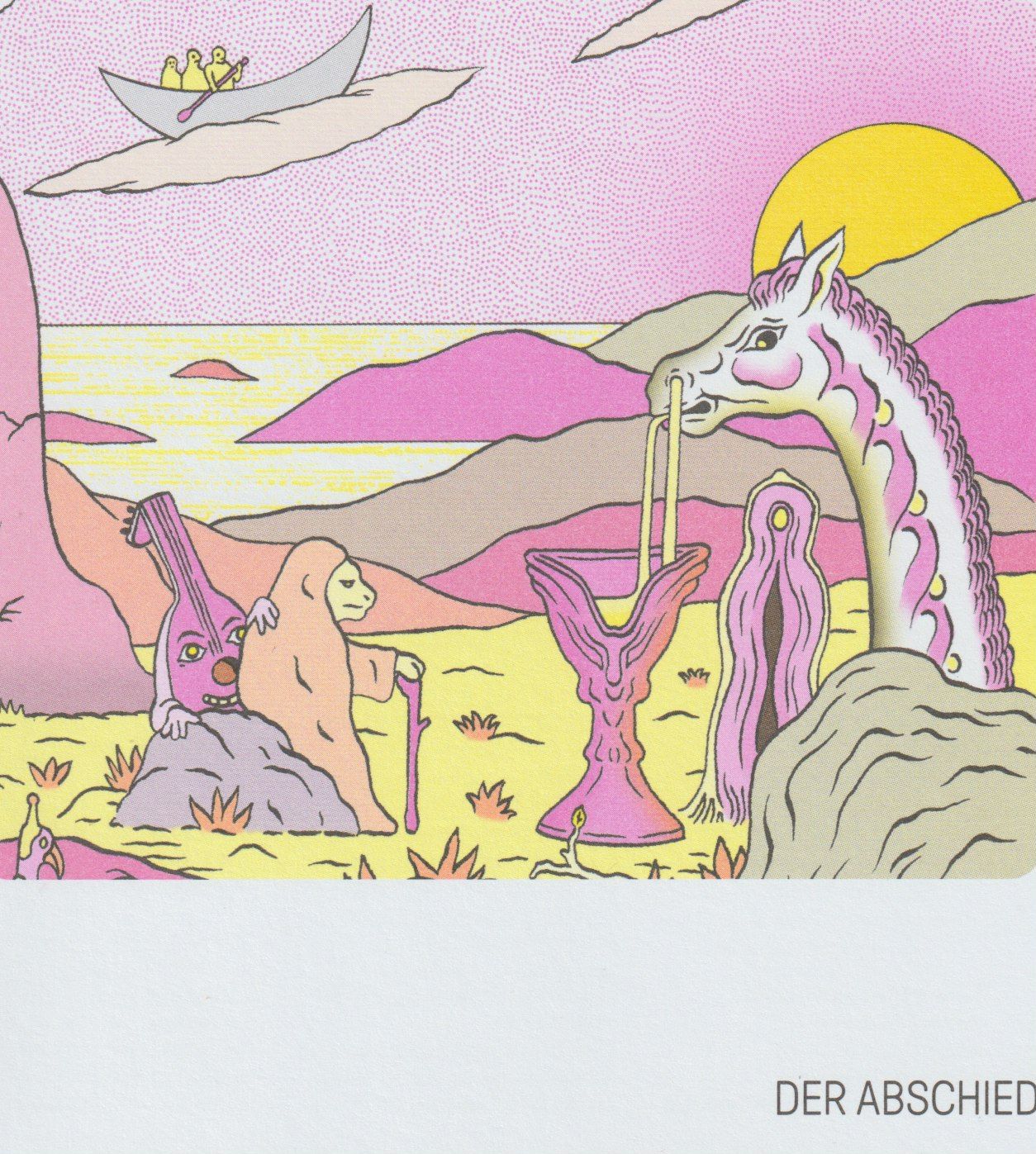 This performance more than deserves to be heard - it shines a light into the very core of Mahler's score.
As an extra, and a well-tmed one given the performance of Mahler's Seventh Symphony by the Berliner Philharmoniker at the Proms just last night, here is Le Balcon in a complete performance of that Mahler symphony in an arrangement by Joël Lasry (the piece is another "song": the "Song of the Night" this time!):
Worth pointing out, too, that for £14.48 on Amazon right now, this Das Lied is really quite a bargain given the care and art that has gone into this release: