Lully's Psyché from Versailles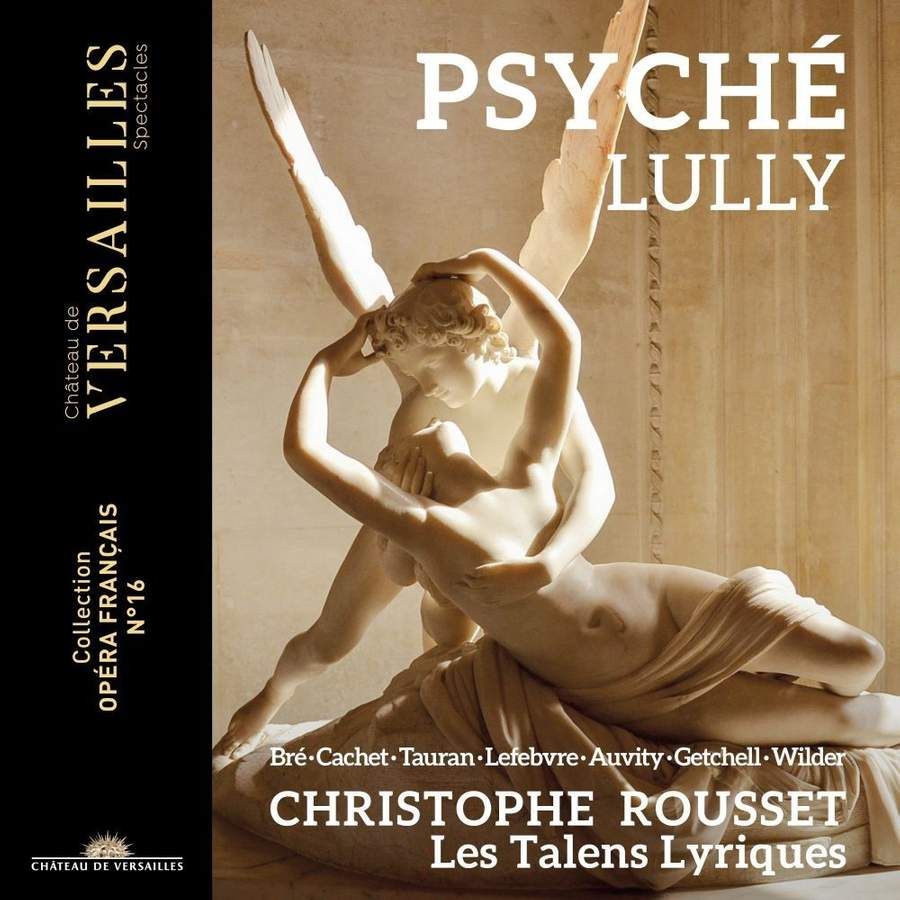 Psyché (1678) is Lully's sixth tragédie lyrique (intreiguingly, Versailles staged Locke's Psyche recently as well; my review of that appeared in the June 2022 edition of the magazine Opera Now).  This is also Rousset and Les Talens Lyriques' 11th recording in their Lully cycle.
Psyché is a "tragédie lyrique" in five acts plus prologue to a libretto by Thomas Corneille and Berlard le Bovier , premiered at the Académie royal de musique in Paris in 1678. Lully's usual librettist, Quinault, was in disgrace after a court scandal of the opéra Isis ...
Here is a short plot summary from the documentation of this new release:
Venus, irritated by the young mortal Psyché whoese beauty radiates alla cross the World, no Cupid to impose a thousand trials upon her, which the young victim triumphs over to the point of meing immortal.
This is perhaps a touch more detailed:
The plot follows a malevolent Venus (Bénédicte Tauran) as a monstrous mother-in-law, who intervenes to stop her rebellious son Cupid (Cyril Auvity) courting the noble Psyché (Ambroisine Bré), sending her through cruel traps and tortures to the underworld and back before the gods can intercede and reunite the pair of lovers.
Previously, Lully had written some intermèdes for Molière's play on this same subject; he re-uses them here, including the (realtively) famous "Plainte italienne," and the final Dvertissement.
As to the present performance, Ambroisine Bré, who visited the Wigmore Hall with Rousset and members of Les Talens Lyriques recently (review) appears inthe titular role as part of a cast that includes Cyril Auvuty, in fine voice as Cupid, and Bénédicte Tauran as a Venus strong of both character and voice.
Some of the singers' names should by now be familiar. Ambroisine Bré is a magnificent Psyché; Cyril Auvity a predictably strong and convincing Cupid, while Bénédicte Tauran is an imposing Venus. But it is Lully's music, positively channeled through Christophe Rousset, that is so compelling. While Locke's verison of the tale is bright and breezy (and was thoroughly entertaining), Lully has so many more layers.
For French speakers, Christophe Rousset himself gives quite a detailed introduction to the opéra in this video:
... but if you want to try the music itself, then try this, from Act One Scene 2, "Deh! Piangete al pianto mio" with Ambroisine Bré and Robert  Gretchell:
---
The two discs take one on quite an emotional roller-coaster. Rarely if ever can Lully's music have cut so clearly through to the heart.
You can hear more of the opera here:
The recording location was the Opéra Royal in Versailles, surely one of the most beautiful and inspirational settings anywhere, and the sound from the Cháteau de Versailles engineers is remarkably clean, yet married with a nice sense of ambience.
There is a previous version of Lully's Psyché on cpo directed by Paul O'Dette from Boston which boasts Carolyn Sampson amongst the soloists, but it is of a lower voltage than Rousset's exemplary performance. One just has to compare the "grieving scene" above to hear Rousset's increased engagement.
With fascinating, and extended, booklet essays and full libretto and translation in luxury packaging, Rousset's Psyché is a set to cherish.
Next in terms of upcoming performances for Les Talens Lyriques is Lully's Thesée; my review of the Vienna performance (and recording session report in the following days) will appear in Opera Now magazine:
Wednesday 1 March 2023, 19:00
Theater an der Wien, Vienna
Sunday 12 March 2023, 17:00
Bozar, Brussels
Wednesday 22 March 2023, 19:30
Théâtre des Champs-Elysées, Paris
Lully Thésée

Mathias Vidal Thésée
Karine Deshayes Médée
Déborah Cachet Aeglé
Marie Lys Cleone/Cérès
Thaïs Raï Dorine/Vénus
Bénédicte Tauran Minerve/La Grande Prêtresse de Minerve
Robert Getchell Bacchus/Un plaisir/Un vieillard/Un berger
Fabien Hyon Un plaisir/Un vieillard/Un combattant
Philippe Estèphe Egée
Guilhem Worms Arcas / Mars / Un plaisir

Christophe Rousset conductor
Les Talens Lyriques
Chœur de Chambre de Namur (dir. Thibaut Lenaerts)
Also available for streming, download or purchase at qobuz