Korngold: Complete Incidental Music
A celebration of Korngold, then; a demonstration of the miraculous varity his music holds, brillianlty conceived as a programme and performed with real devotion. A fabulous disc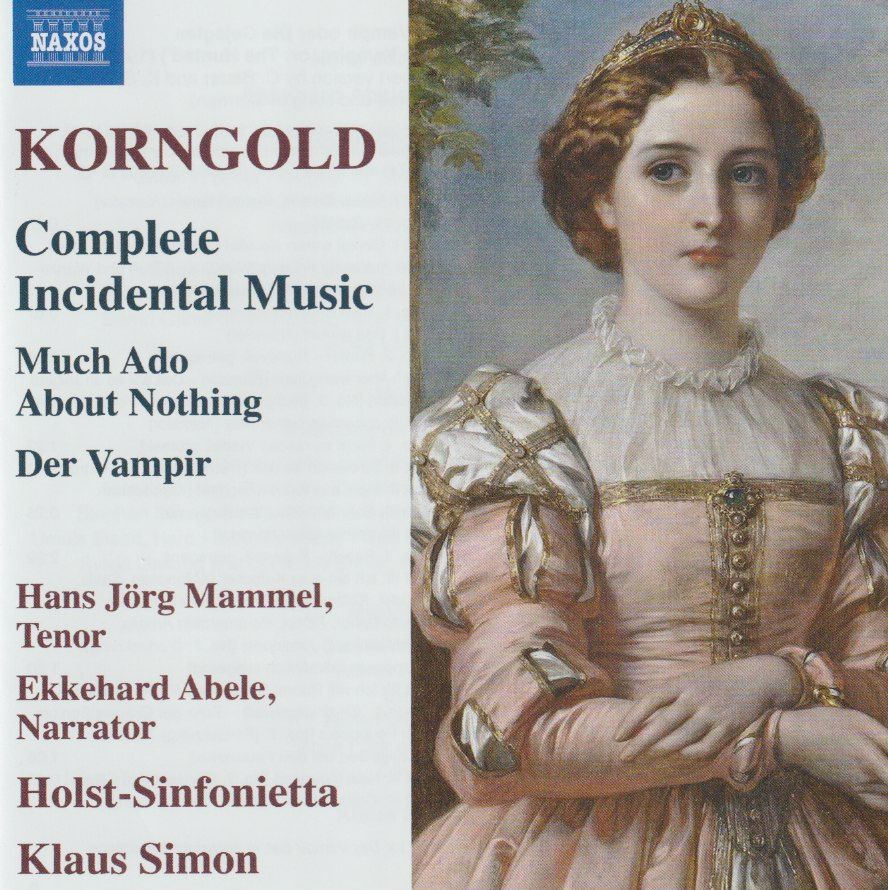 After our recent foray into incidental music via the music of Sir Arthur Sullivan, time to see how another well-known composer works with the stage: Erich Korngold. Known for his film music as well as his opulent works for the concert hall and opera house, Erich Korngold's music is lush and beautiful.
We begin with Viel lärmen über nichts ("Many Tears Over Nothing," literally, or Much Ado about Nothing), with its charming Overture. This is a quicksilver performance from the Holst-Sinfonietta:
Amazing to think this level of post-Mendelssohnian dftness is from the pen of a 22 year old. This was written for a production of Shakespeare's masterpiece at the Schönbrunn Palace in Vienna. The play was heard in a German translation by Wolf Heinrich Graf von  Baudissen and Ludwig Tieck.  Korngold was a man of the theatre at heart - despite his propensity for film music, and how it shines here in the way his music matches the spirit of the play to perfection. The Holst Sinfonietta is on bristling form -  six minutes of pure joy!
Interesting to compare how Korngold and Walton tackled Shakespeare - a certain breeze of Olde England runs through both, with pageant and grace at its heart. Listen to Korngold's celebrational "Mummenschanz" (Hornpipe), which functions as the Prelude to Act II:
There's a bit more festivity in Much Ado than in the Henry plays, as we hear in the delightfully gestural "Festmusik" from Act II:
The song (remember Shakespeare's plays often had songs in them at the time) here is a tenor "Lied der Balthasar". I can imagine more tender performances, and I don't personally find Hans Jörg Mammel's voice over appealing, but the song itself is lovely.
What's interesting is that immediately after, in teh "Gartenmusilk" (Garden Music), Korngold threatens to morph into Mendelssohn's Midsummer Night's Dream! (this is the Prelude to Act III - this is a seven-minute excerpt below):
Korngold writes with a deft hand, in some movements anticipating stage action, elsewhere commenting. The performances, by the Holst-Sinfonietta and Klaus Simon, are always entirely apt and often tenderly sculpted - there seems to be real belief in the music's strength here, a belief that is eminently vindicated by the results. Talking of the music's strength, listen to the power of the "Trauermusik" section from the final act:
The title Der Vampir might be better known associated with Marschner's opera, but Korngold wrote music for Hans Müller-Einigen's play Der Vampyr, oder  Die Gejagten (The.Vampire, or the Hunted).
Der Vampir, a psychological study of desire, seduction and greed, is rarely heard, but remains a potent example of Korngold's instinct for directness of characterisation. The score dates from 1922, just a few short years later, yet could hadly be more different.
The performance here is of a concert version by Cornelius Bauer and the conductor Klaus Simon, and it works supermely well as a straight-through listening experience.
We have a narrator here, the sxcellent Ekkehard Abele. Korngold's musical vocabulary is mroe advanced, almost expressionistic - and listen to the mix of narration, song and Sprechstimme (spoken song, most often associated with Berg and Schoenberg) in "Gejagt waren sie alle" (They were all hunted):
An example of the effectiveness Korngold's writing for narrator and instruments is this, which begins with pure speech (in German) but listen to how deftly Korngold works with the instruments:
A celebration of Korngold, then; a demonstration of the miraculous variety his music holds, brillianlty conceived as a programme and performed with real devotion. A fabulous disc.
Korngold Incidental Music (Amazon link)