Itinéraire Baroque returns and Rousset and Les Talens Lyriques triumph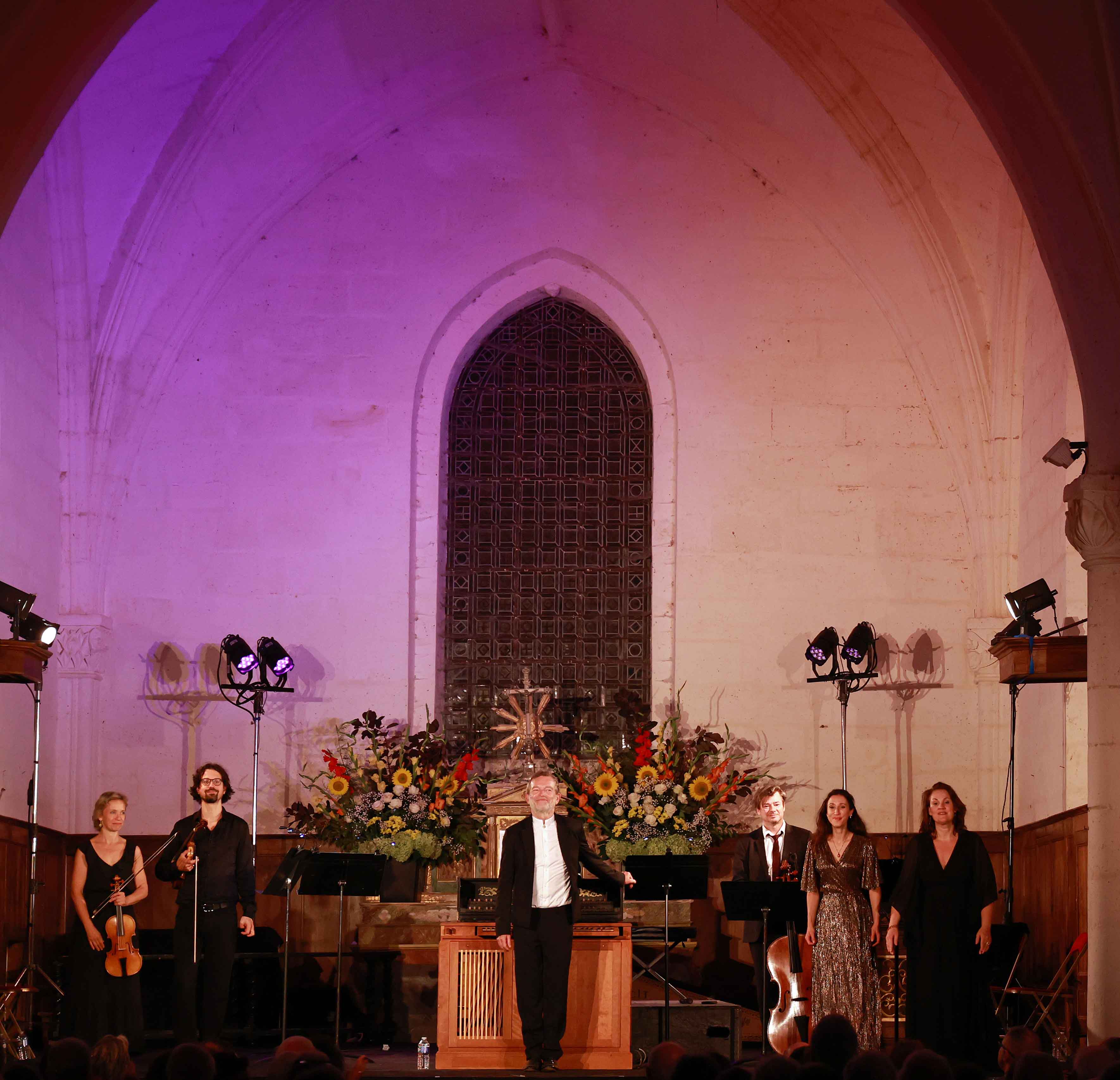 Itinéraire Baroque, 2023 I: Ave Maris Stella. Marie Lys, Judith van Wanroij (sopranos); Les Talens Lyriques / Christophe Rousset. Eglise Abbatiale de Cercles, France, 28.07.2023
Marc-Antoine Charpentier Ave Maris Stella, H 60. Jesu corona Virginum,                H 53. Regina coeli Laetare, H 16. In odorem                unnguentorum, H 52. Regina coeli Laetare, H                32. Gaudate fideles, H 306. Veni sponsa Christi,                H 17. Ave Regina, H 22. Pastorale sur la                naissance de notre Seigneur Jésus-Christ, H                485. Sicut spina rosam genuit, H 309. O doctor                optime, H 307. Sola vivebat in antris, H 373.
Monteverdi        Selva morale e spirituale, S 283 (1640/41) – Salve               Regina, Audi caelum; Iste confessor; Et resurrexit.               Pianto della Madonna sopra Il Lamento                    Vespro della BeateVergine, S 206 (1610) – Pulchra               es anmea. Sancta Maria succurre miseris, SV               328 (1618); Venite sitientes ad aquas domini, SV                335 (1624).
Dario Castello       Primo Libro di sonate concertate in stil moderno               (1621): Sonata seconda; Sonata quarta.
This was Les Talens Lyriques' first visit to Itinéraire Baroque, a festival we have covered several times at Seen and Heard International: initially in 2017 (the Telemann year that included an extended interview with festival founder Ton Koopman), then in 2018 (Opening Concert; review 2; the Itinéraire itself; and its final all-Bach concert) and 2019
One of Christophe Rousset's many strengths is his ability to pick just the right singers for any role or task. Here it was Marie Lys and Judith van Wanroij. His programming, too, is ever-impeccable; here, it was a concert devoted to the Virgin Mary that formed the basis. Two sopranos (an elevated voice range, for sure!) worked with an ensemble of two violins (Gilone Gaubert and Benjamin Chenier), cello (Emmanuel Jacques) and keyboard (Rousset on stacked organ and harpsichord).
The vital rhythms of Ave maris stella, H 60, enlivened by Rousset's harpsichord playing and the two violins, were infectious; the brights soprano of Matie Lys reflected the sprightly aspect of Jesu corona Virginum superbly. Hearing the two sopranos together (van Wanroij slightly darker of tone) in Regina coeli laetare, H. 16, with its florid 'alleluia's was a joy, the music sounding free, the dark clouds prior to 'resurrexit' blown out of the sky by the brighter music later. Charpentier's responses to the text are supremely sensitive, and it felt as if each shift was perfectly calibrated by Rousset and his musicians.
It was perhaps in the spare textures of In odorem unnguentorum that one best appreciated the depth of Charpentier's music, music of expressive suspensions and the utmost dignity. Interesting to watch the two violinists here: their bow movements were exactly together when they were in rhythmic unison. Fascinating to hear the darker shades of van Wanroij alongside Rousset's organ in the motet Gaudete fideles, H 306, too. The ornate Veni sponsa mea ceded to the compositional virtuosity of Ave regina, H. 22, the two vocal parts overlapping and swapping deliciously. With two singers at the top of their game, this was a clear highlight.
The Overture to the Pastorale sur la naissance de notre seigneur Jésus-Christ not only acted as a short interlude in the vocal first half, but also acted as a pointer towards this larger work; the placement of the "Motet pour la nativité de la vierge," Sicut spina rosam genuit, H. 309, was perfect, two voices acting in perfect harmony. As they did in the dark O doctor optime, H 307, tender, with the bare minimum of instrumental input. A final motet for one of the 'other' Marys: Solo vivebat in antris, for Mary Magdalena (Marie Madelene in French), possibly the most heavenly performance of them all, the two voices in perfect accord. Difficult to follow, that …
… but not impossible. The second part consisted of pieces by Monteverdi oscillating with instrumental sonatas by Dario Castello (1602-1631). Whatever the many strengths and the undeniable greatness of Monteverdi, it was the Castello that was the revelation here. Far more than interludes, each of the two sonatas from his Primo Libro di sonate concertate in stil moderna of 1621 revealed a composer of genius.
That said, hearing the overlapping voices of the initially declamatory 'Salve Regina, Audi coelum' from the Selva morale e spirituale was a reminder of Monteverdi's individual voice. The two sopranos, heard in 'echo' effect,' worked beautifully. More familiar fare to many, the Vespers (Vespro della Beate Vergine, 1610) furnished the delicious duet 'Puchra es in amica mea,' Lys and van Wanroij in perfect accord.
It says much that the Sonata seconda from Castello's 1621 collection of sonatas suffered not one jot after that. The two violinists with Rousset on organ projected Castello's vast imagination: the very definition of the stylus phantasticus. The later section, with its slow repeated notes, was transfixing.
Now it was Monteverdi's turn not to be overshadowed: back to the Selva morale e spirituale for 'Iste confessor,' a piece that gave the instrumentalists further chance to shine (as they indeed did) before the voice of Judith van Wanroij launched the vocal element, nicely in contrast to Lys' brighter response. And the Pianto della Madonna sopra Il Lamento d'Arianna with its heart-wrenching suspensions really hit home.  Castello's Sonata quarta, dramatic and intense, was the perfect neighbour.
The final three pieces seemed perfect in the church: the cantus firmus-like long notes of Sancta Maria succurre miseris (this piece goes to some really dark places!), the parallel lines of Venite sitientes and, appropriately, the final 'Et resurrexit' from the Selva Morale, bright yet consoling.
A fine concert. One encore: Charpentier's Gratiarum actioes pro restituta regis sanitate, H 341, in performance that glowed from within.