Italian Postcards: Quartetto di Cremona at 20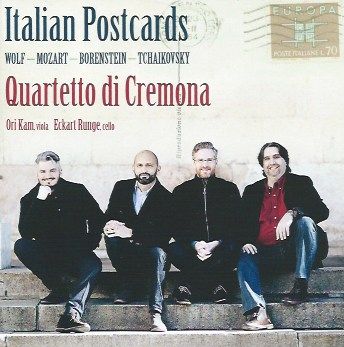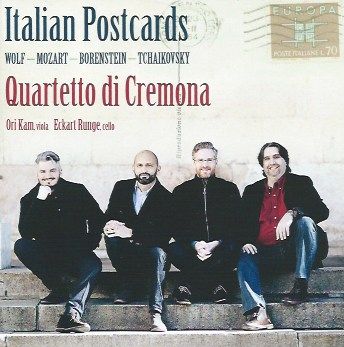 Celebrating twenty years (and their 14th recording - and their first on Avie), the Quartetto di Cremona registers four reactions to Italy by non-Italians in a programme that is wide-ranging and stimulating.
It's a lovely idea, not least because it reminds us that Hugo Wolf didn't only write songs. A composer with a life story that ended in tragedy and madness, his output is as captivating as it is unpredictable. We can hear the first three and a half minutes (of seven) of his Italian Serenade in this live performance from Dutch television:
The performance on the disc is even warmer (and superbly recorded); Wolf heard the main theme of the piece played on a piffero - a type of oboe - while on holiday in Italy. To get an idea of how unpredictable a composer Wolf was, try this song, "Feuerreiter" (Fire Rider) from the Möricke-Lieder. Here's Dietrich Fischer-Dieskau and Gerald Moore (although if you can find the live Salzburg performance from 1961 on Orfeo, that makes the point even more):
The Mozart String Quartet No. 1 in G, K 80, "Lodi," hails from Mozart's tour of Italy in 1770, and was apparently completed "at seven o'clock in the evening" in the town of Lodi in Lombardy (this Italian tour, incidentally, formed the subject of a three-day exploration at the Cadogan Hall, London, in early March this year). It begins with a glorious Adagio (the way the two violins follow each other is most enchanting) before bursing out into life with a magnificent Allegro; a courtly Menuetto complements the final gentle Rondeau perfectly.
It's lovely when a piece has been specifically composed for a disc, and sich is the case here: Nimrod Borenstein's Cieli d'Italia, Op. 88 ("The Skies of Italy"), a Quartetto di Cremona commission. There is indeed a sort of aerial aspect to the writing, "as if one were gliding," as the composer puts it.  Here's an excerpt; it is compelling music indeed, multilayered:
The Quartetto di Cremona is joined by violist Ori Kam and cellist Eckart Rouge in Tchaikovsky's String Sextet in D minor, Op. 70, "Souvenir de Florence". This is a piece that can sprawl in the wrong hands,so all credit to the Quartetto di Cremona and guests for prividing one of the finest accounts in the catalogue. Tchaikovsky found himself in Florence in 1980, where he completed his opera The Queen of Spades and wrote his only string sextet (two violins, two violas, two cellos; the additional payers are Ori Kam, viola and Eckart Runge, cello). The songful, almost operatic lines of the Adagio cantabile com moto seem to reflect the proximity its operatic companion. The balance of intensity and flow in the Quartetto di Cremona's account is perfectly judged.
Recorded in Turin in December 2019, this is the perfect example of how an idea blossom into an hour spent in heavenly company. I do have a confesison to make: I was put off the Tchaikovsky badly in the 1980s where a group (all I remember it was the Queen Elizabeth Hall and would be somewhere around 1986/7) placed Tchaikovsky's Souvenir de Florence at the end of a concert of exceptionally hard-hitting modern music (I also seem to remember there was some Mosolov in there ...). The result was it was, to put it mildly, hard to take Tchaikovsky's heart-on-sleeve expression seriously; so my thanks to the Quartetto di Cremona for placing the work perfectly and, in a performance of the utmost refinement, allowing me to find my way back and renew acquiantance with a new-found respect!
Here's the disc trailer: