Hoffmeister's Magic Flute
In times such as these, we sometimes need something to take our minds off the World's travails. Step forward the flute music of Franz Anton Hoffmeister (1754-1812)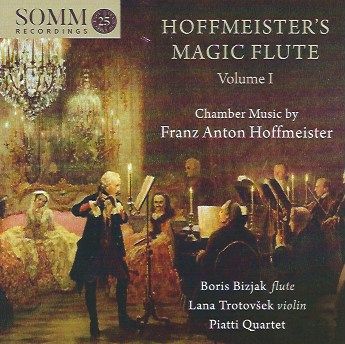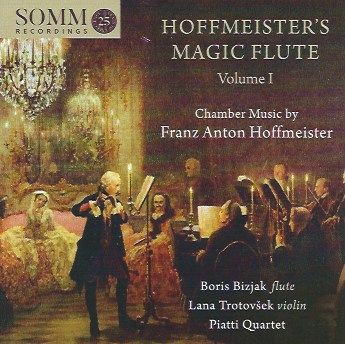 In times such as these, it's probably fair to say we sometimes need something pleasant  to take our minds off the World's travails. Step forward the flute music of Franz Anton Hoffmeister (1754-1812).
Hoffmeister was a successful publisher as well as a composer, and it was his firm that commissioned a set of Piano Quartets from Mozart (although only the first, the G minor, K478, was published under these terms). He also published works by Beethoven, Clementi and Vañhal, amongst others. In 1806, the publishing house became of the property of  Hoffmeister's business partner Ambrosius Kühnel (1770-1813); after his early death  it was acquired by Carl Friedrich Peters (1779-1827), a firm that is well known to this very day. But in today's post, we have a way in to Hoffmeister the composer in the form of his bracing flute music in refreshing performances caught live over two days at St. Nicholas' Church, Thames Ditton.
The flute was particularly dear to Hoffmeister, and he wrote over 25 concertos, plus at least eight operas, over 50 symphonies, plus string quartets. When it comes to the flute music, and perhaps with the subliminal nudge of Somm's disc title, "Hoffmeister's Magic Flute," it is difficult not to hear the shadow of flute of Mozart's opera here.
We looked at Signum's magnificent Sturm und Drang 2 disc recently; Hoffmeister, despite his very much reduced forces, provides further examples of this type of writing, as one can hear in the first movement of the C minor Quartet:
The Somm disc rather neatly presents pieces for a variety of scorings. I'll be frank, the idea of a flute and violin duet made me think it had a limited listenership comprising exclusively flautists and violinists. But actually, the charming Duetto in G for flute and violin (performed by Boris Bizjak and Lana Trotovšek) is the perfect antidote to the more outgoing C-Minor piece:
Perhaps Hoffmeister comes closest to the Mozart of Zauberflöte in first movement of the D Major Trio, Op. 11/3. Don't be surprised if you gasp in familiarity (I might be exaggerating, but you get  the meaning):
It might be nice to round off with a Theme and Variations, that time-honoured Classical form, with plenty of opportunity for the string quartet (the excellent Piatti Quartet) to shine in its own right. Hoffmeister's invention is boundless; and it also makes for a nice link to Beethoven's sets of variations, a couple of which we might well encounter in the course of another post shortly ...
Boris Bizjak plays a hand-built, open-keyed flute made from grenadilla (Afrian blackwood) which creates a wonderfully warm sound; Lana Trotovšek plays a 1750 Pietro Antonio della Costa violin.
The promo video for the disc is here:
The whole Somm disc is one of joy in chamber music making; Bisjak's playing is of the highest rank while there is no doubting the devotion of all to the importance of this enterprise. My own memories of Hoffmeister actually come from playing horn in the pieces for wind ensemble, pieces of equal delight. Here's the finale of Hoffmeister's E flat Serenade courtesy of the Zürich Wind Octet on Tudor, a piece of fire and vim that seems to sum up all that is good, and all that is Hoffmeister:
It is worthwhile checking out the Amazon link below as Hoffmeister's Magic Flute is going for a steal at £7.49! I've also included purchase download links for the Octet, but not the disc itself as hard copy is going for a somewhat inflated £51.90! Note also Amazon has erroneously labelled one movement twice as the fourth movement in the downloads, when in fact they are two different movements!