Gluck: an Opera Gala, with Jessye Norman
A celebration of Gluck; and Jessye Norman!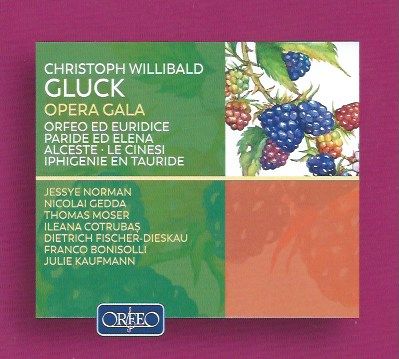 There are several reasons to celebrate this two-dsc set: firstly, it offers a chance to concentrate on the operas of Gluck (still, arguably, under-performed); secondly, it offers us the great soprano Jessye Norman; thirdly, check out the price, it's a steal. And while there are other great singers on this set (Dietrich Fischer-Dieskau, Elisabeth Söderström), it almost acts as an in memoriam to Norman. Her recent death (now over a year ago in September 2019, although in some ways it seems like yesterday) was a shock, especially for those of us lucky enough to see her live; for myself, an unforgettable Strauss Ariadne at Covent Garden, a Wagner Gala at the Festival Hall with the LPO and Tennstedt, Berg with Boulez ... the list just goes on ...
Christoph Willibald Gluck (1716-87) changed the face of opera with what are known as his "reforms," which enabled the music to follow the action, purging the music of superficial display. The three so-called "reform operas" Gluck wrote for Vienna are Alceste, Orfeo ed Euridice, and Paride ed Elena, all of which are represented on this set.
The Gluck Gala presents excerpts from six operas in total. The first are taken from this performance of Alceste from the early 1980s:
Alceste, written in 1767, is based on a Euripides play of a woman ready to make the ultimate sacrifice for her husband. Norman is joined by Robert Gambill and Nicolai Gedda. There is a proto-Mozartian element to the music that is both appealing and, in this story, touching. Jessye Norman's (she was affectionately known just as "Jessye" to enthusiasts) "Divinités du Styx" reminds us of her rich, velvety voice in all its glory.
Orfeo ed Euridice is probably Gluck's most famous opera. Here, it is Dietrich Fischer-Dieskau who is the star turn in a performance with Ferdinand Leitner at the helm (Fischer-Dieskau's more famous performance is with Fricsay).  Leitner, conducting the Capella Coloniensis, is at the height of his powers, and the Euridice is Elisabeth Söderström. Gluck's grace is fully on display in Fischer-Dieskau's "Che farò senza Euridice?":
Another tale from Euripides, Iphigénie en Tauride (Iphigenia in Tauris) takes the titular heroine (sister of Orestes) as central character. While Dietrich Fischer-Dieskau needs no introduction, Pilár Lorengar might. She is a singer with a voice of steel. She excels in one of the most famous arias from Iphigénie, "Patrie infortunée". Here, as an alternative so we can hear the aria itself, is Carol Vaness:
... and, to compensate, an introduction to Lorengar; here she is on top form with the Vienna Philharmonic and Georg Szell in Beethoven's Egmont incidental music (start at 11'30 for her song, "Der Trommel gerühret"):
The excerpts from Paride ed Elena include this lovely aria, "Donzelle semplici, no, non credete," performed by Ileana Cortubas:
There are two lesser-known pieces excerpted on this twofer. The first Le Cinesi, an "opera serenade" from which we hear Thomas Moser singing a lovely lyrical aria ("Son lungi e non mi bramo") plus a vocal quartet, and Les Pèlerins de la Mecque ("The Pilgrims to Mecca," also known as "La rencontre imprévue," or "The Unexpected Encounter"), an opéra comique. Bizarrely, Les Pèlerins was not  officially recorded until March 1990 under John Eliot Gardiner in Lyon. The recording on today's set, Leopold Heger with the Munich Philharmonic, dates from 1990 also (September). There was, though, a 1983 performance at La Scala that is complete (one hour 40 minutes):
The excerpts on the disc though give a flavour of this lovely piece, especially Robert Gambill's lyrical aria "Jusqu'au moment qui m'otero le jour" (from Act 2); but keep an ear out for the ensembles, they are utterly delightful.
To say this is a bargain is an understatement: just look at Amazon's current price! Both discs are well over 70 minutes playing time. Anyone looking for an introduction to Gluck's operatic output should snap this up, post-haste ... (the Spotify link is to Alceste highlights, also on Orfeo).