Gil Shaham, the Israel Phlharmonic and Lahav Shani thrill in Gstaad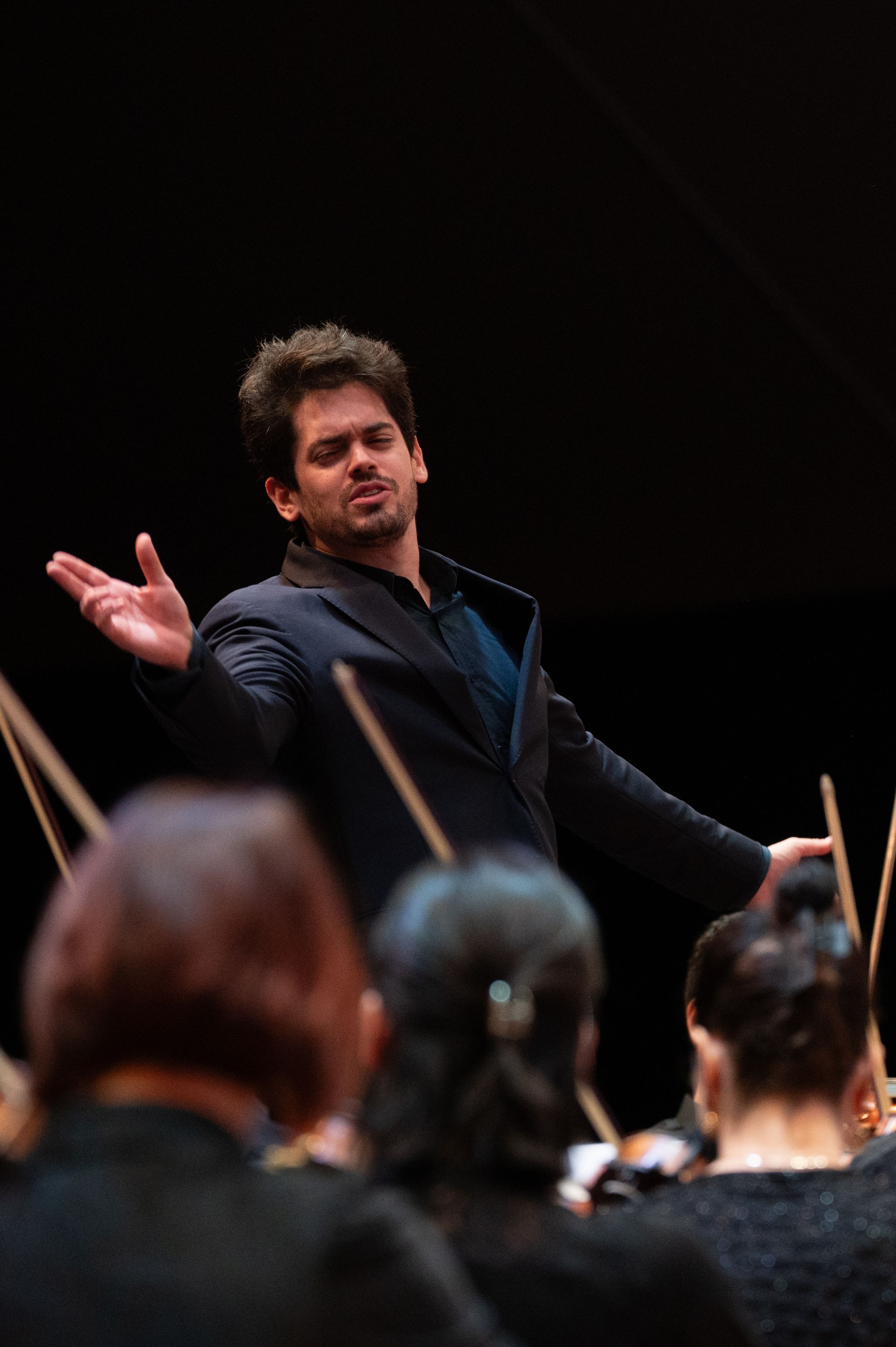 Gstaad Menuhin Festival 2023: Demut und Überschwang. Brahms. Gil Shaham (violin); Israel Philharmonic Orchestra / Lahav Shani. Gstaad Festival Tent, 26.08.2023
Brahms  Violin Concerto in D, Op. 77. Symphony No. 1 in C minor, Op. 68.
Two of Brahms' masterpieces heard at their finest: this was a major international orchestra under a fabulously talented conductor achieving results that are etched in this reviewer's memory forever. What on paper looked like a run-of-the-mill programme was anything but.
The theme of the 2023 Gstaad Festival is 'Demut' (Humility); 'Demut und Überschwang' means 'Humility and Exuberance'. Certainly, Brahm was famously in awe of his predecessor Beethoven, who cast a large shadow, one that caused Brahms some inner turmoil when it came to the First Symphony. Brahms' Violin Concerto is cast on a large scale, as was Beethoven's - indeed, the two works were heard together at the Brahms Concerto's premiere, on New Year's Day, 1879 (the concerto with Joseph Joachim as soloist). We need look no further than the finale for the exuberance element; but perhaps there is also an exuberance of invention permeating the score.
Gil Shaham is one of the World's top violinists. His enthusiasm is infectious (perhaps his ever-smiling demeanour was itself a representation of the 'exuberance' of the concert's intent!). His technique is near-perfect, his sound glorious. But man cannot live by soloist alone, and it was good that his partners here, Lahav Shani and the Israeli players, were of the same exalted level. Shani conducted by memory; the level of orchestral detail was revelatory.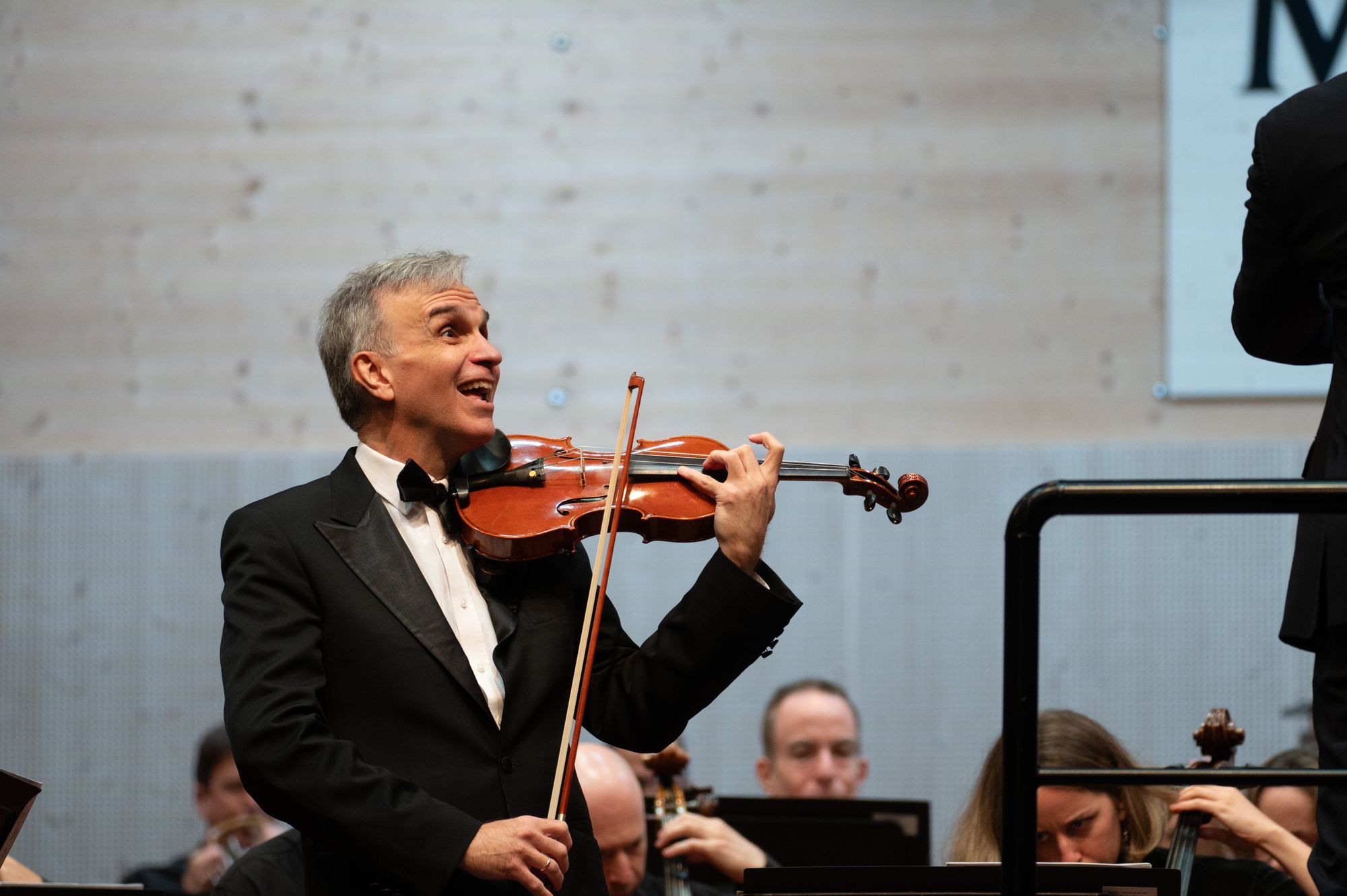 A mouth-watering oboe solo in the Brahms first movement exposition after pinpoint ensemble from the warm-sounding strings at the opening set the tone. Shani kept the momentum perfectly, and the Israel Philharmonic's excellence was ideally reflected in Shaham's command, his top register beautifully sweet. Together, they carved out ani deal first movement; the Brahms Concerto is clearly part of Shaham's DNA. The build-up to the cadenza was superb – this was structural musical thinking at its very best, from both soloist and conductor. Worth noting that after Shaham's mesmerising cadenza, the re-entrance of the orchestra was perfect – the best this reviewer has ever heard it.
Shaham was simply glorious in the central, radiant Adagio; a first horn response (a descending arpeggio) was just as gracious. But most memorable were the pianissimi, whispered confidences. Interaction between solo violin and tutti strings in this movement was astonishing, and deeply moving. When it came to the finale, orchestral involvement was off the scale. The energy never once flagged, any lyrical passages underlaid with ferocious tension, the transition to the concerto's coda absolutely faultless.
There had to be an encore, and so there was: Scott Wheeler's Isolation Rag for solo violin, written for Shaham, a fun and yet well-constructed piece that shows off Shaham's character as well as his technique perfectly. Scott Wheeler is a composer worth investigating, incidentally: I was very taken by his opera Naga (released on the New World label), while his opera/masque/dramatic cantata hybrid The Construction of Boston, released on Naxos, has fascinating overlaps with two operas by his teacher, Virgil Thomson (Four Saints in Three Acts and The Mother of Us All). A most imaginative encore, therefore, and perfectly judged in all respects.
And so to the second Brahms First Symphony of Gstaad Menuhin 2023: earlier this month, I reported on the Gstaad Festival Amateur Orchestra under Kevin Griffiths in this piece (there coupled with the Tchaikovsky Violin Concerto with the young soloist Raphael Nussbaumer). This, though, was in another league entirely. I was very taken by Shani's conducting at the Verbier Festival in 2021; not to mention his LSO debut in 2019 at the Barbican, and this Brahms is in the same vein of excellence. The orchestra opened with a huge sound in the 'Un poco sostenuto' - like hearing slowly-moving lava. Amazing to see Shani trust his orchestra enough to conduct in a slow two rather than subdivide into six, an indication perhaps of the trust at work here. The urgency of the Allegro was palpable, the orchestral sound exuding depth but never heavy. The music seethed with power but – its most defining quality – it breathed like an organism in its phrases. This was a structurally flawless interpretation, which meant that the movement climax was shatteringly exciting.
Shani dared to take the Andante sostenuto slowly, a superb oboe solo over syncopated, perfectly-balanced strings. A special word for the leader's solos in this movement (the solo horn not quite the same standard); the third movement was blessed with the perfect sense of flow, an Intermezzo in all but name, the strings' easeful legato a joy in itself. And that finale: primordial horns with impeccable dovetailing between first and second. There was an almost Mahlerian aspect to Shani's reading in its expansiveness, Brahms' First as precursor of Mahler's First, perhaps. The sense of legato line heard so many times in this performance reached its apogee in the finale's long, lyrical melody. Brahms' counterpoint was honoured, a further measure of the intelligence of this reading. Perhaps the final acknowledgement of the cogency of Shani's symphonic Brahms was the approach to and effect of the coda, taken slower than one might expect and yet delivered with simply extraordinary power.
One aspect of Shani's conducting is that he sometimes eschews upbeats, as he did at the start of the finale. He is not alone in this, but it is rare and is another indication of the trust between conductor and orchestra, that they will just know the tempo.
A remarkable concert with absolutely no sense of routine about it; and with it, the privilege of hearing Brahms anew. Stunning.
There was an encore, Johann Strauss II's Pizzicato Polka.  A bit off-piste, one might think – but there was (surely?) a link between this and the pizzicato accelerando in the finale of the Brahms Symphony? Or maybe I'm being fanciful and it's just a fun way to end. Whatever, it sent this reviewer out into the cool alpine air eminently satisfied.
Photos © Raphael Faux