Introducing Franz Krommer ...
An eminently enjoyable disc of the music of Franz Krommer, heard in the freshest performances imaginable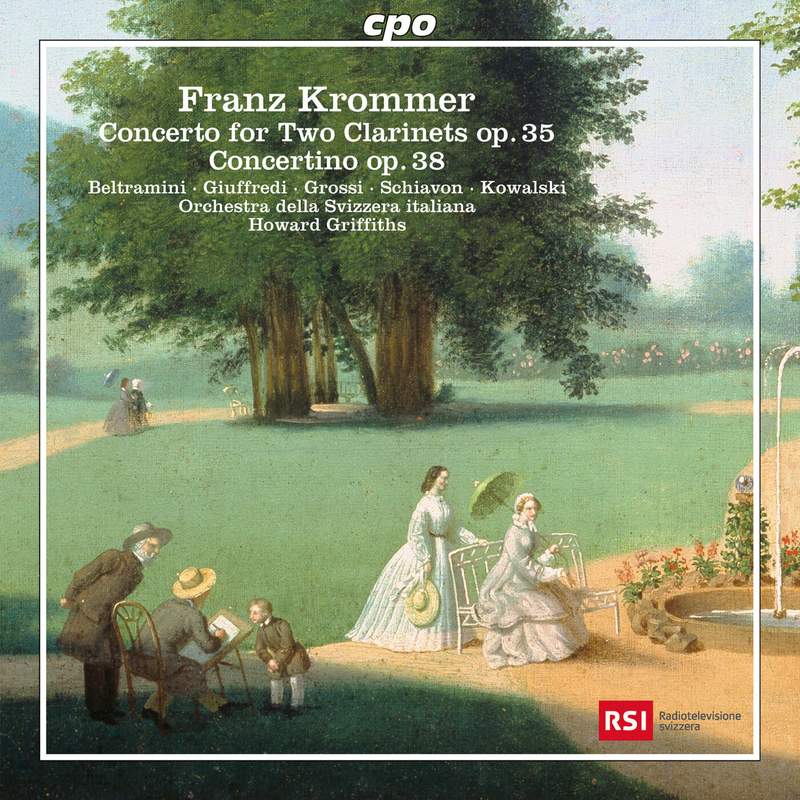 Franz Krommer (originally František Kramář, as he was born in the Moravian town of Kamenice - known in German as Kamnitz - in 1759) wrote deliciously engaging and entertaining music. On moving to Vienna, he changed his name to Franz Krommer, where he enjoyed great success.
It is easy to hear why: just listen to this marvellous performance of the first movement of his Concerto for Two Clarinets, Op. 35 (published in 1802). The way the two clarinets are equals, they way they toss matuerial from one to the other, is utter delight, especially with two noble executants: Paolo Peltromini and Corrado Giuffredi:
The dramatic opening of the central Adagio comes as somethig of a surprise. Note how eloquence resurfaces though, and how the primo clarinet holds sustaied notes while the second has the interest at various points. It is easy to miss the skill with which Krommer moves from minore to major, and how beautifully this is structured (and, in this performance, sculpted):
The kitten-like chasing of the two clarinets in the theme of the finale, a Rondo, is simply wonderful. Beltramini and Giuffredi excel, and Howard Griffiths ensures everything from the orchsetra is delivered with pinpoint rhythmic accuracy:
---
And as if things could not get any more expertly crafterd and delightful, we also have a Concertino for flute, oboe, violin and strings in the right key of F-Major Krommer's Op. 38). It works brilliantly, especially how the violinis an abseolutely equal third voice, bringin a textural contrast. Here, we have Robert Kowalski on violin, Bruno Grossi on flute and Marco Schiavan on oboe:
This Concertino is in five movements, the standard three extended and enhanced by two Menuettos (the finale, here, is a Tema con variazioni). After a superbly performed Allegro, we get this lovely Menuetto, taken at a sprightly Allegretto by Griffiths; and listen out for the equally dance-like Trio where Kowalski's violin takes centre-stage!:
The short Adagio is an interlude of much lightness. It feels quite fast here - and yet works beautifully:
After a balancing second Menuetto, with a swathe of pastoral pipings from flute and oboe, butperhaps it is in the finely-crafted Tema con variazioni that one feels Krommer is himself having a field-day. and this performance really is a breath of fresh air:
An eminently enjoyable disc of the music of Franz Krommer, heard in the freshest performances imaginable.