Es gibt ein Reich: Ariadne auf Naxos in Vienna
An act of pure joy as well as compositional virtuosity, Richard Strauss' opera Ariadne auf Naxos almost guarantees enjoyment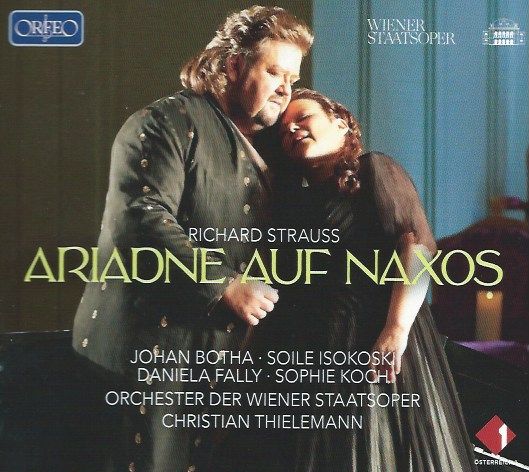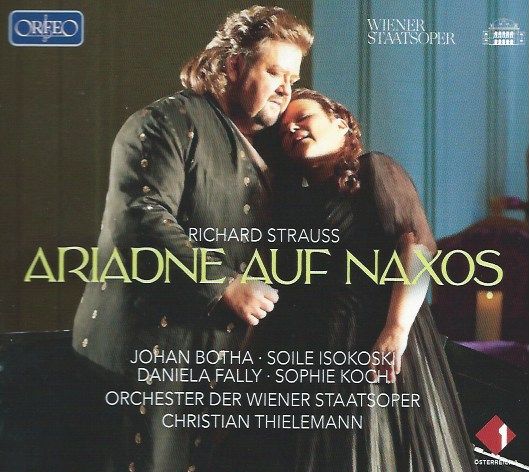 An act of pure joy as well as compositional virtuosity, Richard Strauss' opera Ariadne auf Naxos almost guarantees enjoyment. The libretto, by Hugo von Hofmannsthal (a regular collaborator of Strauss') is just as virtuoso in its way as Strauss' music. There is a Prologue that introduces two factions: an opera company and a group of burlesaue entertainers. When it comes to the oepra, Strauss somehow managed to integrate two "simultaneous" performances, one of the Greek tragedy of Ariadne on the Greek island of Naxos, the other a comedy led ny the character of Zerbinetta, whose virtuoso aria, "Großmächtige Prinzessin" (O great Princess) is a clear highpoint of the evening; balancing this is the lyrical role of Ariadne, and her aria "Es gibt ein Reich" (There is a realm). Zerbinetta is a coloratura role that requires agility but also something of a coquettish, soubrette voice.
Onstage in Vienna for this October 2014 performance, apparently Rolf Gittenberg, responsible for the sets, had utilised three sunken concert greand pianos as part of his apparatus in this production by Sven-Eric Bechtolf (I will suggest a wonderful and traditional DVD alternative below). Shorn of visuals means we get to concentrate on the music.
And how magical that is! Thielemann, something of a hero in Vienna apparently, clearly has the exact measure of Strauss' light-as-a-feather writing. Let's hear the Overture:
I remember being underwhelmed by Soile Isokoski's Prom debut (with the Bavarian Radio Symphony Orchestra and Zubin Mehta in 1999, singing the Vier letzte Lieder); there is nothing to be underwhelmed about here, her Ariadne (and in the Prologue, Prima Donna) spot-on in its expressivity. Here's her aria 'Ein Schönes war' (There was something beautiful) in which she remembers her lover, Theseus:
... and it would be unfair to withhold "Es gibt ein Reich," given that that's the title of this article:
The hero is Bacchus, a tenor role - and, just as Ariadne doubles as the Prima Donna, the singer for Bacchus also takes the role of "The Tenor" in the Prologue. It does require a tenor of strength and, no stranger to the role, Johan Botha fits the role like a glove. One can just hear the strength (and the energy) in his "Circe, Circe, kannst du mich hören?":
... and we should really hear Daniela Fally's Zerbinetta in that aria, "Großmächtige Prinzessin":
To top all of this, Sophie Koch is luxury casting as the Composer. If you're coming to Ariadne and looking for a sound-only performance, this one is perfect.
If we're going to DVD, despite all of the modern productions, there is a special magic about Karl Böhm's 1965 Salzburg Festival performance with Hildegard Hillebrecht as Ariadne/Primadonna, Sena Jurinac as Composer and Reri Grist as Zerbinetta.It is in black-and-white, but absolutely captures the opera brilliantly, with one of the most engaging Prologues I have heard.
A final word about a performance I  heard at Opera Holland Park in 2018, to highlight as singer I consider the finest living Zerbinetta, the soprano Jennifer France. She absolutely brought the house down with her ""Großmächtige Prinzessin""; but in actual fact she owned the whole evening. She has sung the role also at Scottish Opera and The Netherlands' Reisopera; the role suits her voice perfectly (look out for a profile of France in a forthcoming issue of Opera Now for a far fuller picture of this talented young singer). One should also perhaps also mention the Covent Garden 2014 performances, where Karita Mattila shone as Ariadne (review). And no-one, no-one, will erase memories of the great Jessye Norman as Ariadne at Covent Garden with Jeffrey Tate conducting (June 1985, and pretty much a dream cast for the time: not only Jessye Norman, but Kathleen Battle as Zerbinetta and James King as Bacchus; Ann Murray was the Composer).