Entente Musicale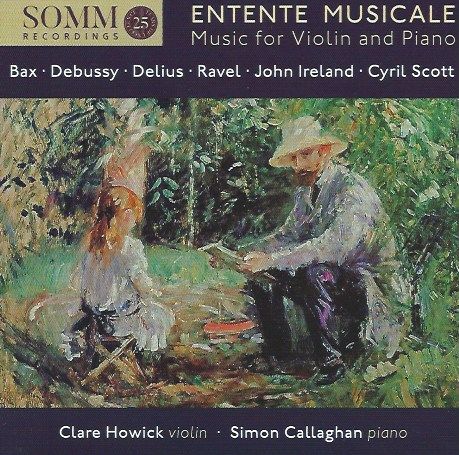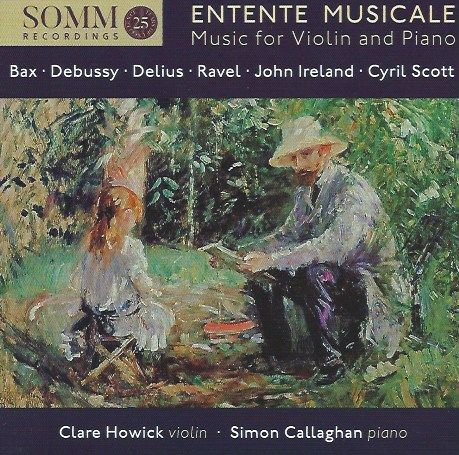 Whatever is happening elsewhere, Anglo-French relations are just fine on this disc, with Delius, Cyril Scott, Ireland and Bax rubbing shoulders perfectly affably with Debussy and Ravel.
Music from the turn of the 19th and 20th centuries, then, a time when King Edward VII did much to foster an entente cordiale. We think of Debussy composing his masterpiece La Mer at Eastbourne; and perhaps of Saint-Saëns penning a Coronation March for Edward; in other news, Vaughan Williams went to Paris to study with Ravel.
The English composer Frederick Delius is perhaps the perfect exemplar: he spent a dozen years in Paris before moving to the village of Grez-sur-Loing. In 1902, he worked with Ravel on a piano transcription of the one-act opera Margot en Rouge. His Violin Sonata in B major, Op. posth. ("Op. posth." means it was published after he died) is a glorious outpouring. It needs players like Howick and Callaghan: Clare Howick's upper register is beautifully sweet, her playing passionate but fragranced, while Callaghan is a master colourist of the keyboard. Let's try the finale of that Sonata in their hands (a movement that incidentally finds Delius quoting from himself, from the symphonic poem On the Mountains, to be accurate):
Cyril Scott (1879-1970) was another English composer who lived in Paris; he was to teach the likes of Edmund Rubbra and Eugene Goossens, the latter of whom called him the "father of British music". A Chamdos disc that includes is Third Symphony, "The Muses" and the Second Piano Concerto with Howard Shelley (the BBC Philarmonic is conducted by Martyn Brabbins) is eminently worth seeking out (CHAN10211).  Scott's almost Scriabin-flavoured harmonies (no mere fanciful connection - both composers were influenced by Theosophy) are delicious. They certainly lead perfectly into the well-known Debussy Violin Sonata in G minor, in a performance that seems the logical outgrowth of all we have heard so far. Magnificent.
Ravel's music in turn makes for a perfect bedfellow: the Heifetz arrangement of the Pièce en forme de habañera follows, seductively dreamy. Here's a video of Howick and Callaghan:
The music of John Ireland extends far beyond The Holy Boy, lovely though that is. His Piano Concerto is a masterpiece that hardly ever gets out (I have only heard it live once in all my years of concert going). Ireland's Violin Sonata No. 1 in D minor helped to consolidate the composer's reputation when it was premiered in 1917. It is strong and rigorous (with what sounds like a fiendish piano part along with the violin demands he makes). Robert Matthew-Walker, in his booklet notes to the current release, is right to not only point out French influences but also a Grieg commponent, too; once you've heard it, it seems obvious (and Grieg's Violin Sonatas themselves are notable works: try Eldbjorg Helmsing and Simon Trpčeski on BIS for a good modern recording).
We close with some Bax: Meditteranean (another Heifetz arrangement), a rollicking bit of fun with a distinctly Iberian slant. Orignally an orchestral piece, it was arranged by the composer himself for violin and piano . While we're here, let's hear a classic orchestral version, Sir Adrian Boult and the London Philharmonic off a Lyrita release: