Reawakened: Clarinet Concertos from England and Scotland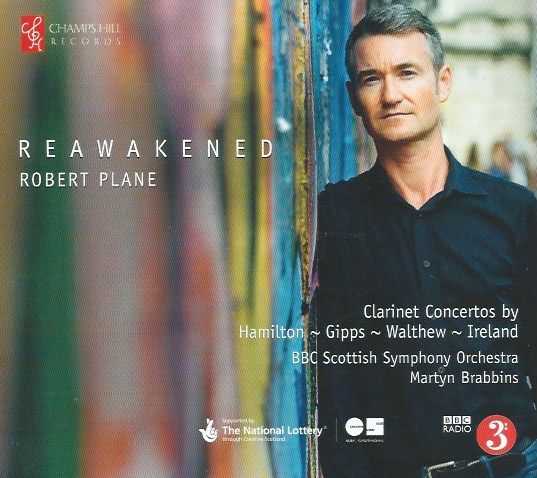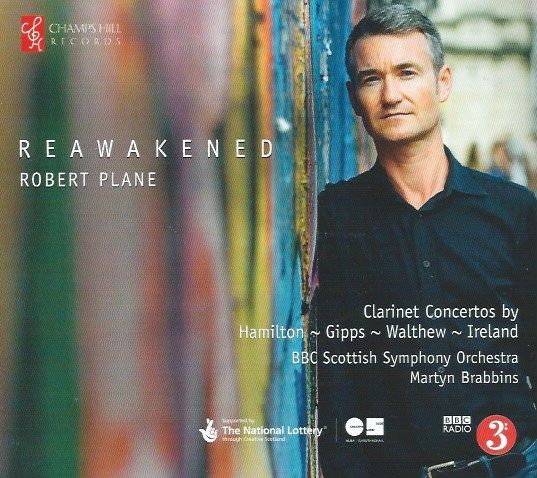 The title of this disc is lovely and perfectly apt: a reawakening of music that really deserves currency. There is a rich vein of gems to be mined in the catalogue of English music, and in fact Robert Plane has provided one of the finest recordings of one of the most polished of those gems: an award-winning performance of Gerald Finzi's Clarinet Concerto on Naxos with the Northern Sinfonia and Howard Griffiths (purchase link below). His new Champs Hill disc, Reawakened, featuring music by Iaian Hamilon, Richard H. Walthew, Ruth Gipps and John Ireland,is a corker.
The Champs Hill label is an independent that  boasts a growing number of signifcant releases (including, coming on November 6, a fine disc of Chopn Nocturnes and Ballades by Lana Melda).
Iain Hamilton is the least known of the composers on today's clarinet disc, and yet his Clarinet Concerto, Op. 7, is powerful and direct. Glasgow-born Hamilton (1922-2000) was initially a trainee engineer  in aircraft manufacture. He arrived at the Royal Academy of Music in 1947, where he studied composition with Wiliam Alwyn. Hamilton's Clarinet Concerto won the coveted Royal Philharmonic Society Award; it was premiered in April 1952.
Hamilton's Clarinet Concerto  imediately followed another award-winning work for clarinet, his Three Nocturnes, Op. 6, for clarinet and piano, which give a nice idea of the flavour of his music. Here's the first of those Nocturnes, an Adagio mistico, played by Nicholas Cox and Ian Buckle, also on Naxos:
The Concerto is one of those pieces that grows on you with repeated listenings - at least, it did on me! Gritty, even gnarly at times, it also contains moments of wonderful lyricism. One can definitely hear elements of Bartók to the score, and  Hamilton's harmonies are incredibly expressive, particularly in the central Adagio sereno. Daniel Jaffé's excellent notes make a highly believable link here to the Blake movement ('Elegy') of Britten's Serenade for tenor, horn and strings:
The finale is scampering and virtuoso, Robert Plane absolutely on fire. Hints of Walton, which can be picked up throughout the work, seem closest here.
Another composer who might need a bit of introduction is Richard H, Walthew (1872-1951), whose 1902 Clarinet Concerto is heard here in a sparkling, transparent orchestration by Alfie Pugh. At the Royal College of Music, Walthew was good friends with Ralph Vaughan Williams; he was a student of Hubert Parry. This is deliciously light music: not without cause does Jaffé refer to the model of Mendelssohn in this work, both structurally and in spirit. There's also a more pronounced Edwardian feel to the music.
Richard Walthew's Sun and Shade played by William Murdoch on an historical  APR transfer gives us an idea of the world of Walthew, beautifully, impeccably English in demeanour: dignified, noble yet heartfelt:
... while, to bring us back into clarinet-focus, here is a song by Walthew with obbligato clarinet. Colin Bradbury is the clarinettist, with Eirian James (mezzo) and Oliver Davies (piano):
The contribution of the BBC Scottish Symphony Orchestra under Martyn Brabbins to the Reawakened disc is superb throughout, but perhaps the delicacy of the woodwind contributions to the central Andante is most delicious.
Returning to the present release, Ruth Gipps' Clarinet Concerto, Op. 9 (1940) received its first ever broadcast on on September 22 this year on Radio 3. One of the most significant of British piano concerto releaes of recent years was Murray McLachlan and Samantha Ward's coupling of works by Gipps and Dora Bright on Somm (link below; I can feel another post coming on). Chandos has also released Gipps' Second Symphony. To hear the sophistication of the Clarinet Concerto is a joy indeed. Cordiality seems to be the watchword of the first movement, while a haunting oboe solo - Gipps' own instrument - opens the central Lento ma con moto (slow but with movement).
John Ireland needs little introduction, I am sure, but if I may be allowed my own personal gripe, I cannot for the life of me work out why his Piano Concerto is not a regular part of concert life: I last heard it live in the 1980s! It is a magnificent work:
Ireland's Fantasy Sonata (1942), heard on Robert Plane's disc in an orchestration by Graham Parlett, is a work of magnificent introspection, Robert Plane floating heavenly melodies over gossamer strings. Intriguingly, Robert Plane has also recorded the clarinet and piano original of the piece (below), which gives purchasers of the Champs Hill disc an opportunity for comparison:
A lovely disc that soothes the soul in troubled times. Lovely presentation from Champs Hill, as well. Not just for clarinet lovers, this one: it provides a glimpse of  lesser-known English composers of excellence .