Echoes of Bohemia: Czech Music for Wind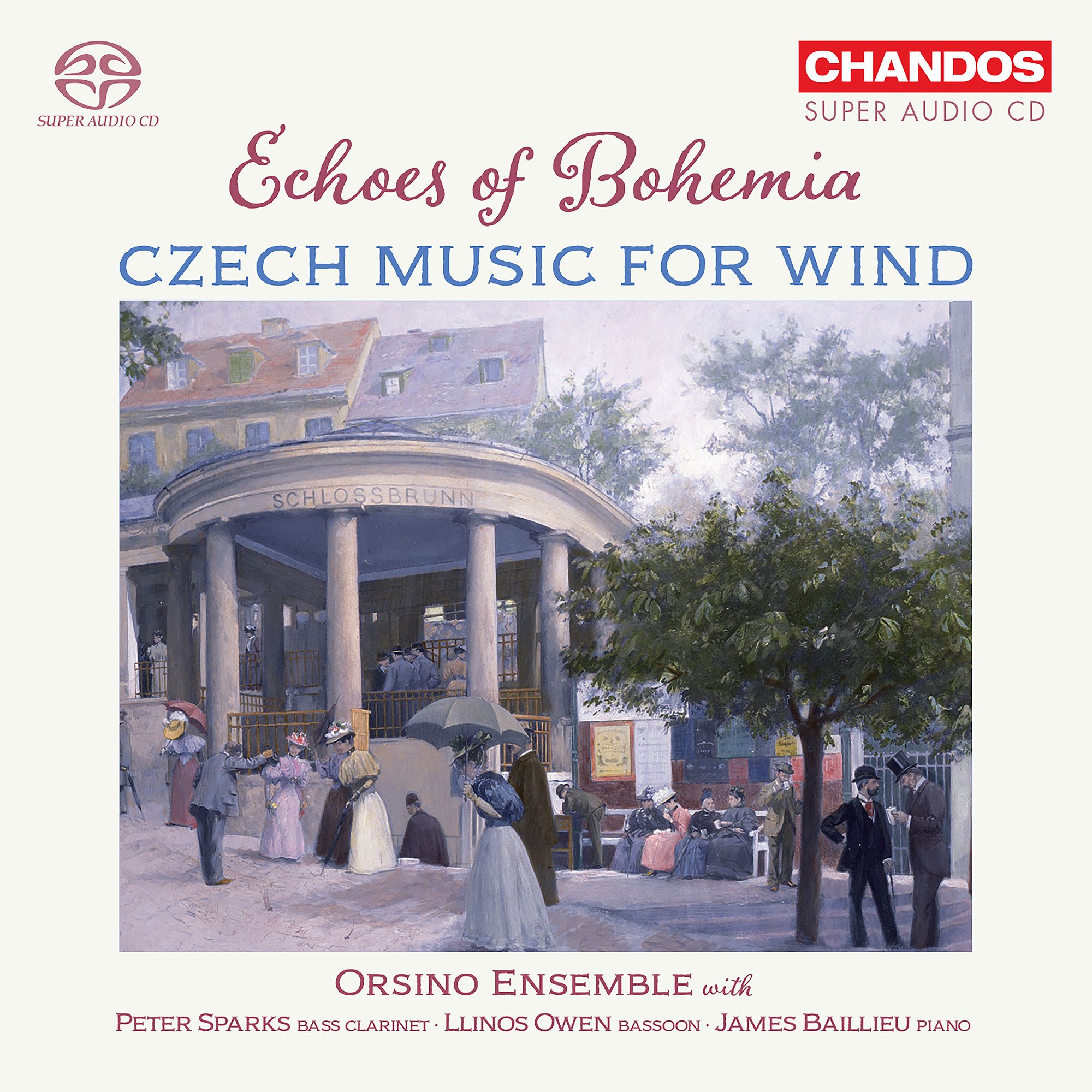 For their second recital for Chandos (we covered the first on Classical Explorer), the Orsino Ensemble turns to the rich tradition of Bohemian wind music. Previously, it was French Music for Wind; here, the programme offers works by Reicha, Haas, Janáček, and Martinů.
Many collectors will know of the rich Czech wind tradition via the Supraphon label, and enjoyed the characteristic sound of players of that region, not least the creamy-toned horns. Here is a selection of the finest players of today grouped as the 'Orsino Ensemble'.
Intriguingly, the disc opens not with the better known composers but with a Quintet by Pavel Haas (1899-1944). Born in Brno,  Haas studied at the city's conservatory, under Janáček, joining that Master's class in 1920 and graduating two years later (but continuing to work with his teacher). The Op. 20 Quintet was composed in 1929 and is, for this composer, typically characterful and slightly acidic in harmony.
The excellent booklet notes by Jan Smaczny tell us that there is an opera by Haas that was highly successful, Šarlatán, to the composer's own libretto and premiered in Brno in 1938 - sounds like a fascinating prospect!
You can hear that characteristically spicy harmony in the first movement (a "Preludio"), and the sheer sophistiation of his expression comes out in the second movement "Preghiera" (Prayer), with its long solos for each instrument and its Haasian chorale. The spiky third movement march ("Ballo eccentrico") is delightful, and more than nods to Stravinsky in circus mode, and with a sequence of descending, almost glissando tutti gestures that offer a unique texture:
The concluding "Epilogo" also works with a chorale - the final, crystal clear F-Major chord feels like a massive arival after Haas' previously complex harmonies.
Any wind player will be au fait with at least some of the huge output of Antonín Rejcha (better known as Anton Reicha). Here, we have his Quintet in E flat, Op. 88/2, published in 1817, ever-delightful and masterly crafted. Many of the tropes of Harmoniemusik are here: scampering sclaes, rapid horn arpeggios, graceful melody. The performance by the Orsino Ensemble is the epitome of chamber music - chords are perfectly balanced, tempos ideal, melodies eloquent. The slow movement is extended, and includes some fugal writing (which fits in perfectly).  Here's the finale, as close to an expression of pure, carefree joy as you are likely to encounter, and how the players seem to enjoy it!:
Janáček's Mládi (1924) expands the ensemble, including bass clarinet (Peter Sparks), bassoon (Llinos Owen) and piano (James Baillieu). The players captrue Janáček's elusive, unique world perfectly. Alex Frank-Gemmill tackles the copmoser's angular lines with aplomb; Matthew Hunt's clarinet playing is particularly noteworthy in its authentic phrasing, while Nicholas Daniel's oboe adds a nice sharp tang to the timbral mix. Together, the players track the work's emotional content impeccable. "Mládi" means Youth and the contours in the first movement are based on the words "Mládi, zlaté mládi" (Youth, golden youth). After the happy memories of the first movement, a more reflective Andante sostenuto promises contrast. The music is unpredictable, though, perhaps reflecting conflicting emotions at leaving his hometown of Brno. The Orsino's achievement is to honour the expressive changes while maintaining an overall structure in this music. Most impressive, perhaps, is the dark enery the Orsino Ensemble creates at the startof the finale.
The players have obviously studied both first printed edition and autograph (tempo differences are notes in the documentation). A fine performance.
Good to see some Martinů here: his Sextet, H 174 of 1929 (for flute, oboe, clarinet, two bassoons and piano - the extra players here are Llinos Owen and James Baillieu. Thsi is a dream of a piece, in a dream of a performance. Baillieu's lightness of touch and rhythmic cmmand is a real part of this performance's success, as is the cleanliness of both line and texture from all concerned. This is a splendid piece, light, yes, but sophisticated also. It is jazz-inspired and owes something to Stravinsky but remains all-Martinů. Clarinettist Matthew Hunt  is wonderfully suave in the second movement Andante.