Eastertide Evensong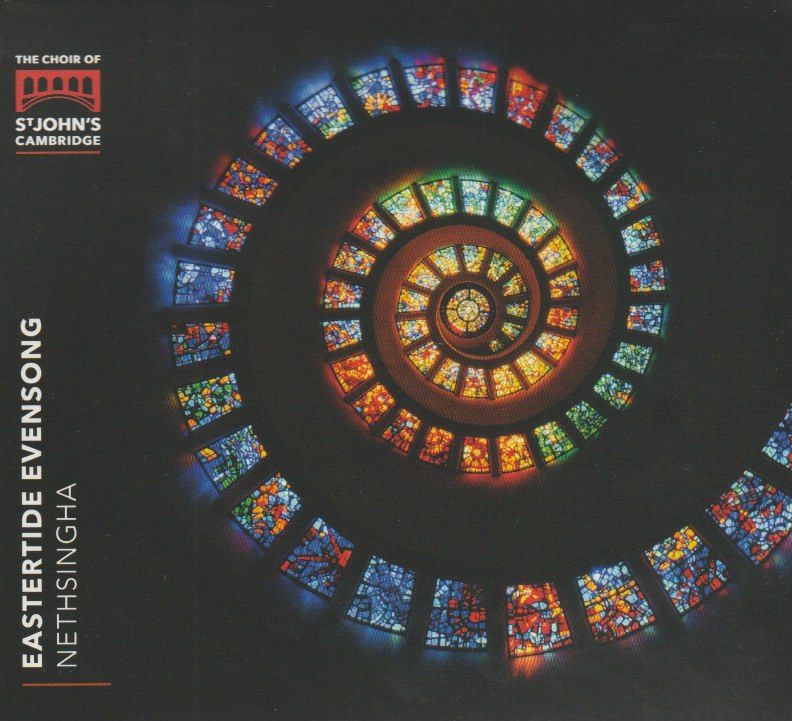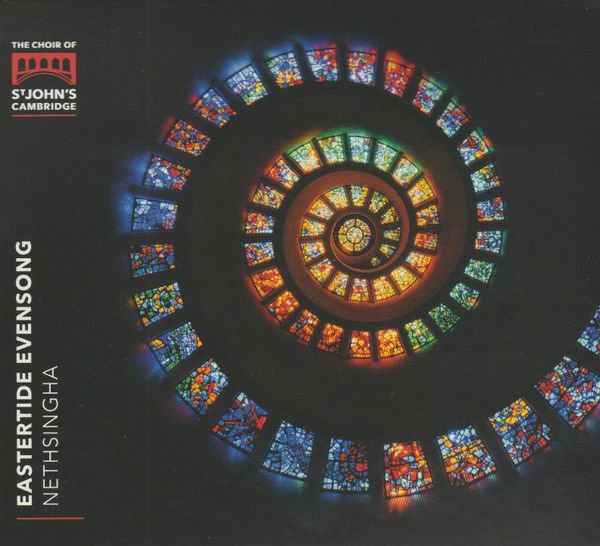 This is now the third album from St John's Choir under Andrew Nethsingha we've covered: Advent from St John's and Magnificat 2.
Now it's the turn of  Eastertide Evensong, their second live Evensong album following the success of their Ash Wednesday recording, released this very day. Evensong is the foundation of the choir's output, as they sing six Evensong services per week throughout term time.
A nice touch is the formatting of the disc as a traditional Evensong , including anthems, psalms, canticles, prayers, bible readings and organ music.

Andrew Nethsingha, Director of The Choir of St John's College, Cambridge, said:
I've been involved in making music for around 10,000 Evensongs in my lifetime so far! This service from 2018 sticks in my mind as being particularly special. There was a great frisson and sense of occasion - having hundreds of thousands listening live on the radio will have helped! Evensong provides a timeless framework for music of many periods - here we include a wonderful variety from the 16th century to the present day.
As time goes on, I become more and more keen on live recordings - I love being able to prepare repertoire really thoroughly, so that the music sits very comfortably in people's voices. Then the BBC red light comes on and one has the confidence to be spontaneous, take risks and create a unique performance. That is harder to achieve in studio conditions with multiple takes. The singers on this recording were a particularly fine group. One of the altos, for instance, went on to win the Kathleen Ferrier Award a couple of years later.
I'm keen to share my great love for the beauty of Evensong and the powerful effect it can have on all people - religious believers and non-believers alike.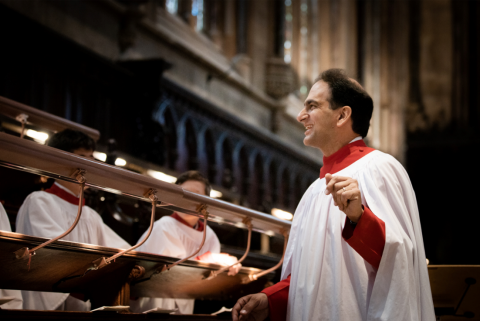 This recording opens with Julian Anderson's My beloved spake, a work written in 2006 using text from the Song of Songs which is particularly apt for spring and for Eastertide.
We begin with Julian Anderson's My beloved spake, a piece included in teh Queen's Diamond Jubilee choirbook. The text speaks of new life and Spring (it is from the Song of Songs). The performance is simply superb: impeccably disciplined of ensemble and yet fully understanding of Anderson's way of expression.
Kenneth Leighton's choral music is justly loved and admired. Listen to The Preces, a short piece that exemplifies the strength of his writing:
(and his setting of The Responses later in the service is harmonically radiant):
Psalm chants by John Goss, Charles Hylton Stewart and Charles Villiers Stanford are performed in the Eastertide service, chosen by Nethsingha for being "masters of their craft". Try the Goss, with its expressive, swelling harmonies (and listen to how beautiflly the Signum engineers have captured the St John's organ):
Charles Hylton Stewart (1884-1932) is a lesser-known name, perhaps, but his Psalm 13 is shot through with beauty. Restrained, conservative, it simply presents us with the beauty of the text:
(contrasting nicely with Stanford's somewhat bolder setting of Psalm 14 that follows).
The three psalm chants form a nice group. Readings are included inteh recording to give a proper sense of church ritualism and, by implication, the collective group energy of a public service. It also actas as a nice separator between the psalm chant group and the jewel of the disc:Howells' Gloucester Service (the Mag and Nunc are themselves separated by a reading), written in 1946, shortly after Howells had served as Acting Organist at St John's during the war.
The warmth of Howells' "Magnificat"  is perfectly caught in this recording; and how sweet the dissonances of the organ, and how perfectly timed the choral swell:
The "Nunc dimittis" (Lord who lettest thou they servant depart in peace) is absolutely glroious: the inter-verse climax (bridging "to be a light upon the Gentiles" and "Glory be to the Father")
We need to be sure of our John Taverner/Taveners here. This is John TaveRner, with an "r," who lived from around 1490 to 1545, not the one of our epoch of The Protecting Veil fame. This is a glorious performance of a masterwork, Taverner's first setting of this text: a range of three octaves is spanned within a web of five-part polyphony. The disc concludes with an outrageously outgoing performance of the finale from Widor's Sixth Organ Symphony under the nimble fingers of  James Anderson-Besant that could wasily double as a hi-fi demonstration track -the recording really is phenomenal: Nethsingha has referred to this as "one of the most exuberant works in the repertoire".How right he is!
The album includes superbly eloquent booklet notes written by Andrew Nethsingha, reflecting on the significance of Evensong and the works included in this recording.
Eastertide Evensong