Concours de Genève, 2023: The String Quartet final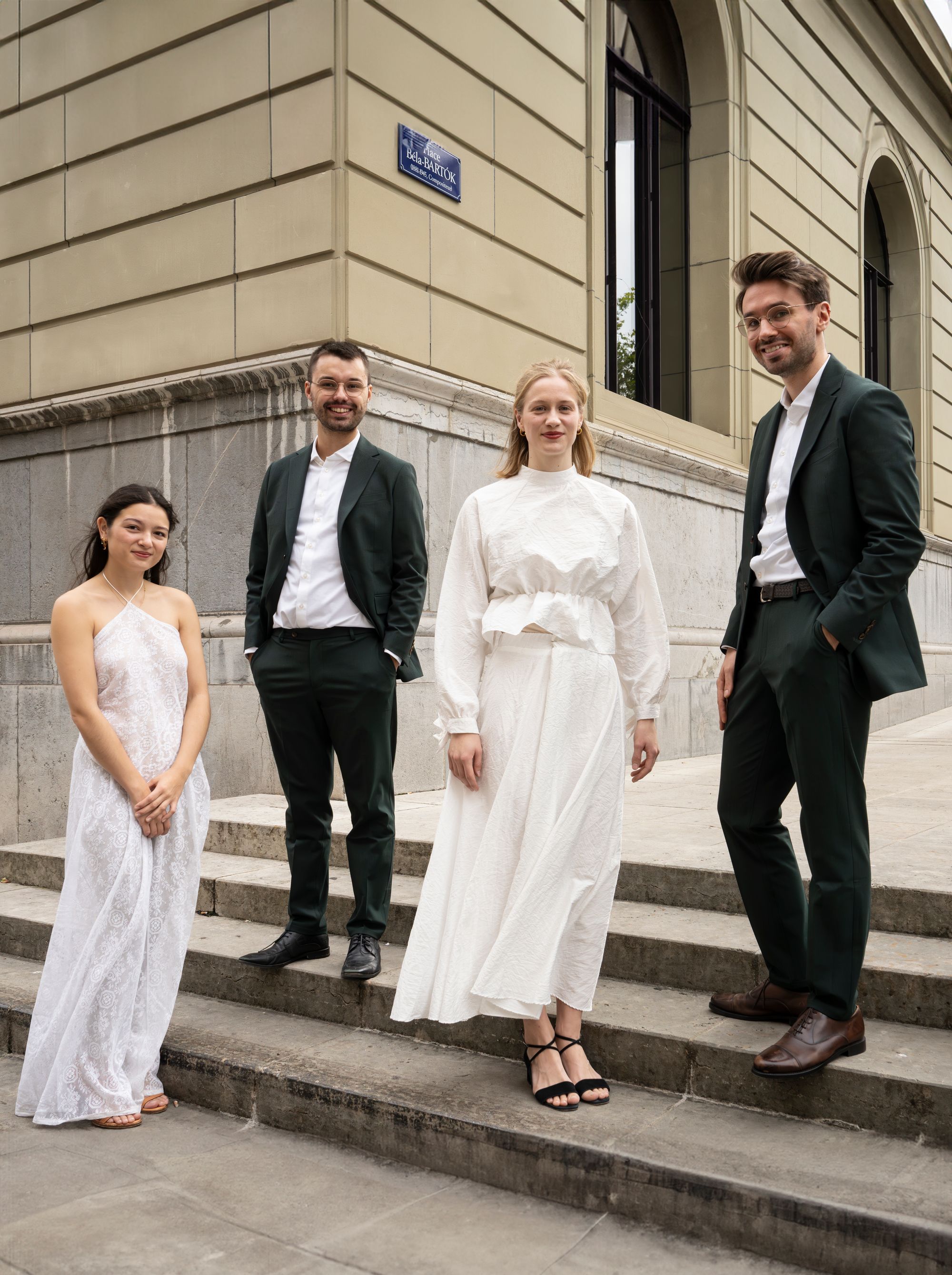 The 77th Concours de Geneve: String Quartet finals Victoria Hall, Geneva, Switzerland, 29.10.2023
Quartett HANA (Fuga Miwatashi, Gyurim Kwak, violins; Emiko Yuasa, viola; Johammes Välja, cello):
Menelssohn  String Quartet No. 3 in D, Op. 44/1
Quatuor Elmire (David Petrik, Yoan Brakha, violins; Hortense Fourrier, viola; Rémi Carlon, cello):
Beethoven  String Quartet No. 8 in E minor, Op. 52/2, 'Razumovsky'
NOVO Quartet (Kaya Kato Møller, Nikolai Vasiki Nedergaard, violins; Daniel Śledziński, viola, Signe Ebstrup Bitsch, cello):
Mendelssohn  String Quartet No. 2 in A mior, Op. 13
The Geneva Competition focuses on various instruments, or groups, every year. This year it is the string quartet and the flute. Clearly one of the most popular competitions is the string quartet: not an empty seat in sight for the finals themselves (although for the results, announced within an hour, attendance was somewhat sparser).
It is true to say that I do not always agree with competition results: the Leeds Piano Competition's placement of Thomas Kelly in fifth place in 2021 was a real case in point. But here, I did agree with the judges, and wholeheartedly. It was the NOVO Quartet from Denmark that took the crown in Geneva (I wonder about the penchant for capitals, shared by two of the finalsists …).
The finals can be seen and heard at the YouTube video stream below.starting around the 18 minute mark (it was also broadcast on a variety of media including Facebook Live, Amadeus, Espace-2, the competition's own website, and the website of The Strad magazine).It was the Swiss radio station Espace 2 that was responsible for the sound recording.
A total of 23 quartets applied for this year's competition. A pre-selection jury listened to the initial, pre-recorded round, selecting 14 quartets from 11 countries. Those quartets then presented an online recital which enabled the jury to select six quartets for the semifinals. One of that six, sadly, had to withdraw, so only five came to Geneva this year. Candidates were also invited to submit, and to defend, a personal artistic project, a new test only introduced last year.
There was a strong jury (not only because I agree with their verdict…): four women and three men, divided into three violinists, two violists and two cellists: Corina Belcea (Chair, founder and first violinist with the Belcea Quartet) William Coleman (viola, Kuss Quartet, Berlin), Gabriel Le Magadure (first violin of the Eben Quartet) Christian Poltéra (a cellist known for his chamber music activity), Lesley Robertson (a founder member of the St Lawrence String Quartet) Vineta Sareika (first violin, Artemis Quartet), and Lydia Shelley (cellist with Quartet Voce). The audience also had a chance to vote via smartphone and a QR code reproduced in the programme.
Each quartet was introduced not only verbally, but by a pre-recorded film. The HANA Quartet was founded in 2019 at the Hochschüle in Munich. Two Japanese, one South Korean and an Estonian make up this quartet. The word 'Hana' means' flower' in Japanese and 'unity' in Korean (sadly it doesn't mean anything in Estonian). In the introductory film, they quote a motto of one of their professors: not to play music, but to be music.
The Quartett HANA plays with violinists next to each other but with the viola out on the right (so the cello faces the audience more). They also play with interchangeable first and second violins, and on this occasion it was Gyurim Kwak who took the first's chair. They are a fine ensemble,, and in taking the 'molto' of the 'molto allegro' indication of the first movement of Mendelssohb's Op. 44/1 to heart, the music certainly had a lot of thrust. Daringly so (it felt more like a presto). The layout clearly allows the viola to speak clearly (and Emiko Yuasa is a secure exponent of her instrument). Motivic exchanges and pick-ups were well-honed, for sure. It is in the dynamics of this quartet that they established their individuality – and this was far more evident in the concert hall than on the relay. Pianissimi seemed almost whispered from my seat halfway down the stalls (I was positioned just behind the jury). On the other end of the scale, though, fortes would have benefitted from a touch more bite (and, on occasion, a touch more control). I would argue, also, that the violins sung more sweetly in the hall than the film lets on.
The apex of the Quartett HANA's Mendelssohn was the second movement, harmlessly labelled as 'Menuetto: un poco allegretto' yet in this quartet's hands remarkably harmonically potent. Phrases were given detailed attention, tailing off marvellously. There was a gossamer lighness here, as if the textures were suspended in the air, so that when. Mendelssohn adds a harmonic 'stab,' it was all the more telling. That care lavished to phrasal endings mapped perfectly onto the movement's close, too. Hatmonic twists were even more telling in the Andante espressivo ma con moto (with the 'con moto' - with movement – nicely honoured).
It was a fine idea to perform that third movement as if darkly coloured, to contrast with the Persil-bright Presto con brio finale: the equivalent of suddenly stepping out into the sun. There was no compromise regarding the tempo in the finale, a real scampering presto (and a special nod to Yoasa's viola contributions for their confidence and excellence); but perhaps the more radical elements of the score could be more foregrounded, and there was the odd slightly ragged corner.
This is a very good quartet, without doubt. A slighty rough diamond at times, perhaps, but well worth watching.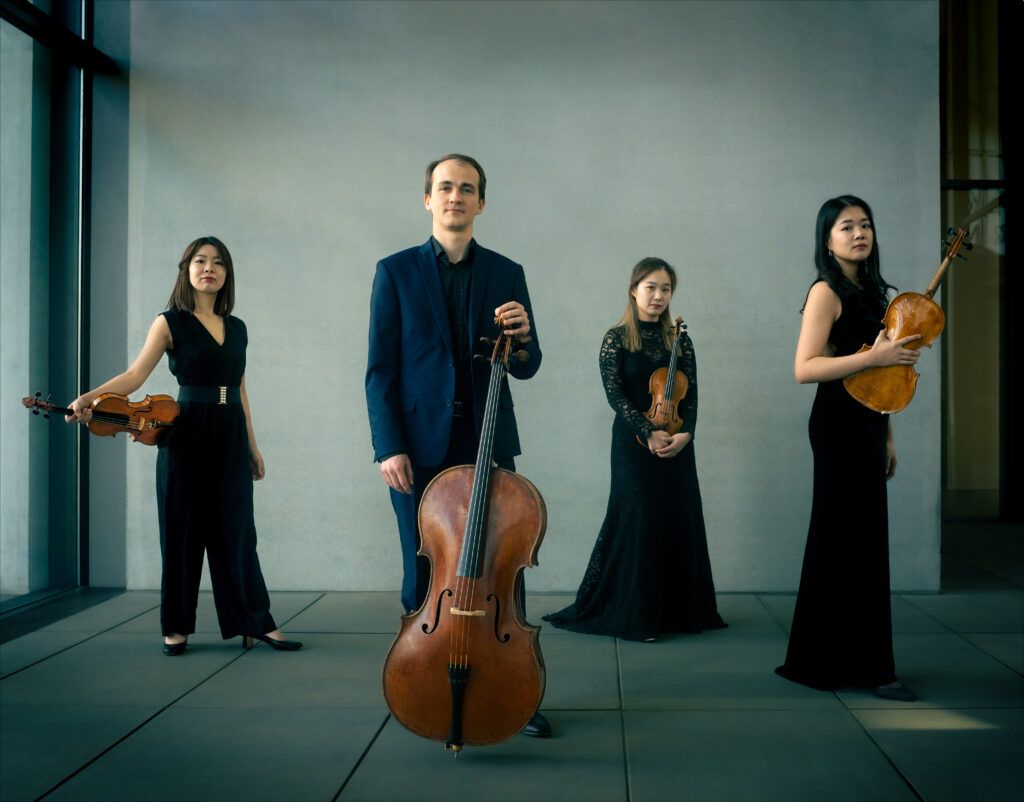 Next, Quatuor Elmire, from France. Founded in 2017, the group is Quartet in Residence at the Fondation Singer-Polignac ,and at La Chapelle Musicale Reine Eilsabeth, among others. David Petrik plays on a Jean Baptise Villaume instriment from 1842; Yoan Brakha on a Nicolas Desrousseaux from 1747, Hortense Fourrier on a viola by Joël Klépal from 2017 and Rémi Carlon plays on a Gioffredo Cappa cello from 1714. The name of the quartet, Elmire, comes from a character in Milière's Tartuffe, to represent French culture and literature.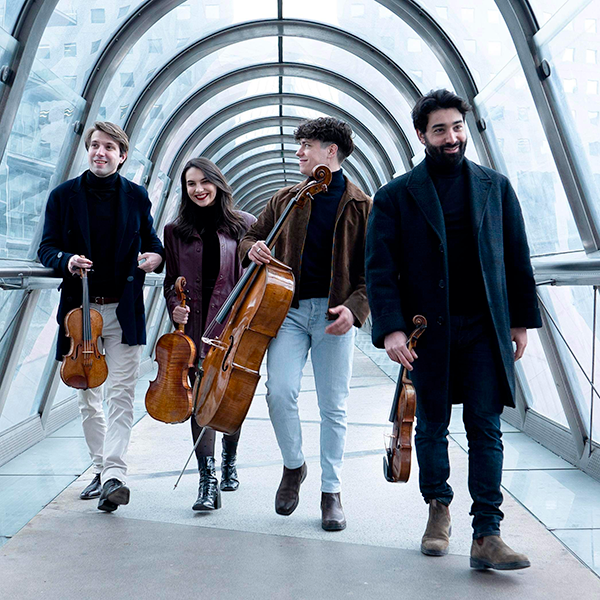 The second 'Razumovsky; Quiartet is a brave choice, a large-scale work of some 40 minutes. From the beginning the stall was set out: everything very together, very considered. Sitting in the standard modern layout of a quartet (violins together, cello to the outside), they offered much to admire , not least something that is largely ignored even at the very highest levels: they actually count the rests in silences. Set against this, though, was a somewhat skewed balance favouring the first violin (it was more obvious in the hall than in the stream, but it still comes through there). The expansive first movement held some drops in tension, but again there were balancing factors: the opening of the slow movement (Molto adagio) felt almost modern: late, 'third period' Beethoven was within touching distance. Perhaps Patrik's violin could have sung sweeter here. The limping dance of the Allegretto third movement had character aplenty (interesting that the famous Russian folk song theme here, reused by Mussorgsky in Boris, was taken so swiftly). It was the finale that was positively Janus-faced. On the one hand there were some astonishingly accomplished moments on a technical level; yet, overall, it failed to convince. Clearly a popular choice with the audience, Quotuor Elmire again offers huge promise for the future.
Finally, another Mendelssohn Quartet: his String Quartet No. 2 in A minor, Op. 13. This time we head to Denmark (or more accurately Denmark headed to us in Geneva) for the Novo Quartet, a group founded in 2018. They studied at the Hochschüle in Vienna. They claim, much to the amusement of the Genevan audience, that they were called the NOVO Quartet because words in Danish are not always easily pronounceable for non-Danes. I believe them. The 'new' aspect, said first violinist Kaya Kato Møller, keeps them curious and therefore always able to 'think new'.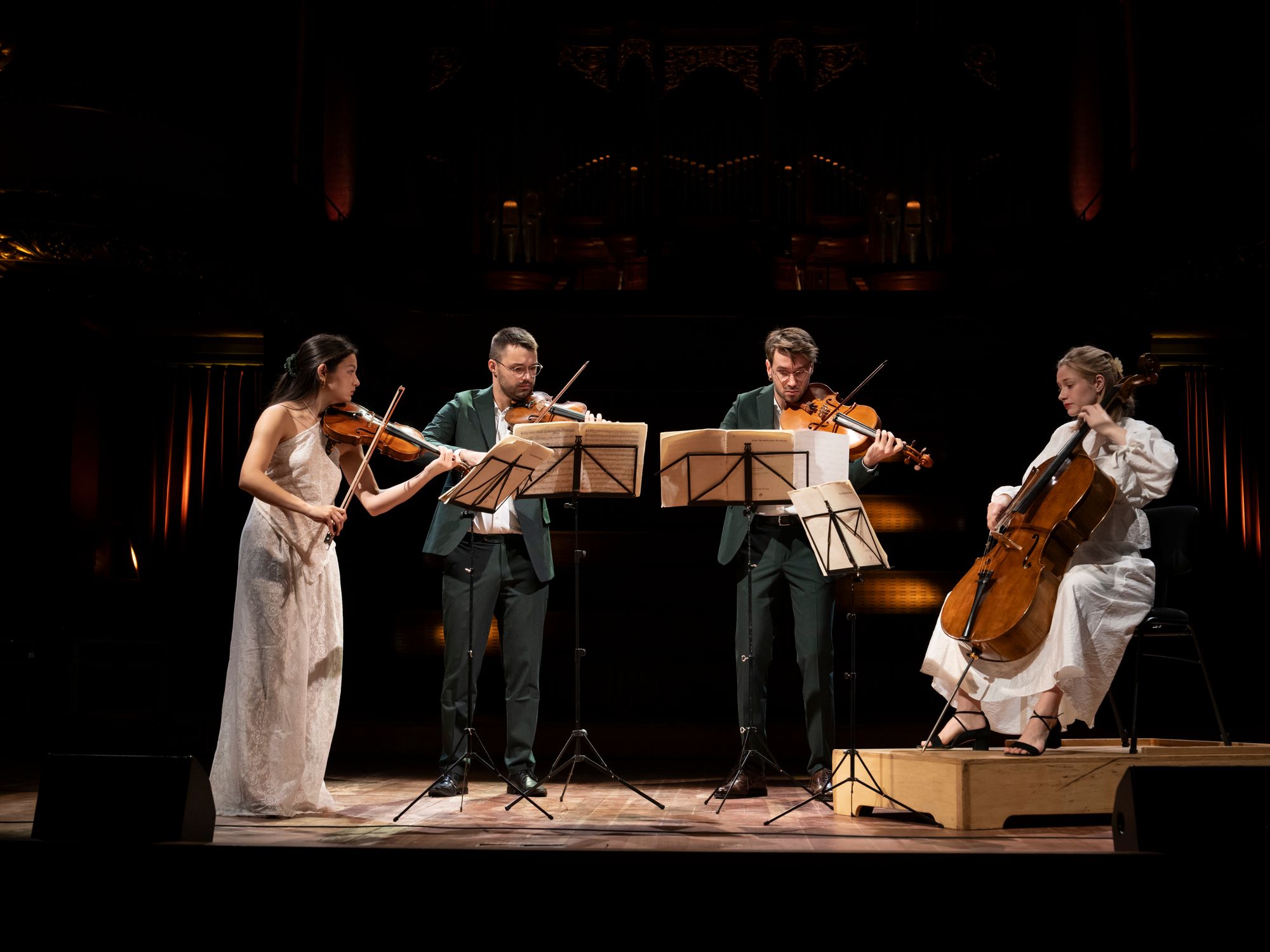 Møller plays op an 1800 Guadagnini; Nedergaard plays on a David Techler instrument from 1706; Daniel Śledziński plays on a Noémie Viaud viola from 2021 and Signe Ebstrup Bitsch plays on a modern Wojchiech Topa instrument. The violins and viola play standing up (like the Emerson Quartet used to).
NOVO Quartet's performance of Mendelssohn's A minor Quartet was full of risks, all of which seemed to pay off. The initial, choral, almost prayer-like section introduced us to NOVO Quartet's sound: rich, sonorous, a bed from which Møller's violin could soar sweetly. The individuality of Mendelssohn's writing was maintained throughout, and no compromises were made for tempo, the Allegro vivace fast yet leaving just enough space for lyrical contrast to count. All parts worked beautifully together, with some perfectly judged projection from the second violin (Nikolai Vasili Nedergaard). The dynamic range of the quartet is fully formed, too. 'They seem to have everything,' I wrote in my notes. And so it was: an Adagio non lento as likely to transport listeners to the Elysian Fields as anything from Beethoven's late quartets. Here, the movement's counterpoint emerged as astonishingly daring and mysterious. The searing intensity never flagged for a second; the chorale was quite astonishingly beautiful. In this context, the Intermezzo, light as a soufflé, could hardly be entirely carefree: the NOVO Quartet held an undercurrent of disquiet throughout. If this was Midsummer Night's Dream music, Tim Burton must have had a hand in it. The finale (Presto-Adagio non lento) is a remarkable movement in itself, almost operatic at times in its solo line 'recitatives' to tremolo accompaniment. It is a true indicator of the stature of a performance that, as one hears it, it is well-nigh impossible to imagine it played in any other way, or better. Such performances are rare, in or out of competitions, but somehow they managed it. Daring of the quartet, too, to choose for a piece that ends quietly. No crowd pleaser this – Mendelssohn's A minor piece is a quartet of true profundity. The NOVO quartet gave us close to perfection.
One of my (very personal) yardsticks is to ask whether I would venture out into a wet Wednesday evening to hear a group at the Wigmore Hall. Only the NOVO Quartett would see me braving the elements
As a final note, one of the greatest aspects of competitions is that one gets to either hear or be reminded of repertoire one doesn't often encounter live. I am reminded of a performance of Prokofiev's Eighth Piano Sonata in the World Piano Competition, a magnificent piece that hardly ever gets an outing (it is a challenging listen, but that is the point). The Mendelssohn Quartets seem shockingly underplayed, in the UK at least, so how wonderful to experience this composer's unending invention twice in one afternoon.
When it came to prizes, it was almost a clean sweep. As well as winning outright, the NOVO Quartet won the audience prize, the young audience prize, the student prize and the Concerts de Jussy prize. The Fondation Etrillard Prize was the only non-NOVO award, given to the Elmire Quartet. A full list of prizes (and amounts awarded) can be found here.
Worthwhile, then, to have a look (and a listen) to the NOVO Quartet's semi-finals. I have chosen this one for three reasons: (1) there's a piece by Franco Donatoni, La Souris sans sourire: Donatoni hardly ever get played these days but was a significant 20th-century Italian Modernist; (2) the semi-finals begins with a piece by a composer from the NOVO Quartet's home country, Denmark: Carl Nielsen's String Quartet in G minor, Op. 13; and, finally, (3) they offer an alternative Beethoven "Razumovsky" 2 to that by the Elmire heard in the finals. The music starts about 6 minutes into the stream itself; the Donatoni starts around 24'40, a cracking performance of great control, mystery and concentration; the Beethoven starts at 56"47:
---
A rather nice touch was the inclusion of a booklet alongside the programme for the final entitled L'Art de Juger un Quotuor à Cordes, with questions aimed at the various judges: 'What is a good quartet?'; 'The choice of works: an influence on the judgement?'; 'How does a one prepare to be on a string quartet competition jury and so on. Fascinating (although in French only which, given ths is French-speaking Switzerland, is fair enough, after all). The booklet can be accessed here.
But the point is the quartets, and the music they play. Beyond any doubt, The NOVO Quartet has a fine future ahead. They have a disc out of string quartet music by Mette (note: not Carl) Nielsen (website) entitled Frozen Moments on the DaCapo label: