Cecil Coles & Gustav Holst: Piano Music
Pianist James Willshire is born to play this music; and Scottish composer Cecil Coles is a real discovery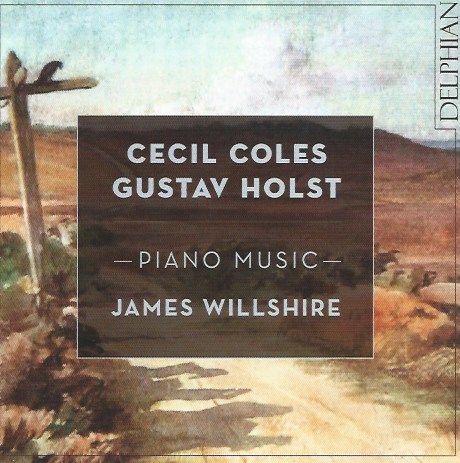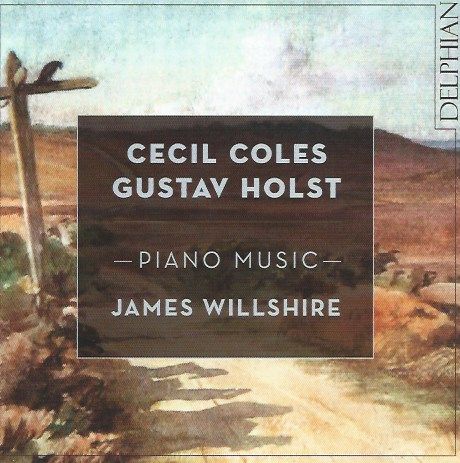 It strikes me as a shame that when we think of English music, we think more readily of string orchestra pieces or symphonies than piano. The piano music of Holst is particularly undervalued; it can be found together in one Faber Music score, and I see that on thei website under "Performances" it lists one, on Radio 3, back in 2000, of the Two Pieces (Nocturne and Jig).
The Scottish composer Cecil Coles seems to have suffered even more. Holst was both friend and mentor to Coles (making the present coupling ideally logical). To top it all, the disc ends with Iain Farrington's new atrrangement of Holst's Egdon Heath.
But let's start with Coles. - the first piece we hear is  lovely set of Variations on an Original Theme. There is an amazing story of Coles sending a score, a movement from teh orchestral suite Behind the Lines, from behind the lines at the Western Front. The score was stained with mud and blood - other scores had been destroyed in action; soon thereafter Coles died in battle. His dates are cruelly short: 1888-1918.
Pianist James Willshire is born to play this music: his readings are beautifully sensitive to the harmonic warp and weft of this gentle music. Listen - and watch - him in action in the beautifully wistful second of the Five Sketches, "Her Picture":
There is delight here - the beautiful, English-shaded Chopinesque Valse in D - but there is drama, too (the opening movement of the Sonata in C-Minor) and grandeur (that Sonata's second movement). Fans of English music neeed to take note of Coles: this is terrific.
When it comes to Holst, it feels imperative that every pianist avail themselves of Holst's brilliant, sparkling Toccata, with its sparkling emphasis on the piano's highest register towards its close.
Holst is known for his work with folk song, and we have several examples of this here in which we can relish the way Holst adds his own pungent harmonic signature to the material. Here's "The Shoemaker",  one of Holst's FolkSong Arrangements (H166/2):
Everyone will find their favourite here: for me, the joy of Chrissemas Day in the morning (H 165) is a revelation, given that this is no mere trifle (or even pudding): it also happens to be a substantial piece, its harmonies beautifully rich, and beautifully realised here by James Willshire.Perhaps the Nocturne that follows (itself a mini-tone poem) is the traditional post-prandial Christmas slump?
And talking of tone-poems, Egdon Heath in a simply amazing arrangement by Iain Farrington is entirely convincing. Here, Holst takes his harmonic experiments further, taking modal structures almost to breaking point. Hearing it on piano exposes the harnonies in a way the orchestral version cannot - and Willshire ensures that climaxes are just as impressive as their orchestral counterparts. Even more inmpressively perhaps, Willshire ensures that long, legato single lines speak voluems - no easy matter on the piano. In absentia a full YouTube video of the piano version, let's hear the orchestral and then you may like to compare either via the disc itself or the Spotify link below. Here is Benjamin Britten, no less, conducting the London Symphony Orchestra in Holst's Egdon Heath:
The piece is dedicated to Thomas Hardy: the author and Holst used to take long walks together. The place Egdon Heath itself is fictional (it appears in The Return of the Native). But the brooding atmosphere of the piece is real: this is a true work of genius.
Incidentally, ignore the "Copland, Poulenc, Prokofiev" attribution on the Spotify below, that appears to be amalfunction with their listing.