Chamber Music by William Walton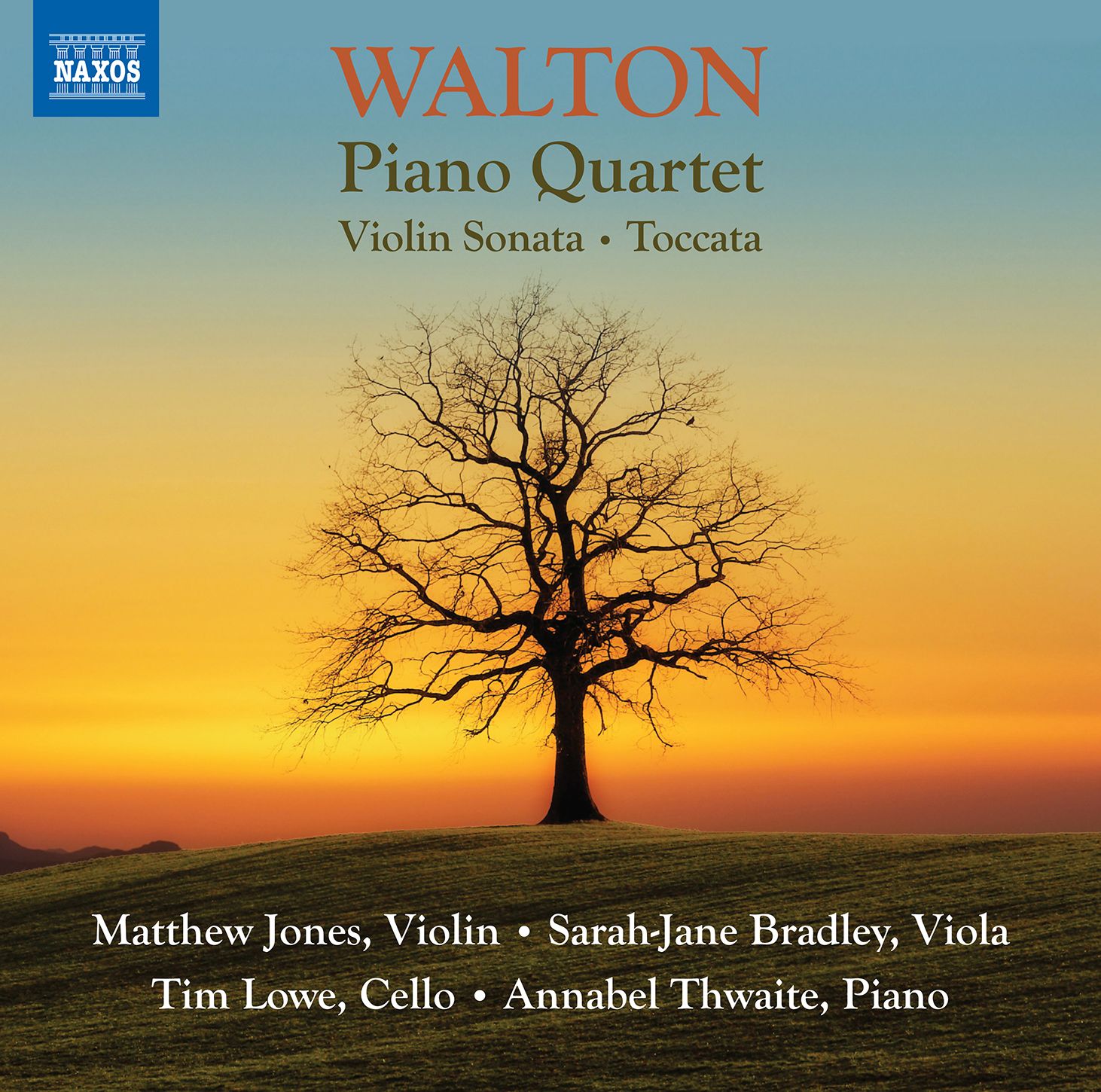 Four works of chamber music here,  representing all of Sir William Walton's chamber music involving both violin and piano, spanning the years 1918 and 1950.
Part of a Guildhall School research project entitled 'Walton: his voice through the violin', inspired by violinist Matthew Jones's lifelong love of Walton's music, this is a remarkably recording (made in Milton Court). The Piano Quartet is a major piece of chamber music. Listen to the superbly wrought first movement and how i, and the ensuing Allegro scherzando, contrasts with the sheer, eminently English, beauty of the slow movement:
Hard to  imagine the shard-like opening of the finale when one listens to that track, but that's exactly what Walton provides, a jagged dance. This really is a terrific performance - the mystery and agiulity of that finale has to be heard to be believed.
Although an early work (1918/19), and one that Walton said was the first to show any signs of talent, the composer revisted the Piano Quartet in 1974/5. It is an open-hearted work and one that sits in stark contrast to the spiky Toccata for Violin and Piano of 1922/3 (even the contrasting lyricism has an underlying tang to it). Matthew Jones and Annabel Thwaite are superb here - listen to the sweetness of Jones' upper register, or the droplets of sound Thwaits can coax from her piano:
Teh Toccata is heard surprisingly rarely. Again in high contrast are the Two Pieces for Violin and Piano (c. 1944-50,, edited Hugh McDonald). Evocative, beautiful music. Here's the first, a Canzonetta, hauntingly played here:
... which sits itself against the playful "Scherzando" it is coupled with.
The other major work here is the Violin Sonata, a  beautiful piece premiered in 1949 by Yehudi Menuhin and Louis Kentner. At the centre of the work is a Theme and Variations with this lovely melody as the theme:
Matthew Jones phrases the line beautfull, setting teh stage for the sequence of seven variations. The way Walton turns the piece inwards for the first variation is utterly remarkable:
... and thus begins one of the most fascinatin sets of variation out there, sometimes turning towards a place of crepuscular sunshine, sometimes seemingly working against it. The phantasmagoric fifth variation (all pizzicato for the violin) is particularly imaginative. The piece seems to have found a place of peace where it can end (the seventh variation, Andante tranquillo), but it is a Presto coda tha actually rounds off this fascinating piece.
Thsi is a piece I for one would love to hear live (I wonder how often it is actually performed?). But in the interim, there's this wonderful disc to keep me going ...
.