Britten Solo Vocal Works: Les Illuminations, Serenade, Nocturne
A simply beautiful disc on all fronts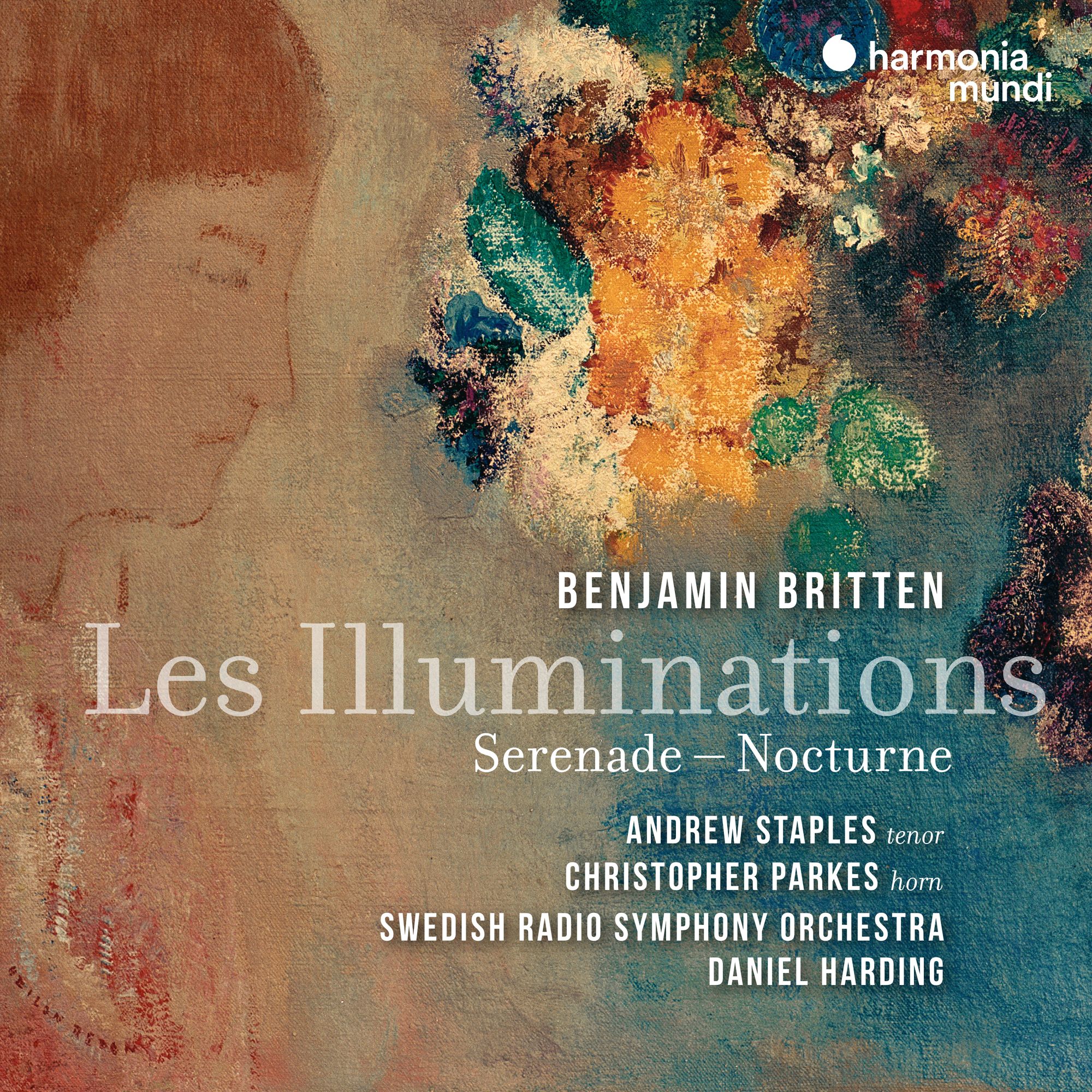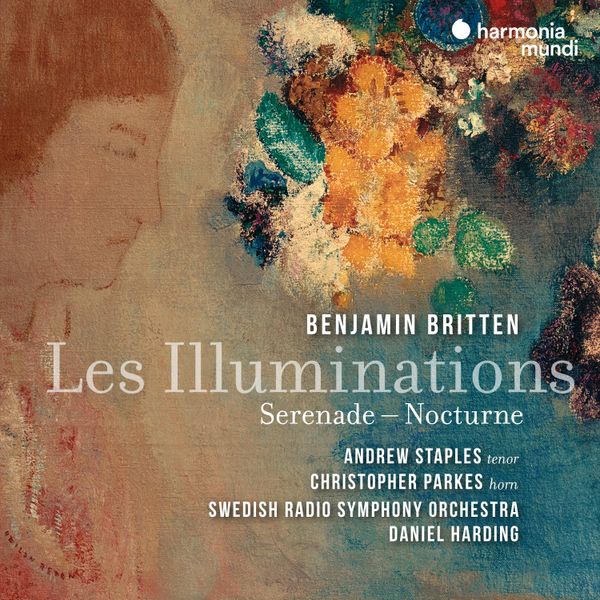 Three of Britten's most notable solo works on one disc is a cause for celebration.
Both Les illuminations and the Serenade for tenor, horn and strings (note, not "tenor horn," but a tenor singer and French horn player!) are well-known; the beautiful Nocturne for tenor, seven obbligato instruments and strings, Op. 60 (1958) perhaps less so.
Britten's awareness of text is as always a major part of this music's success - one need only look to his use of language in any of his many operas for further confirmation. Here, he takes Shakespeare, Blake, Shelley, Keats and, in Les Illuminations, Arthur Rimbaud.
First performed in 1940 by the soprano Sophie Wyss, Les Illuminations is scored for "high voice" and strings. Britten's mastery of instrumentation is rarely heard to such effect as in teh opening "Fanfares," with the strings invoking brass fanfarres superbly, especially in this performance, where Harding ensures tehre is a read edge to the sound:
Andew Staples has the perfect voice for the repertoire, strong (as we heard above) and agile - he'll need that agility later, in the "Hymn" from the Serenade!). Here is "Villes," Britten's evocation of a mechanistic modern city:
The combination of the "Interlude" and "Being Beauteous" is a miracle in itself, particularly the sliding counterpoint of the former and its held-breath vocal line (so sweetly delivered by Staples), but it is in the remarkable "Parade" that this performance rises to great heights (an ironic tuern of phrase, considering this is a portrait of the Underworld! - the composer told Wyss to make it sound "creepy, evil, dirty"!):
The Serenade for tenor, horn and strings (again, note the comma - not   a "tenor horn" but a tenor, a French horn, and some strings) is one of Britten's finest works. The great Dennis Brain recorded it a couple of times, inimitably, so Christopher Parkes has a lot to live up to. Brain most famously recorded it with Peter Pears (who else?) and the composer himself, and there are also various performances that were not official discs - for example thsi one, Pears, Brain, with the BBC Symphony Orchestra under John Holligsworth in July 1953:
Of course, here we have modern sound, and how the presence of the Swedish strings add to the drama in the "Nocturne" third movement (a setting of Tennyson):
The "Elegy" is a setting of Blake ("O Rose, thou art sick"), intense, with slow, keening horn figures that ascend, ever so slowly, to a top C (sounding F) for the horn - a notrious moment amongst players, and how Christopher Parkes triumphs gere, with Staples' plangent voice in reply:
Staples has his own challengesa the opening of the next movement, the "Dirge" - it's a very high entry. Harding opts for a rapid speed, which helps the singer and also adds to the urgency - but does it detract just slightly from the dramatic entrance of the horn?
Parkes is nice and nimble in the "Hymn" (it is no common hymn, it's an agile hunting Presto that celebrates female divinity in its cries of "Goddess, excellently bright"). But can anyone match Dennis Brain in this (with the composer conducting the Boyd Neel String Orchestra)?. Let's hear them side-by-side:
The Nocturne for tenor, seven obbligato instruments and strings, Op. 60 (1953) finds us entering Britten's late period, with a prevailing elusive feeling that links to the composer's magnificent opera A Midsumemr Night's Dream. There is a certain stripped-down feeling inwhich each dissonance takes on an extra weight of meaning. Harding and Staples track this difference well: the coposition dates of the three pieces on this disc are 1939, 1943 and 1958 respectively.
This is a dream sequence in which we meet "The Kraken" via Tennyson in "Below the thunders of the upper deep"  - listen to the restless bassoon of Fredrik Ekdahl here!:
Christopher Parkes returns for the tolling bell movement ("Midnight's bell goes ting, ting, ting," text Thomas Middleton); but perhaps most touching is Sofi Berner's cor anglais in the sixth movement, "She sleeps on soft, last breaths"; listen to the control in pianissimi the players achieve here, too (and how Harmonia Mundi's superb recording supports this):
A simply beautiful disc on all fronts.