Berlin Festival (2): Berlioz, Adès, Barry
Stimulating fare from Adès, Kuusisto and the Berliner Philharmoniker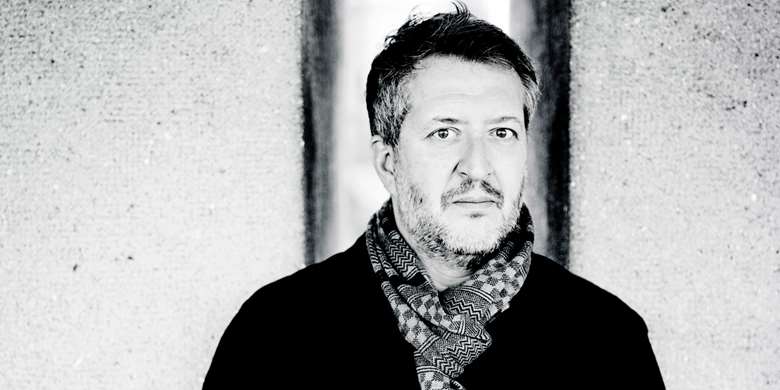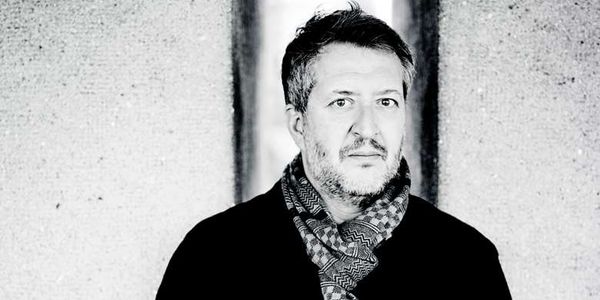 MusikFest Berlin (2). Berlioz, Barry, Adès, Pekka Kuusisto (violin); Berliner Philharmoniker /Thomas Adès. Phlharmonie, Berlin, 11.09.2022
Berlioz     Overture, Les Francs-Juges, Op. 3/H 23 (1826, rev.1829, 1833)
Thomas Adès  Violin Concerto, 'Concentric Paths' (1986)
Gerald Barry  Cheveaux-de-frise (1987)
Adès      The Exterminating Angel Symphony (2020)
This was an auspicious occasion – the conducting debut of the once Wunderkind composer/conductor Thomas Adès with the Berliner Philharmoniker. Adès' catalogue of works is impressive indeed, and it is good that two were featured here. His programmes, whether as pianist or conductor, are always stimulating - here, he opted to start with a Berlioz Overture, Les Francs-Juges, an overture to a largely unmanifested opera which was to be to a libretto by Humbert Ferrand. Certainly, most of what Berlioz actually wrote for the opera remains out of reach (he destroyed it). But the Overture remains, and has retained favour to some extent (although the Overture-Concert-Symphony format is less generally prevalent than at one time). One can see how Adès might be attracted to Berlioz – both mavericks who carved his own way, both blessed with huge imaginations. There are real parallels between the two – both are geniuses of orchestration, too.
There are many fine recorded performance of this Overture – perhaps in terms of pure electricity, it is Toscanini's 1941 New York performance that is most compelling (available on both Music & Arts and Immortal Performances labels). Adès highlighted Berlioz's daring use of gesture while the Berliner Philharmoniker's violins showed no sense of strain in the upper reaches. The grandeur of the opening Adagio co-existed with the active and characterful Allegro assai. Berlioz' music is descriptive of his subjects – perhaps most obviously in the portentous writing describing the judges in the medieval German tale of the libretto. Adès' major achievement was to persuade the listenerthat the ink was not yet dry on Berlioz's score, such was the freshness, achieved through that very sense of modernity and, within that, a thrilling sense of musical adventure. The discipline of the performance was everything one might expect from this orchestra – but it was the spirit that counted.
'Concentric Paths,' Adès' Violin Concerto, was actually co-commissioned by the Berliner Festspiel (alongside the Los Angeles Philharmonic); its premiere took place next door, at the Kammermusiksaal (scene of the 17:00 performance this particular evening) on September 4, 2005, with Anthony Marwood as soloist and the Chamber Orchestra of Europe under the composer's baton. In terms of titling, the Faber Music Limited score shows "Violin Concerto, 'Concentric Paths'" is correct.
Adès describes his violin concerto as a triptych, in the sense that the centre of gravity is the extended central section, named 'Paths'. It is surrounded by the first movement, 'Rings,' and the finale, 'Rounds'. The idea of circularity is manifested in music via cycles, which opera te on the macrostructure as well as on the micro – so 'Paths' consists of two large-scale circularities/cycles, while on the immediate, surface level Adès employs a multitude of much smaller circular ideas. The composer talks of 'different orbits' of material in the first movement, while the finale's cycles work more in harmony with each other, moving the music towards its conclusion. I reported on one of Kuusisto's previous performances of the work, with the Britten Sinfonia and Adès at the Queen Elizabeth Hall in 2012 here; there is also a recording of Marwood with the Chamber Orchestra of Europe and Adès on Warner. while Kuusisto has recorded it on a DG disc Music of the Spheres with the Aurora Orchestra and Nicholas Collon.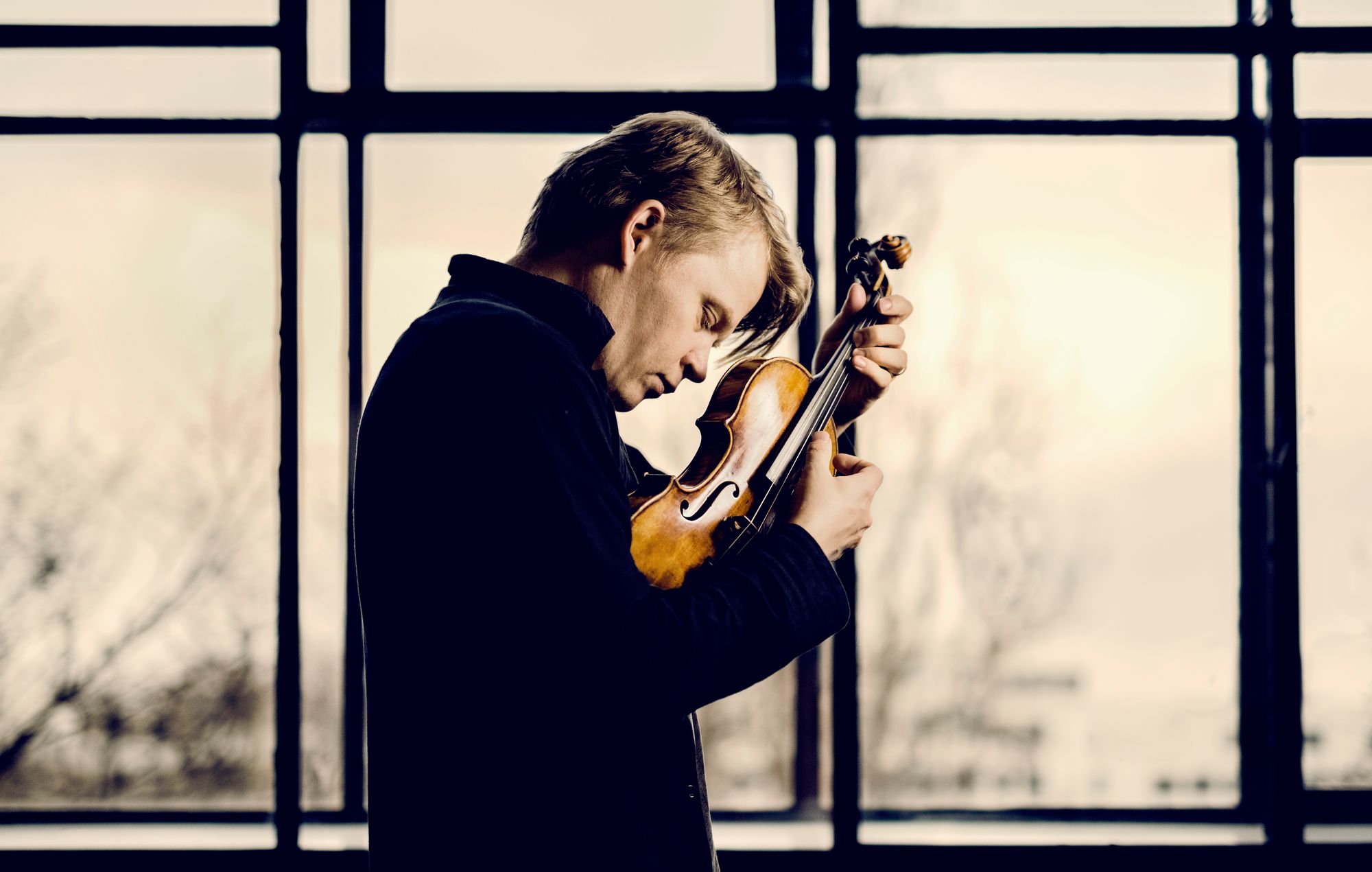 It is easy to hear Minimalism in the first movement, 'Rings,' particularly the opening which not only holds that repetition of motif but also a harmony that is not entirely divorced from Glass' shade of Minimalism; but if it is, it is quickly subsumed into Adès' much darker world as punctuating, almost threatening lower simultaneities cloud the music's brightness. Kuusisto is a charismatic violinist, and he absolutely has full measure of Adès stratospherically high writing. At one point, the orchestra join him up there and one is reminded of a similarly avian passage in Britten's Violin Concerto.  This performance brought a luminosity to the movement I had not heard so strikingly before, perhaps to maximise contrast with 'Paths,' that extended second movement. In contrast to the ongoing music of the first movement, here gesture, initially at least, is all. One can link certain aspects to the first movement in terms of the punctuating (and later, roiling) lower brass, but in this central panel the music expands, with the violin easing its way towards a powerful lyricism. There was a visceral edge to his performance that was far more powerful than in Kuusisto's recording. The finale, 'Rounds,' takes a circling theme that seems to move up and down in the pitch space like a feather on the wind. I wonder if the homogenising of the wind section in this movement was deliberate? They sounded, to my ears, just a touch monochrome – but how virtuoso was Kuusisto's playing, a miracle of velocity and intonation, the close the perfect throw-away gesture.
It is worth noting that Adès' must be one of the most recorded of recent Violin Concertos – there's the Kuusisto and Marwood recordings mentioned above, plus Peter Herresthal with the Norwegian Radio Orchestra under Andrew Manze on BIS and also Augustin Hadelich with the Royal Liverpool Philharmonic Orchestra under Hannu Lintu on Avie. And we should remember that this is hardly the Berliner Philharmoiker's first experience of Adès - Sir Simon Rattle chose the orchestral piece Asyla (1997) for his debut as Chief Conductor with the orchestra.
Here is a supplementary performance given by Kuusisto, here with the WDR (West German Radio Symphony Orchestra) udner Jukka-Pekka Saraste in 2019 at the Kölner Philharmonie:
While on the DG album the programme had inserted an 'encore' of David Bowie's Life on Mars (in an arrangement by John Barber), here in the Philharmonie, Kuusisto gave a fabulous rendition of Who wants to live forever by Queen. for solo violin. Apart from giving us the title and group, there was no spoken introduction, so one has to wonder is this was a tribute of some sort to Queen Elizabeth II (possibly an affectionately flippant one, given the title?).
Despite his popularity, Gerald Barry's music has not always impressed – his first opera, The Intelligence Park (1990), at the Royal Opera's Linbury Theatre in 2019 was a case in point. The title of his Chevaux-de-frise refers to metal spikes designed to defend against cavalry charges in the 17th century, and the piece itself marks the 400th anniversary of the Spanish Armada (which suffered considerable losses as it retreated around the West coast of Ireland). There is an aggressive edge to Barry's writing right from the outset in the heavy, equally-accented chords. There is, perhaps, a post-Stravinsky feel to the angularity of lines. Barry's piece is utterly relentless for extended amounts of time; his feeling of rhythmic disjunction (which starts towards the middle of the piece) is effectively done. All credit to the Berlin players, as some of those disjunctions could easily sound messy, but there was a thread of confidence running through these performers. There is a notable, cacophanous 'Ivesian moment' (about 11 or 12 minutes in) followed by manic, glistening repetitions at speed that points to just how bonkers this music is, and certainly both orchestra and conductor revelled in it.
Below is a performance of Chevaux-de-frise again conducted by Thomas Adès, here with the City of Birmingham Symphony Orchestra at The Maltings, Snape on June 17, 2002:
Finally, the symphony that Adés derived from his third opera, The Exterminating Angel, itself an adaptation of the famous film by Luis Buñuel. The opera is magnificent (see my review of the 2017 UK premiere at Covent Garden here). The 'Berceuse' from Adès' opera has gained some currency, and the symphony will doubtless follow suit – it was only completed in 2020 and premiered in August 2021 (just over a year ago) by the City of Birmingham Symphony Orchestra under Mirga Gražinytė-Tyla – and indeed these forces will tour America with this piece in October this year.
There are four movements: 'Entrances' (of the ill-fated guests at the post-opera party – they all arrive twice – the film is Surrealist); 'March' (ferocious and obsessive, so making something of a parallel with the Barry); 'Berceuse' (in contrast, sweetly lyrical); and finally, 'Waltzes' (which take on a distinctly worrying aspect). The question here is what happens when one constrains – or adapts – operatic music into a symphonic framework? Hindemith famously did so in his Mathis der Maler Symphony, and there are parallels here (interestingly, harmonic ones between Adès and Hindemith as well, it seemed to me). It is part of Adès' art that he can take music of such vast remit - from wondrously cheeky to brazenly Romantic - and create a convincing, substantive, stand-alone statement. The luscious met the crystalline and intrinsically beautiful in a four-panel processional. The symphony is a magnificent achievement – as is the opera itself.
Adès has one of the prime requisites of a great composer - his musical fingerprint is instantly recognisable. The orchestra seemed to respond to his sheer talent with a performance of laser focus. A fine close to a stimulating, varied concert.
At the time of writing, this concert is available complete on the Berliner Philharmonkier's Digital Concert Hall at this link.