Berlin Festival (1): Ensemblekollektiv Berlin / Enno Poppe
Musikfest Berlin 2022 is in full flow ... A phenomenal concert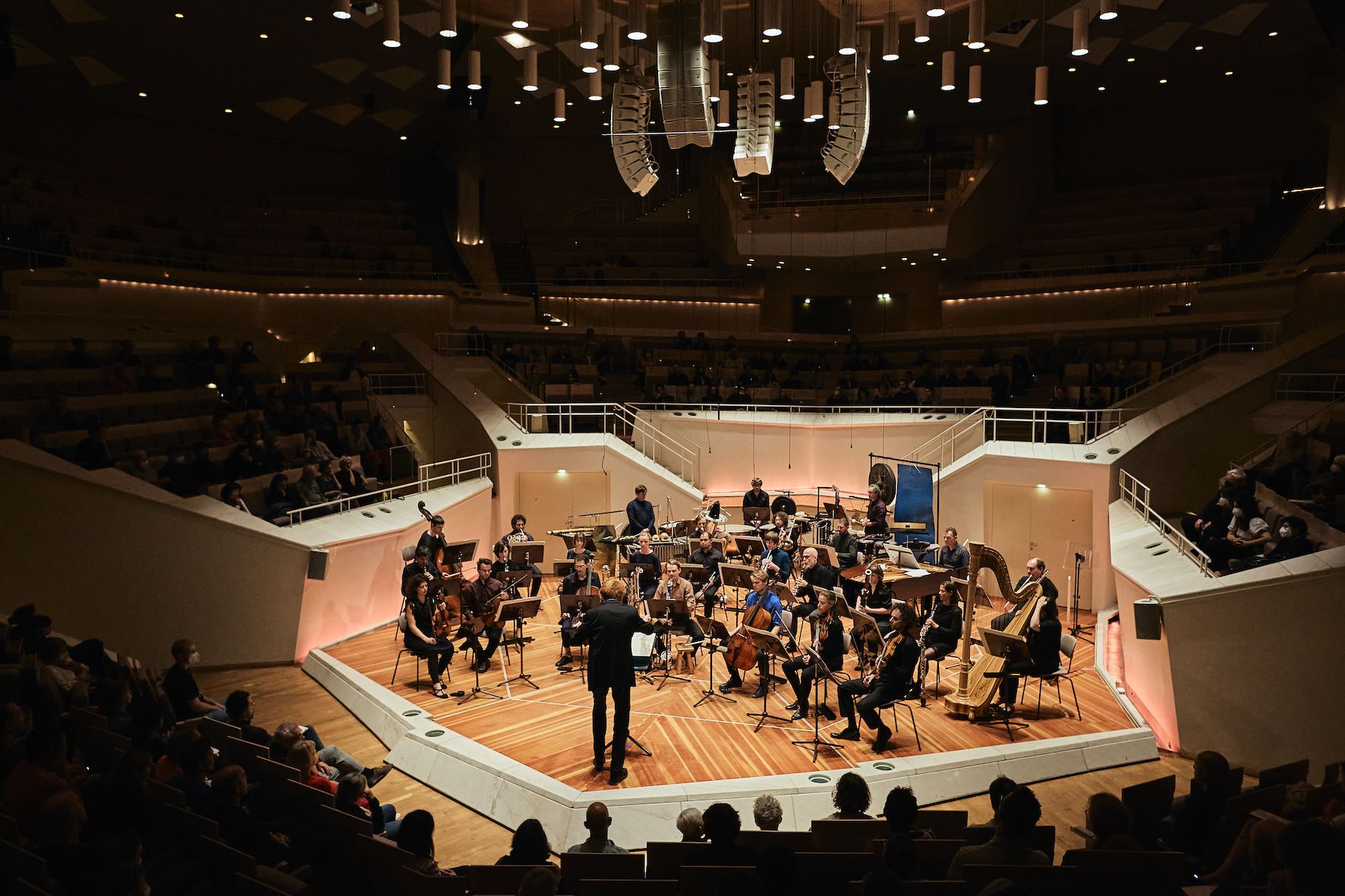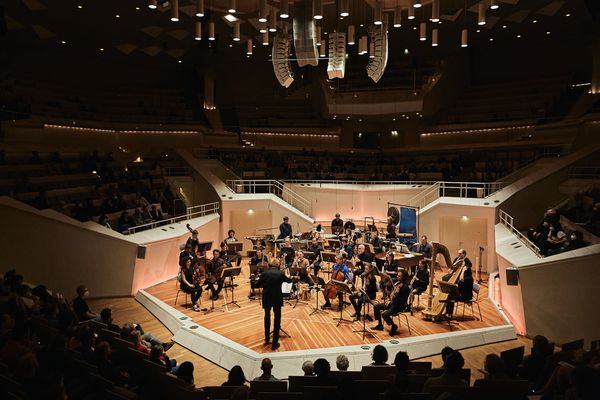 Clara Iannotta a stir among the stars, a making way (2019/20)
Iannis Xenakis Jalons (1986)
Liza Lim    Machine for Contacting the Dead (1999-2000)
Kammermusiksaal, Phlharmonie, Berlin, 11.09.2022
Musikfest Berlin 2022 is in full flow, a celebration of the best in music-making - and with its emphasis on the new and the contemporary, plus diversity (including a Korean ceremony!), the rewards of attending are rich indeed. Visiting ensembles include the Leipzig Gewandhaus, the Concertgebouw, The Cleveland, Rotterdam Philharmonic, Odessa Philharmonic and the London Symphony orchestras. Audience attendance tends towards the maximal.
Enno Poppe is not only a fine composer, but a conductor with a fabulous ear and a magnificent grasp of musical architecture. He also seems to pinpoint the exact sound of each composer, allowing their individuality to shine though. Such was certainly the case here – and, as we shall see later, that individuality might not be what we expect.
Firstly, though, Clara Iannotta's glistening a stir among the stars, a making way, for large ensemble of two flutes, two clarinets, bassoon, horn, trumpet in C, trombone, tuba, two groups of percussion (the first group includes the remarkable instrument, the Waldteufel), prepared harp, guitar, accordion and prepared strings (two each of violin, viola, cello, and one double-bass). This piece was written for Klangforum Wien.
Iannotta presents a field of sound. Pulse and rhythm are hard to come by; this is more like shifting mists of sound with periodic eruptions. The booklet note refers to this as 'Music for Other Planets' and suggests that perhaps the music is other planets moving slowly through the Universe. These are concepts intricately bound up with the idea of loss of metre and rhythm, resulting in a sort of supra-temporal virtual soundspace. Initially, we hear sound that could almost be a representation of cosmic winds; we even have a mismatch between what we see (string instruments) and what we hear (they are 'prepared' with paper clips); scraping sounds emerge from wind instruments, surely designed to be part of the extrication of the audience from what it knows and what is familiar (be that a sense of time, or the expectation that an instrument will sound in a particular way ,or be played in a particular manner)  There are hints of Stockhausen in the aesthetics, and of Varèse (and post-Varèse - here I think specifically  of Giacomo Manzoni's Messe - Ommagio a Edgard Varèse, famously recorded on DG by Maurizio Pollini, with Giuseppe Sinopoli). Iannotta's piece is a remarkable achievement. Poppe's performance with the Ensemblekollektiv Berlin was haunting and at times disturbing (the rasping sounds) while high piano repetitions of a single pitch implied, perhaps, an unknown, unspecified ritual.
Here is a performance of this piece by Klangforum Wien in Innsbrück, 2020:
There are obvious parallels in musical technique between Iannotta's piece and the music of Xenakis. Although only scored for small ensemble (15 players), Jalons (1986) can pack quite a punch. The piece was commissioned by the Ensemble Intercontemporain: there are five woodwind players(flute/piccolo; oboe, clarinet in B flat, bass clarinet/contrabass clarinet and bassoon/contrabassoon), four brass (horn, trumpet, trombone and tuba), harp and strings. It was Pierre Boulez who conducted the World Premiere of Jalons with the Ensemble Intercontemporain in 1987, and there is a recording of him conducting it currently on Erato - here it is:
But Poppe's performance was far more nuanced than Boulez's - a reframing that found beauty in dissonance, and whose restraint meant that when climaxes did come, they held maximal power. The discipline of the Ensemblekollektiv Berlin is remarkable – passages of togetherness were rendered with preternatural precision. But there was a also a sense of play, of lightness that one rarely finds in Xenakis interpretation. How often does one think of Xenakis' music as 'dancing?' - and yet here, this was decidedly one aspect of the piece. The virtuosity of the Ensemblekollektiv has to be acknowledged, most obviously perhaps in the superb woodwind multiphonics – so difficult to control, so difficult to bring off as a satisfying musical experience (as opposed to sounding as if something is going wrong!). Poppe and his ensemble gave an unforgettable performance – of the four concerts I attended (and remember one was with the Berlin Philharmonic, another with Jurowski conducting the Berlin Radio Symphony Orchestra), it is this performance was, surely, of most consequence. Poppe also seemed to highlight (this might be fanciful on my part!)) Jalons' musical proximity to Stravinsky's Sacre du primtemps, particularly in the string and brass gestures about two-thirds of the way through.
Finally, Liza Lim's Machine for Contacting the Dead for large ensemble of 27 musicians (including flute and bass flute, both doubling piccolo, bass and contrabass clarinet, bassoon, double bassoon, three players for the percussion instruments, harp and piano, amongst others). Two of the instrumentalists are designated as soloists – the cellist and the bass/contrabass clarinettist, here Mathis Mayr and Ingólfur Vilhjálmsson respectively.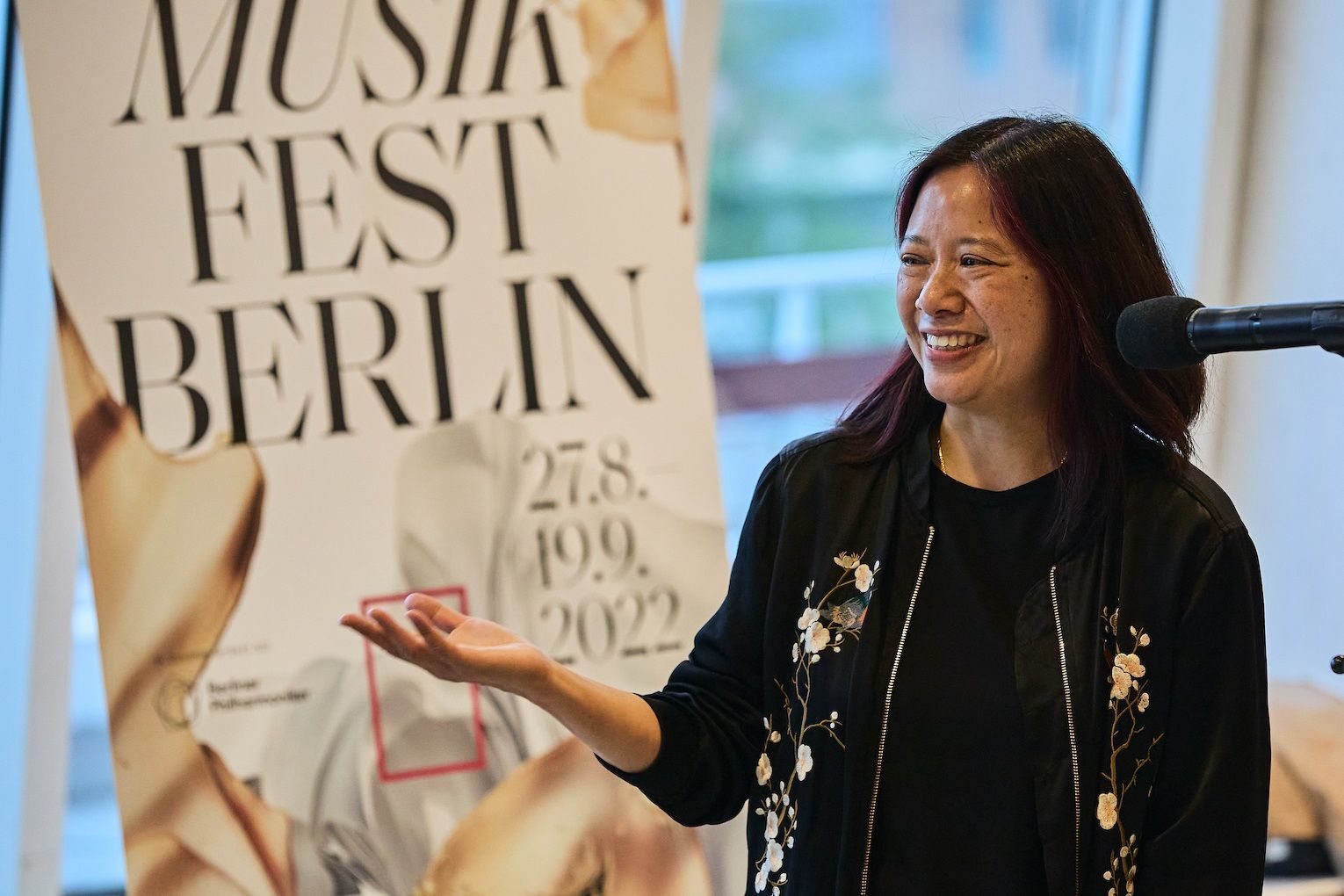 There are five sections: 'Memory palace,' 'Spirit Weapons,' 'Memory Body,' 'Spirit Weapons II,' and 'Ritual Bells'. In 1978, archaeologists explored the grave of one Yi of Zeng. In addition to the grave of Yi of Zeng and 21 young women who had accompanied him to his death some 2500 years ago, they also found a wealth of ritual objects, weapons and more than 100 musical instruments – instruments not meant to be played, but to aid, somehow, in the soul's transition. Liza Lim wrote her piece for an exhibition in Paris in 2000 of found objects from graves, inspired by this subject, composing for  modern, Western instruments. The piece offers a ritual in itself, a bridge between life and death.
There is a narrative element to Lim's piece balanced with a symmetrical overall structure, with the opening movement depicting the discovery of the grave ('Memory Palace'), a middle point of 'Memory Body' (a song of mourning for the dead young women scored for alto trombone and muted strings intended to invoke the sound of the Chinese Qin) and a final ' Ritual Bells,' a sort of calling for the dead. The two soloists, each of whom is given extended cadenza-like passages, were superb. But it was Lim's sonic imagination that impressed the most. Her canvas is vast, as befits the timescales and ideas she seeks to revivify in a contemporary setting.
Here is an alternative performance on Soundcloud:
.. and here is a video of Lim in conversation with Martina Seeber, in English (with German subtitles).
A phenomenal concert - to think this was the 17:00 event, and that the Berliner Philharmoniker followed on at 20:00 conducted by Thomas Adès in music by himself, Berlioz and Barry gives an idea of the diverse nature of the Berlin Festival.