Bassoon Cantatas: the revelations of Christoph Graupner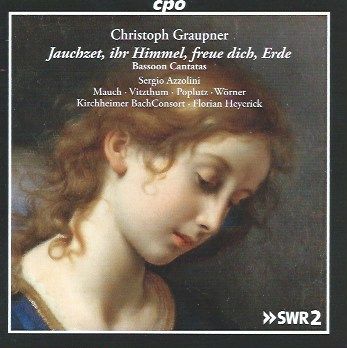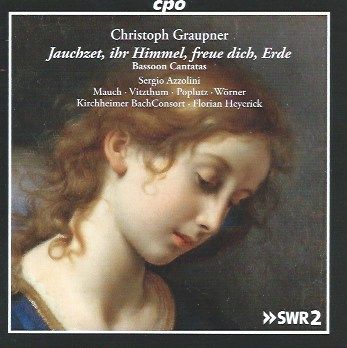 This is actually the third disc on cpo of cantatas by German Baroque composer Christoph Graupner (1683-1760): there has already been one on that label of Epiphany Cantatas, and another of "Solo and Dialogue" Cantatas, plus sundry others of his music. Not only that, but cpo led the renaissance of Graupner, with their 1998 compact disc with Das Kleine Konzert conducted by Hermann Max.
Graupner, in 1705, found himself playing harpsichord at the Hamburg Opera (where one George Frederic Handel was a violinist); later, he became a member of the court of Hesse-Darmstadt, where he spent the rest of his life. His teacher was Kuhnau, who I hope we will meet again in the course of our explorations  ...
Amazingly, there are around 2,000 surviving works by Graupner, including nearly 1500  cantatas, including a 1743 cycle on Christ's Seven Last Words On The Cross. It was while at Darmstadt that a bassoon player by the name of Johann Christian Klotsch arrived, and Graupner lost no time in showcasing his talents in Sunday cantatas there. We know Graupner likes more unusual sound combinations, including oboe d'amore, flute d'amore and violin d'amore; and the foregrounding of the bassoon in the works on this cpo disc reveals Graupner's real sensitivity to the instrument's capabilities.
cpo actually offers us two full discs of cantatas written between 1737 and 1749. They are no trifling statements: the 25-minute Hebet eure Augen auf den Himmel (Lift up your eyes to Heaven) includes a 12-minute aria, "Komm, Herr, rette Dein Geschöpfe" (Come, Lord, save Your creation, is the translation given by cpo) in which Azzolini is incredibly expressive, the slightly pungent sound of his Baroque bassoon perfect; the bass Dominik Wörner provides the long vocal lines around which the bassoon offers wreaths of sound.
There is a certain prefiguring here, as well. Has anyone else noticed Christmas isn't too far away? Well, prefiguring Classical Explorer's cornucopia of festive discs coming your way in December, the second cantata here, Jauchzet, ihr Himmel, freue disc, Erde (Sing of joy, O Heavens, and exult, Earth) begins with rustic brass fanfares in a beautiful celebration of Christmas Day. The virtuosity of the bassoon's frolickery in the soprano aria "Gottes Sohn ist Mensch geboren," (God's son has been born a man) alternating with the purity of Monika Mauch's crystalline voice and interjections of those brass makes for quite a ride; all credit to horn players Olivier Picon and Thomas Müller here.
There are surprises galore in this set: the "Choral" that opens the cantata Jesu, mein Herr und Gott allen (Jesus, my only Lord and God) is far more mysterious than one might reasonably expect from a Chorale setting (Graupner includes both Chorales and a movement called a "Dictum," which provide prose quotes from Scripture). The aria for bass, solo violin and solo bassoon, "Starker Helle aus der Höhe" (Mighty Redeemer from on high) just reveals the extent of Graupner's imagination.  
There's so much to enjoy here; lovers of Baroque vocal music should not hesitate. The Kirchheimer Bach-Consort directed by Florian Heyerick's performances are a joy. Meanwhile, here's a promotional video around the current release: